Who is the real Lady Whistledown?
Eighteenth century literary ephemera give us an insight into the true identity of Bridgerton's elusive Lady Whistledown.
The Netflix hit series Bridgerton advertises a Regency world far more colourful, overtly sexual, and dramatic than any Kiera Knightley Austen adaptation. Alongside truly feverish appreciation of Regé-Jean Page – the troubled Duke of Hastings – discussion has focused on the show's rather casual relationship with historical accuracy. Outfits are as couture as those in Gossip Girl, London looks suspiciously like Bath, and the whole show takes place in a world where the history of race is reimagined: King George III fell in love with his queen – played by Golda Rosheuvel – and racism was no more. Most of this historical freedom does not detract from the show; it adds a layer of playfulness to a programme that veers between endless (slightly problematic) sex scenes and feminism about as nuanced as a fluffy pink wrecking ball.
Amidst all of these historical liberties is a grain of truth. Much of the drama stems from the publication of an anonymous pamphlet: Lady Whistledown's Society Papers. This slim, typed periodical appears multiple times a week and tells of all the season's excitements: who was a success at court, which debutante has scored which viscount, and who was seen dancing with who.
Such a publication is not a dramatic historical invention. Female-authored society newsletters and ephemera were popular in the eighteenth century: Mrs Crackenthorpe – 'a lady that knows everything' – published the first edition of The Female Tatler on 8 July, 1709. Some 111 editions followed on Mondays, Wednesdays, and Fridays: alternate days to Joseph Addison and Richard Steele's more famous Tatler, to avoid competition and confusion.
Like Lady Whistledown, the identity of The Female Tatler's writer was carefully guarded. In November 1709, authorship was passed on to 'a society of modest ladies' with the brilliant soubriquets Artesia, Arabella, Rosella, and Sophronia – amongst others. This change in pen has only added fuel to the belief that the real Mrs Crackenthorpe was novelist and playwright Delarivier Manley; she was arrested for the libellous contents of her new book, the political satire New Atlantis, at the same time authorship changed.
But the lawyer Thomas Baker was also rumoured to be the papers' author. And, after the first few editions of The Female Tatler, a rival 'fake' version appeared, published by the original's former printer. Fake newspapers, bust-ups, and identity theft – eighteenth-century journalism was not messing around.
If you can move past the somewhat murky identities of the paper's many authors, there's much hilarity – and wisdom – to be gained in its contents. Crackenthorpe is absolutely cracking on a vast range of subjects.
She disdains the 'silly amours, petty reflections, frivolous tales and scandalous aspersions' that such fools send her to print – and even claims to disdain the practice of 'tatling' all together – before laying into thinly veiled parodies of her friends and associates. She tells all of 'Lady Fadler' who is constitutionally unable to visit her friends at the right time: 'if you invite her, she's engag'd, if you have business with her, she's fifty miles off, but if you are in private company, or […] if you are in tears for the death of a relation, she comes full of Mrs Crump's wedding, that the bride look'd very silly, the bridegroom was frighted out of his wits…'
And repeated references to 'Mrs Y—-G at Chiswick, who has sixteen lap-dogs' and has hired 'Mademoiselle Javillot to teach them to dance' and 'beats her husband for not paying 'em respect' cannot be anything other than an extended inside-joke.
The Female Spectator – which also borrowed its name from a more famous Addison and Steele publication – was published later in the century by the writer Eliza Haywood; a woman so mysterious that the few known details of her life are disputed; mired in scandal and rumour. Haywood's paper appeared between 1744-6. Common to both publications is a focus on the education of women. Whilst the Female Tatler spends much energy expounding why this is necessary – 'English ladies … spend half their live's time in talking of fans and tea-cups, sugar-tongs, salt shovels and gloves' – the Female Spectator publishes long essays on intellectual subjects to interest such ladies. They vary from botany to travel to politics; whilst these papers do not assume too much learning from their readers, they also do not patronise them.
This variety of subject and tone – ironic and pious, serious and silly, didactic and mischievous – was not unusual; the eighteenth century was drowning in ephemera with various periodicals, pamphlets, circulars, and bills quite literally papering the city. These papers chose a female audience, but were not solely read by women. Nor did they discuss only women's issues, and neither were they particularly radical in their claims for women; their existence is far more a feat of literature than of proto-feminism.
Reading both The Female Tatler and The Female Spectator is an education in the joy of writing, imagining, and recording, but it is also a demonstration of the undeniable pleasure of gossip. There's a delicious purity to the hypocrisy which sees the authors disdain 'prattle', before writing and printing it themselves. It's the age-old adage that gossiping is bad, but if you've got something truly good to say it's practically your duty to spill it. All of this makes it clear we tragically lack a truly good gossip-rag today; the revelations of the tabloids are too identifiable or too cruel to count as belonging to the wonderful world of wildly unsubstantiated rumour. If anyone would please commission me to write 'Miss Francesca's Society Papers', I promise it would be a singularly entertaining read.
Near the beginning of her printing career, Mrs Crackenthorpe is told by a well-meaning lord that 'nobody can be offended at what a Lady writes'. I find myself asking: is that a challenge?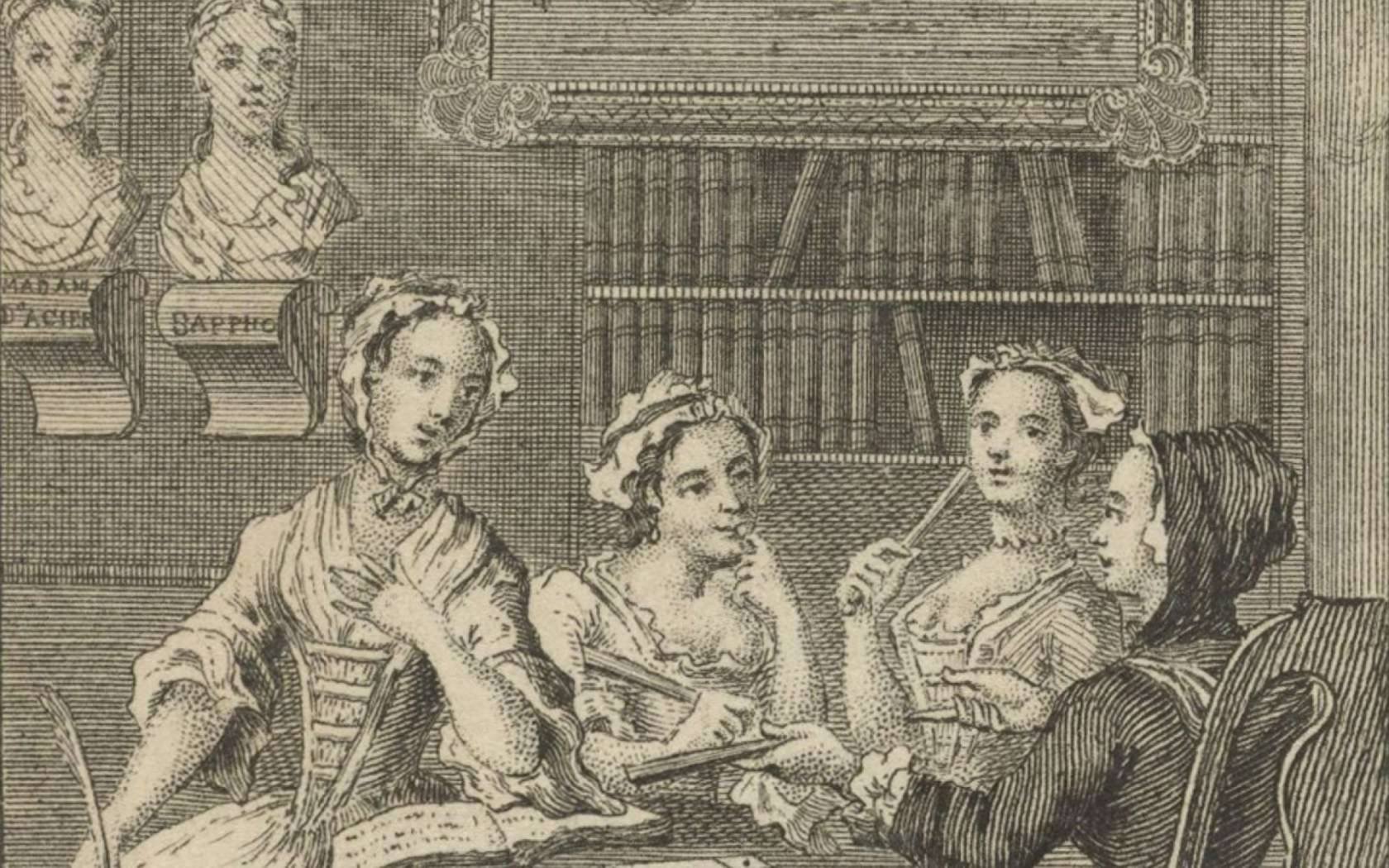 Frontispiece for the Female Spectator, 1746. Credit: Houghton Library, Harvard / Public Domain