Cyprian Ekwensi: Lagos life in the raw
Today, more than half of Africans live in cities. The Nigerian writer Cyprian Ekwensi became the first, and arguably the best, chronicler of their difficult, glamorous and twisted lives.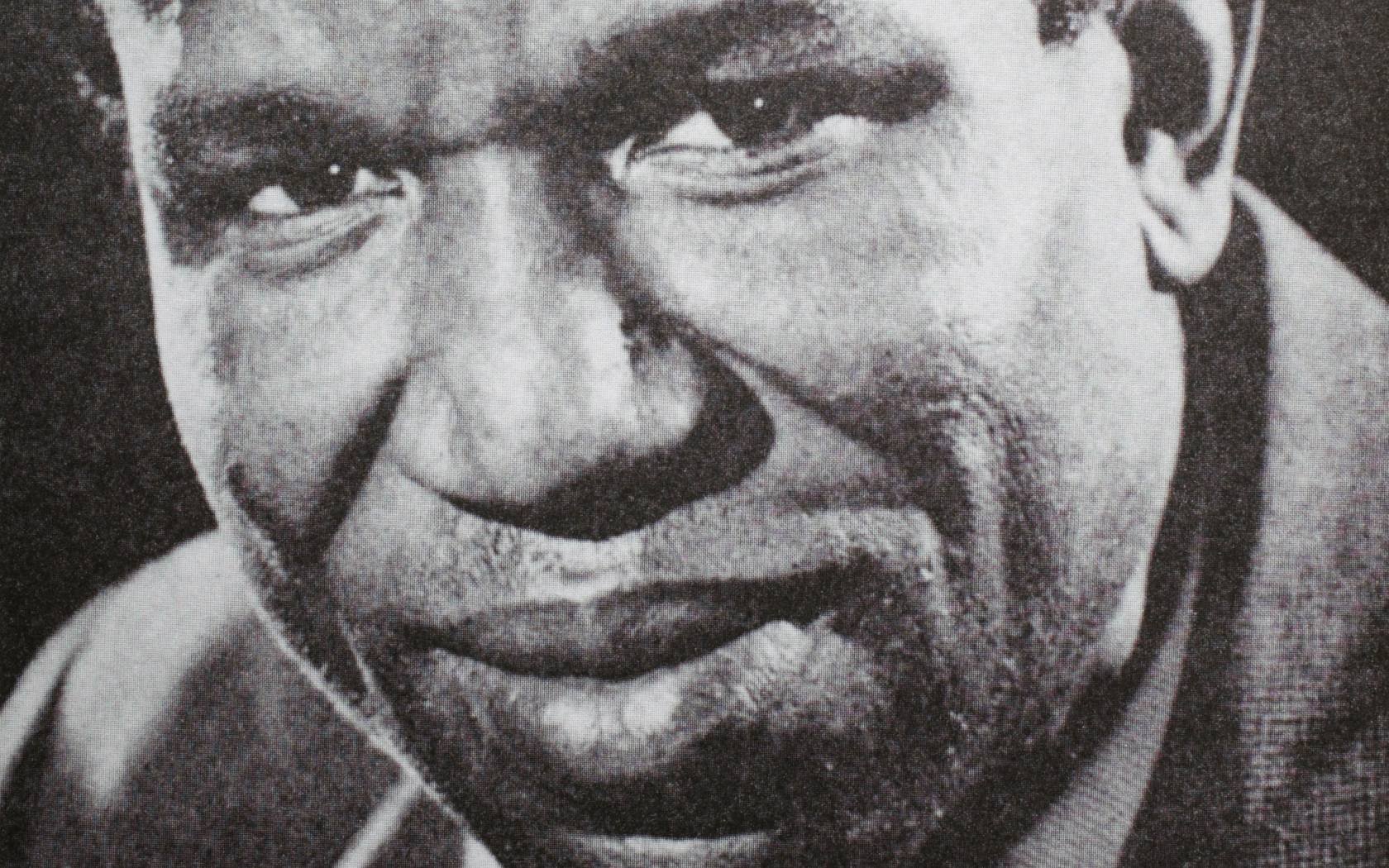 Cyprian Ekwensi. Credit: Writer Pictures.
The Nigerian author, Cyprian Ekwensi, was once so internationally renowned that the broadcaster Edward Bilshen teed him up for a BBC interview as 'Cyprian Ekwensi, the Nigerian novelist, who hardly needs more introduction than that.'
Nigerians still love Ekwensi. School children read his colourful sketches of life in Africa's most populous, and complicated country. For a one-time Biafran propagandist, whose work was often broadcast on the radio, he was prolific, versatile and suitably attuned to the voice of his people. Ekwensi is arguably the greatest influence on the generation leading a surge in global sales of African literature, such as Chimamanda Ngozi Adichie. 'He was a joy to read; his glorious imagination captivated ours,' the author of Half of a Yellow Sun wrote after Ekwensi's death in 2007.
A fellow Nigerian and Igbo, Chinua Achebe, born nine years after Ekwensi, is rightly recognised as the 'father of modern African literature'. Things Fall Apart, which charted the collapse of the old rural order under pressure from colonialism, has been translated into more than 50 languages. Professors pore over Achebe's work. Students still hum around him. Google honours him. His Wikipedia page is a thesis of almost 10,000 words. It is considered a surprise he never won the Nobel prize.
Now search for Ekwensi on Wikipedia. The rich, history-spanning life of an international public intellectual who produced more than 40 books, as well as plays, television scripts and children's tales, is reduced to 587 words, including bibliography. When he does get a canonic title, which is mainly on dusty-looking Nigerian websites, it is the comparatively diminishing 'father of the modern Nigerian novel'. Outside Nigeria he has been almost totally forgotten. That is in part because he was dismissed as a salacious hack.
The printing of Ekwensi's first major work, a racy novella called When Love Whispers, in Onitsha in 1948 helped launch a tradition of vernacular pamphlets for which the frenetic Igbo town and its market — by some accounts Africa's largest — became famous. Today, one writer recently observed, few literate Nigerians deny having read the book. But they may be shy to say so. High-minded Nigerians snubbed it when it circulated. Convents banned it, after nuns caught the girls with it under their pillows. A government as far away as Ireland blacklisted it.
Its fate is an example of Ekwensi's popularity, and its cost. 'The Nigerians love a good story,' Ekwensi told Voice of America in a series of interviews of African writers published in 1981. 'They love spectacle. You only need to stand in a street corner where there has been a motor accident or something and everybody leaves whatever he is doing and is on the street. We like to see things. We like to hear scandalous things about people. We like to see how all these rich men are coming to a soggy end. And so on and so forth. And also we want to read about them.'
Nuns do not. And neither apparently do critics or literature scholars. Because while readers loved him, the gatekeepers of culture in both Nigeria and the West labelled Ekwensi 'tawdry', 'second-rate', 'of little or no literary quality'. They misunderstood as cartoonish characters such as Jagua, who were always intended to be archetypes, exaggerated shadows cast by the new, sprawling African city that so beguiled and horrified him. Ekwensi's writing contained 'disconcerting intrusions of bad writing and scenes of sheer silliness', said John Povey. Not one of his works, Bernth Lindfors suggested, 'is entirely free of amateurish blots and blunders… his stories and novels serve as excellent examples of how not to write fiction'.
Nothing in Ekwensi's early life suggested he would become the enfant terrible of African city literature. Ekwensi grew up in the middle-belt town of Minna, where his father, reputedly a great elephant hunter, was working as a carpenter. He was born in 1921, seven years after Lord Frederick Lugard stitched two British colonial possessions together to create Nigeria, using a name coined by his wife. After studying in southern Nigeria and Ghana, Ekwensi found his first great life experience in the dry north of then country, where he was dispatched as a forestry officer to do battle with the sickness-causing tsetse fly. There, in the open wilds planting trees and clearing riverine areas, he began to write adventure stories, and met the characters who would inspire his third novel, Burning Grass, 'the wandering cattlemen of northern Nigeria who pursued green grass where it is'.
In the late 1940s Ekwensi arrived in Lagos, then Nigeria's capital, now Africa's largest city, which had grown up from a gaggle of villages to amass around the lagoons that give it its name. 'Everyday the trains bring more and more people from the provinces', moths to light who discover a place where 'people . . . live ten to a room', Ekwensi wrote later.
Like George Orwell in Paris and London, the young Ekwensi could go 'down to the people', listening to their Pidgin English, witnessing 'life in the raw', 'undisguised'. Beginning to write for newspapers and magazines, and seeing his first works of fiction published, he lived in the high-life heart of the city, in the mainland neighbourhood of Ebute Metta, a place of stretching streets of two-storey communal 'face-me-I-face-you' one-room apartments.
There, while contemporaries like Achebe were focusing on the rural past, Ekwensi began to create the literature of the new urban Africa. He met prostitutes, racketeer landlords and jazz musicins, colonial expatriates and immigrants, trotting home to write them up. In 1948, Ekwensi began reading weekly stories on Nigerian Broadcasting Corporation radio, to entertain returning Second World War veterans. 'Later on I looked at these stories and found a pattern of city life,' he said. In 1951 he won a scholarship to study pharmacy at the University of London. On the crossing over, he started pulling his stories together into a novel. People of the City, a picaresque tale of a crime reporter-cum-club trumpeter called Sango, which came out in 1954, four years ahead of Things Fall Apart, the second Nigerian work of fiction to win international praise after Amos Tutuola's The Palm-Wine Drinkard.
Ekwensi revelled in the great cast of characters the African city threw up. 'Every rat has its hole,' he later chuckled to a colleague in his office, wondering where the street masses outside the window would lay their heads that night. But his intention was never to celebrate the cunning and corruption he encountered. 'My major themes are the values, or the non-value, in our society,' Ekwensi said in 1981. 'In the village we still stick to the old concepts of respect for the elderly, love for children, morality. But in the city all these can go to hell as far as we have money.'
While putting all this to paper, Ekwensi was living the executive life. Working as a pharmacy assistant at a Romford hospital during his studies in London, Ekwensi started writing and broadcasting plays for the BBC. He did a voiceover for a film shown at Venice Film Festival, and film scripts including one to mark the Queen's first visit to Nigeria in 1956. Returning to Lagos, he lectured briefly in pharmacology before rising sharply to become Director of Information for the Nigerian Broadcasting Corporation. There, in 1961, during the brief period after Nigerian independence when the Queen was still head of state, the anthropologist Ulf Hannerz remembers him at a large desk, with a colour print of the young Elizabeth behind his back. 'I can imagine Cyprian Ekwensi rising from that desk with the portrait of the Queen behind him, and going home to write about Jagua Nana,' Hannerz said.
She was his iconic creation. A woman with cards to play, still possessive of her seductive qualities but ultimately too delicate for the caprices of her trade, and of Lagos. Jagua yearned for a simple village life, but could not let go the hot moments of the city. She seduces an aspiring lawyer half her age, who runs off to pupillage in London and returns married. She rallies the market women with their pots and pans for a political tussle she knows will end in tears. Briefly in the country, she settles a generational conflict through her sheer, inescapable humanity. Not before schools banned her and churches condemned her, Jagua became an archetype of Nigerian life, spawning rambunctious, luxury-loving heroines in Nollywood, Nigeria's prolific film industry. The most stylish girl in Adichie's high-school class became Jagua Nana.
In 1966 the Biafran war broke out, pitting Igbos against their Yoruba and Hausa neighbours, putting a bloody pause on Ekwensi's fiction. He braved Lagos for a month after Major General Johnson Aguiyi-Ironsi, the Igbo beneficiary of a coup, was assassinated, until Ekwensi 'started getting evidence that my neighbours were being taken off in the night and killed'. He travelled east to Enugu, the capital of the breakaway state of Biafra, becoming head of external propaganda to the new government and an advisor to its leader, General Odumegwu Ojukwu. He became a familiar figure in Western news broadcasts, his good looks, easy smile and proven ear for the voice of his people endearing himself to foreign journalists. 'You prove genocide when everybody has been killed,' he told one at the height of the war. 'Biafrans don't want to wait until everybody has been killed.'
Nigeria defeated Biafra in 1970, shutting Igbos out of national life and dumping Ekwensi in a heap. As the dust settled on the war, the ITN correspondent Richard Lindley found him in an Enugu overflowing with refugees, selling plastic jerry cans tied like balloons to the roof of his car. 'I have proved that I can do anything,' he said, leaning on the sedan's cream bonnet in a checked shirt and trilby hat. Ekwensi picked himself up, opening a pharmacy, founding an exercise-machine business and later becoming managing director of the Star newspaper in Enugu.
As Nigeria stuttered through years of military rule and faltering peacemaking, Ekwensi, Achebe and others like Wole Soyinka, who became Africa's first Nobel prize winner for literature in 1986, assembled a literary culture Ekwensi hoped could unify the nation. When it came he took aim at politics, which Jagua Nana had lamented as a 'game for dog… roughest game in de whole worl'. He travelled across the country, setting his works in every region in reflection of his peripatetic upbringing. He had nine children, with one wife, Chinwe, and had started writing an autobiography when he died. 'A creative writer I think should be able to show the people to themselves…', he said once. 'And in seeing this they will then be able, it is hoped, to look at themselves critically and adjust themselves.'
But his most enduring legacy lay in tying down Lagos in prose. Under his influence, Nigerian authors have put the city next to New York, London and Paris as one of those most fictionalised. The Lagos of writers like Adichie, Teju Cole or Chibundu Onuzo is recognisably the Lagos of Ekwensi: twisted; depraved; growing too quickly for its infrastructure; full of suffering; yet exciting; glamorous; dripping with opportunity. It is there,  too, in the contemporary fiction of Nairobi, Addis Ababa or Johannesburg. If Achebe wrote the definitive account of things falling apart, Ekwensi captured them as they were built anew.
Now, when more than half of Africans live in cities, the African urban experience is the African experience. So its literary creator deserves a promotion. Can Ekwensi be a second father of modern African literature? Or is he an uncle, a generous, gift-giving, slightly wayward uncle?