Dorothy Crowfoot Hodgkin — the first and only British woman to win a Nobel Prize in science
The chemist and crystallographer made pioneering discoveries, including determining the structure of insulin in 1969 after 35 years of work.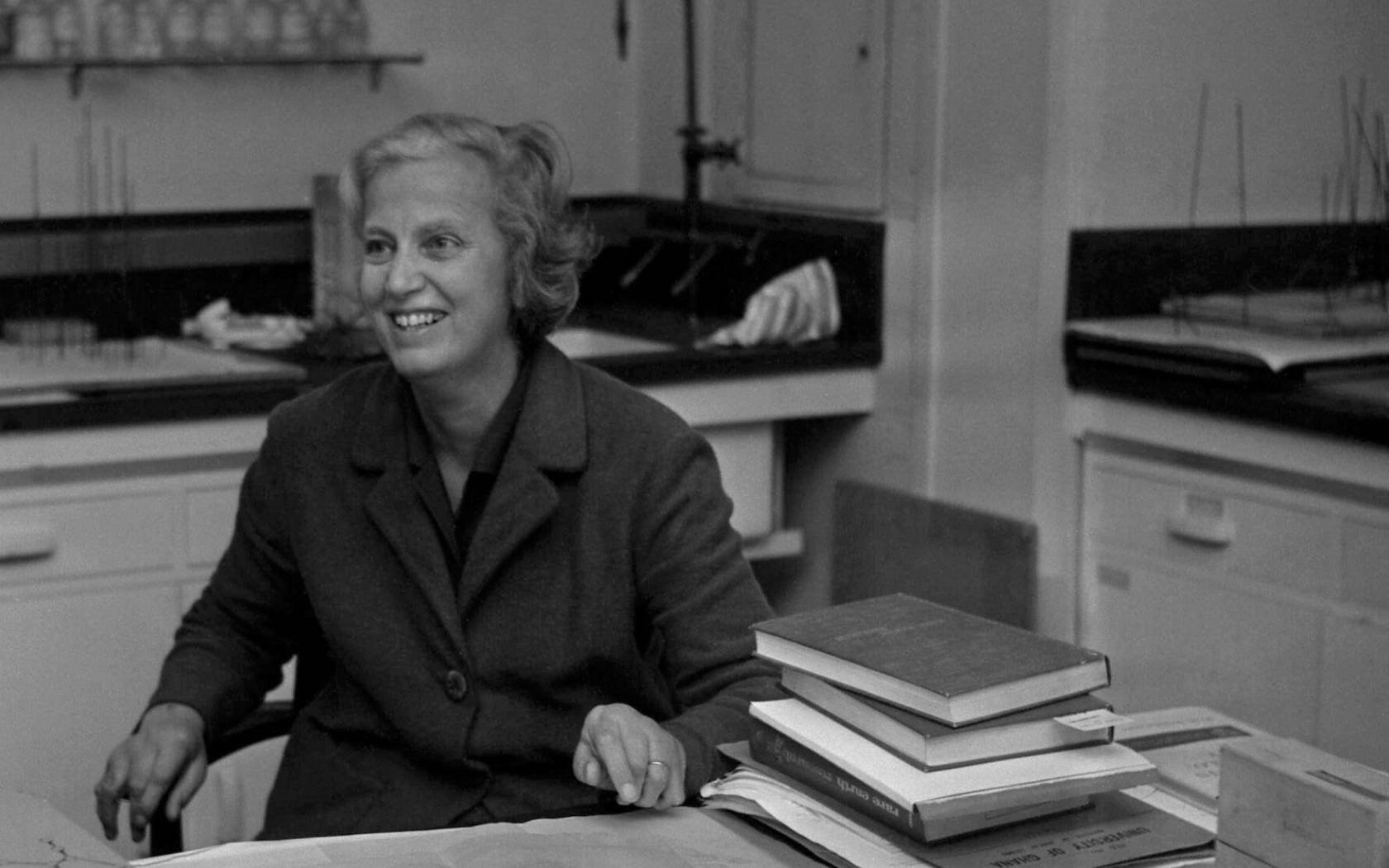 Dorothy Crowfoot Hodgkin, winner of the 1964 Nobel Prize for Chemistry, pictured in the Department of Chemical Chrystallography at Oxford University. Credit: Associated Press / Alamy Stock Photo
Even when a female scientist makes major breakthroughs, her fame is by no means guaranteed: acquiring celebrity status demands not just a lifetime of outstanding achievement, but also an emotional spin lending mythological power to her story. During the twentieth century, generations of aspiring schoolgirls like me were taught to admire Marie Skłodowska Curie as a heroic martyr who sacrificed her health and her family for the splendid cause of science. That skewed vision has now been replaced by another stereotype — the compassionate carer dressed in white, whose wartime initiative launched a cancer charity bearing her name. The UK's only other famous scientific woman, Rosalind Franklin, has benefitted from the double media advantage of dying young and being the victim of male oppression. Even the pandemic failed to refashion her as a pioneer of virology, medicine's crucial weapon in the Covid wars.
In contrast, one of Franklin's mentors, the eminent crystallographer Dorothy Mary Crowfoot Hodgkin (1910-94), has slipped into semi-obscurity. This seems an extraordinary fate for the first and only British woman to win a Nobel Prize in science. She ticks all the boxes for a stellar reputation — superb scientist, supportive group leader, caring mother of three, promoter of women's rights, lifelong campaigner for world peace — but lacks the melodramatic material essential for the snappy soundbites of media publicity.
Far more interested in her research than personal fame, Hodgkin consistently refused to play the gender card that might gain her promotion. The machinations of the Nobel committee are notoriously opaque, but according to common scientific gossip of the time, she was unfairly sidelined for the Chemistry Prize on several occasions. Her expectations must have been high, but she voiced no public complaint. When the telegram from Stockholm did eventually arrive at her Oxford home in 1964, she had failed to make any arrangements for urgent mail to be forwarded to her temporary workplace at her husband's institute in Ghana: it reached Accra by sea mail three months later.
The newspapers were quicker off the mark. Media-savvy journalists immediately subordinated science to sex by coining cheapskate headlines that lauded 'a mother of three' with her 'most un-housewifely skill' of exploring molecules. The following year, she received a letter from Elizabeth II inviting her to join the Order of Merit, a select and overwhelmingly male group restricted to 24 members. Revealingly, Hodgkin hesitated before she accepted, confessing to her husband Thomas: 'I all the time doubt the judgement that places me in this class.' Even the most prestigious scientists can suffer from impostor syndrome.
A pioneer in X-ray crystallography, Hodgkin won her Nobel medal for deciphering the molecular structures of penicillin and Vitamin B12; a year later, after decades of investigation, she added insulin to the list. This coveted prize formally honoured specific discoveries, but more closely resembled a lifetime achievement award recognising her enormous influence over the years. For instance, although electronic computers are now standard equipment, in the mid-1950s she revolutionised laboratory practice by enlisting Californian digital power for the long series of calculations required to translate black dots on flat photographs into three-dimensional representations. This farsighted initiative enabled her to unravel a molecule with 100 atoms, an unprecedented feat then hailed as the equivalent of 'breaking the sound barrier.' Her research also had extensive practical ramifications, contributing to further discoveries in crystallography, as well as medical advances and the synthetic production of drugs.
In addition to her searing intellect, Hodgkin possessed a powerful social conscience. She was only 15 when her mother, Grace  Crowfoot, took her to a League of Nations meeting in Geneva, and ever afterwards she remained unshakably convinced that dialogue, not armed conflict, provides the best strategy for resolving international tensions. In 1987, she was awarded the Lenin Peace Prize by the Soviet government — and perhaps it should also be regarded as a tribute to her effectiveness that, following an exclusion order in 1953, she needed special CIA permission to enter the United States. Insisting on the need for international cooperation, she travelled widely throughout her life, dispensing financial and personal support to underendowed institutions. One of Hodgkin's major concerns was the threat of nuclear war, and for twelve years — the longest term ever served — she was president of the Pugwash Conference promoting disarmament. As she grew older, she took advantage of the status conferred by her Nobel prize to intensify her global campaigns, concentrating in particular on China, Ghana, and India. Refusing to be deterred by age or ill-health, she paid her last visit to Beijing in a wheelchair.
Even Hodgkin's childhood was cosmopolitan. Born in Cairo, after several family transitions Dorothy Crowfoot, as she was then known, ended up living primarily in Suffolk while paying intermittent visits to her parents in Khartoum. Looking back on her life, Hodgkin pronounced that she had been destined for a life dedicated to chemistry and crystals. She was still in primary school when she set up her own experimental laboratory in an attic at home, stocking it with supplies from the local pharmacist; a few years later, she was learning about X-ray diffraction from the Royal Institution Christmas lectures. Her overseas connections remained important while she was a student at Somerville College, Oxford. She practised chemical analysis on pieces of coloured glass from Palestine sent by her parents, and spent two years colouring in detailed drawings of Byzantine mosaic floors that she had made during a trip to Jerusalem: she was already using the visual skills that would later prove essential for thinking about spatial order in crystals.
Hodgkin often maintained that gender was irrelevant in science, but in reality, even the most brilliant women found it hard to obtain positions in a world dominated by prejudiced men. One of the few enlightened exceptions was John Desmond Bernal, who offered Hodgkin her first research position in his Cambridge laboratory (some twenty years later, he provided refuge for Franklin after her unfortunate spell at King's College London). It was through a generous invitation from Sir William Bragg, Bernal's former supervisor, to use his London X-ray facilities that Dorothy Crowfoot met her future husband, Thomas Hodgkin. Initially the couple settled in Oxford with their three children while she pursued her career as a Fellow of Somerville. Almost from the outset, Thomas was often away teaching, returning only at weekends; later on, he worked mainly in Ghana to promote adult education programmes and African nationalism. This arrangement of living apart for long periods punctuated by irregular intervals together shocked more conventional colleagues, but it evidently worked for them.
Like Bernal and Bragg, Hodgkin displayed exceptional concern for her team members, who she selected mostly from among her own female students at Somerville or in response to appeals by overseas researchers. Struggling against recalcitrant administrators, she secured employment rights for women that now seem standard, but once were exceptional — paid maternity leave, no reduction in grants on getting married, salaried contracts. Her devoted students included Margaret Roberts, who described her as 'ever-helpful,' 'a brilliant scientist and gifted teacher'. When Roberts subsequently became ensconced in Downing Street as Prime Minister Margaret Thatcher, she hung Hodgkin's picture on the wall. Unsurprisingly, this admiration was not reciprocated — Hodgkin was openly critical of her former student's political beliefs.
When Hodgkin was 75 years old, she agreed to be painted by Maggi Hambling. Produced after five days staying in Hodgkin's Warwickshire cottage, Hambling's evocative portrait captures Hodgkin deeply absorbed in her work, frantically busy as if trying to complete her life's mission before it is too late. Glimpsed through the window, the snowy sky seals off her room from the outside world and accentuates the impression of looming darkness, the end of a short winter's day as well as of a long career. 'Each painting is an experiment,' remarked Hambling, and her vibrantly-coloured brush strokes seem to have been applied with virtuosic speed and freedom. From elbow to hand, Hodgkin's arms are blurred and doubly depicted, suggesting the rapid movements of an animated cartoon character. Engaged in several tasks simultaneously, she ignores the artist's presence as she makes notes, peers through a duplicated magnifying glass and refers to a paper she is holding.
The most poignant features of this portrait are Hodgkin's four hands, whose twisted shapes echo the gnarled branches of the trees outside. She was only 28 when she suffered her first acute attack of rheumatoid arthritis, which caused severe attacks of disabling pain for over 40 years, especially during periods of stress. In 1978, the Royal Society commissioned the sculptor Henry Moore to create its first image of a female Fellow. Instead of a conventional portrait, he insisted on creating pencil drawings of her hands. Like Moore, Hambling suggests that Hodgkin's distorted fingers — so essential for manipulating delicate equipment — reflect her determination to persevere, her refusal to be deterred by disability, her dedication to scholarship.
Despite the accolade of the Nobel prize, Hodgkin herself was most proud of her success in later solving the still more difficult problem of deciphering insulin. After 35 years of effort, she finally cracked the code in 1969, and Hambling deliberately organised this cottage scene to channel light from the window onto Hodgkin's greatest achievement. Her ball-and-stick model of insulin dominates the large, cluttered desk, the only item that will survive: even if were to be destroyed, the scientific knowledge that it represents will last forever. In contrast, lying next to the model is a reminder of impermanence, a half-eaten sandwich, already stale and soon to disintegrate. With her tousled white hair and lined face, Hodgkin is herself a transient figure who cannot postpone death forever.
Hambling was so impressed by her host's courteous attention to detail that she described her as 'the closest person to a living, walking saint that I have ever met'. Perhaps such virtue explains why she is not more famous: victims or martyrs are far more likely to make the grade as figureheads. Curie and Franklin have both become household names, but Dorothy Crowfoot Hodgkin is equally deserving of commemoration.