Elizabeth Thompson — military artist whose star rose and fell with the British Empire
The British painter was the only female artist to achieve fame for her realistic depictions of battle scenes. But as Victorian romanticism for the British Empire faded so did her reputation.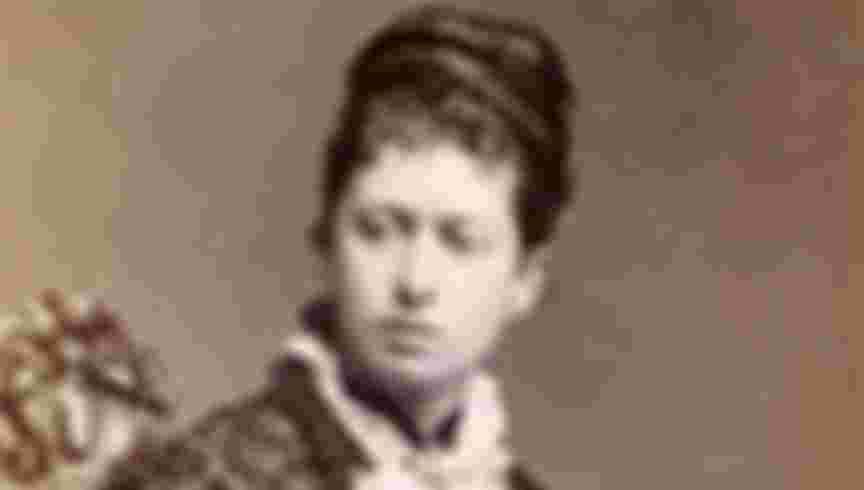 Elizabeth Thompson, later Lady Butler (1846-1933). Credit: Pictorial Press Ltd / Alamy Stock Photo.
Somewhat surprisingly, the leading artist of the British Empire in the Victorian age was Elizabeth Thompson, later Lady Butler. Surprising, because women artists had limited access to art training and practice in that era, and seldom achieved renown. Moreover, Lady Butler's pictorial subjects were predominantly military, a realm to which women typically had even less access to than to art.
Over several decades, she produced a sequence of paintings depicting British soldiery in scenes relating to imperial conflicts in the nineteenth century, which in the national imagination illustrated the country's power and the sacrifices of its armed forces in securing that power. Notable incidents portrayed came, in non-chronological order, from the Napoleonic Wars, the first Afghan War, the Crimean War, the Anglo-Zulu War, Tel-el kebir, the Anglo-Boer War and the First World War. 
These subjects are again surprising, because the artist was not from a military family and indeed had few connections with the Army before her marriage, at age thirty, to Major William Butler (later Lieutenant-general Sir William Butler).
But from youth, she was besotted by uniformed, mounted and marching troops, images of which fill her juvenile sketchbooks. Later, in 1922, she disavowed her reputation as a battle artist, writing 'I never painted for the glory of war, but to portray its pathos and heroism.'
Her first major work, 'The Roll Call,' shows a line of Grenadier Guards in busbies and greatcoats, standing in the snow after a battle. Several are wounded and one has fallen, through injury and exhaustion.The war in the Crimea had taken place two decades earlier, but memories were still vivid, and when exhibited at the Royal Academy in May 1874 this sombre reminder, in realist rather than heroic mode, thrust the young artist into the public eye. Visitors were so eager to see the painting a policeman was stationed to control the crowd. As a commissioned piece, it had already been sold, but when Queen Victoria wished it to enter the Royal Collection, the owner reluctantly ceded possession. Thompson's hallmark henceforth was historical accuracy regarding uniforms, equipment and where possible, models recruited from existing regiments.
Thompson was the elder of two daughters born to wealthy and cultivated parents, who took their family to Italy for most of the year, returning to the Isle of Wight in summer. They also travelled in Europe, where a highlight for Thompson was an obligatory British tourist visit to the Waterloo battlefield. Escorted to La Haie and Hougoumont by an old hussar, she was 'all eagerness to learn from the lips of one who took part in the fight, the story of the great victory of my country.' For nigh on a century, Wellington's campaign had remained a national benchmark of military valour.
While her sister chose literature as her vocation, eventually becoming well known as Alice Meynell, a poet and essayist, Thompson claimed art, where she displayed a level of ambition unusual in girls, who were typically enjoined to be modest and self-sacrificing. She recalled how in her desire to become 'a great artist,' the Thompson family was persuaded to move to London in order for her to enrol at the South Kensington Art School, under the prominent artist and teacher Richard Burchett. Here she was a star pupil, augmenting regular classes with informal session sketching and drawing the nude female model. Her exhibition debut, 'Bavarian Artillery in Action,' at the Dudley Gallery in Piccadilly was well-received, but her next works, inspired by time in Florence and Rome and admission to the Catholic Church, were not so popular – a scene of a papal soldier saluting two bishops was rejected by the Royal Academy summer exhibition. However, the Franco-Prussian War of 1870-1 prompted a picture of a wounded French officer, missing in action, which in turn led to the commission for 'The Roll Call.'
As the curators of the Royal Collection explain, the painting's focus on the endurance and bravery of ordinary soldiers accorded with the mood of the times: 'The sombre mood and simple yet dramatic composition vividly epitomised the grimness not only of the Crimean War but of all wars.'
Voted 'painting of the year', it was further popularised as an engraving, accompanied by the artist's photograph – an index of contemporary fame. It also nearly led to the artist being the first woman since the RA's founding in 1768 to be elected an associate member. Misogyny – and lack of ladies' facilities – prevailed, however, and sculptor Thomas Woolner took the honour.
But she had picked a winning formula for her work. Her next subject, 'The 28th Regiment at the Battle of Quatre Bras' shortly before Waterloo, invoked a more active military scene, where the 'square' of red-coated riflemen fight off French cavalry, vividly depicted amid gun smoke as if within metres of the viewer. Actual uniformed troops had demonstrated the defensive manoeuvre for the artist. The impact of the painting comes from the immediacy of the soldiers' individual faces, together with the dramatic rendering of horses under fire. As one critic noted, here the spectator is in the very thick of the action, 'with the dead, wounded and fainting, on the ground around him.' Praise from leading critic John Ruskin secured her reputation. He wrote:
'I never approached a picture with more iniquitous prejudice against it than I did Miss Thompson's; partly because I have always said that no woman could paint; and, secondly, because I thought that what the public made such a fuss about must be good for nothing. But it is amazon's work this; no doubt of it, and the first fine Pre-Raphaelite picture of battle we have had; profoundly interesting, and showing all manner of illustrative and realistic faculty.'
'Balaclava' (1876) returned to the Crimea, depicting survivors of the Charge of the Light Brigade, the emblematic disaster of that conflict. A foot soldier stands centrally 'in a state of shock, others stagger and fall'. The similar 'Return from Inkerman' followed in 1877, the same year as Thompson confirmed her military links by marriage to career soldier William Butler (1836-1910) from the Catholic Irish gentry. Both pursued their careers as well as producing five surviving children. William had served in the imperial army in Burma, Canada, India and Africa, notably in the first, ferocious Ashanti campaign and that against the Zulu kingdom, where he returned in subsequent years. He also served in Egypt and Sudan during the 1880s and 1890s as British forces secured dominance. By this date — and especially after Major-General Gordon's unsanctioned defence of Khartoum and death there in 1885 — public support for military aggression began to wobble, provoking a counter-movement that became known as jingoisim. In Pax Britannica (1968) by Jan Morris, William Butler is said to have been 'an intuitive sympathiser with rebel nationalists all over the Empire' — but his wife's admiration for British heroism was undimmed, and she continued to depict celebrated military incidents past and present. The most powerful of these, 'The remnants of an army, Jellalabad, January 13th, 1842' shows the sole survivor of the disastrous retreat of British forces from Kabul in the first Afghan War.
Exhibited in 1879, this coincided with Mrs Butler (as she now was) failing to secure election to 'associate' status at the Royal Academy, despite promises of support, presumably because her fellow artists thought it inappropriate for her to compete professionally. The subsequent decline in her reputation has been attributed to her marital status. She was also out of tune with artistic trends, which now favoured the Aesthetic Movement exemplified by Frederic Leighton and Edward Burne-Jones. At the then-famous Grosvenor Gallery in London's Bond Street she felt surrounded by 'unwholesome productions' – naked nymphs and fluttering draperies – becoming 'more and more annoyed while perambulating those rooms, and to such a point of exasperation that I fairly fled and, breathing the honest air of Bond Street, took a hansom to my studio.' Here, in fury, she sketched out a dramatic cavalry charge in an emphatic reversion to military themes.
Next came 'The Defence of Rorke's Drift' (1880) ­– an imaginative rendering of a subsidiary incident during the battle of Isandlwana in KwaZulu. She felt 'compelled by popular clamour' to choose this subject, owing to the Victoria Cross award to a dozen of the defenders. For the figures of the African soldiers, shown as an undifferentiated mass, the artist drew from 'a sort of Zulu from a show in London', whom she described as a 'dusky savage,' claiming to see only his teeth and the whites of his eyes, owing to thick London fog.
In its political aspects, this sequence of pictures tracked the evolving national views of the British Empire, in ways that still inform societal opinion. Rorke's Drift, for example, inspired the movie 'Zulu' (1964), which, like the painting misrepresented the heroic defence of their homeland by the people of KwaZulu. Stylistically, her works remained consistent – carefully composed, highly-finished and often archaic scenes, with a mid-height horizon. Some added vigorous movement. The anti-Grosvenor cavalry charge became 'Scotland Forever!', melodramatically showing a posse of Scots Greys at Waterloo thundering towards the spectator, which subliminally compensated for the Light Brigade catastrophe at Balaclava, and surely also contributed to the visual style of twentieth-century cinema.
Support for the British soldiery remained strong at this time, but imperialism was altering. The artist's next picture marked the 1882 battle of Tel-el-Kebir in northern Egypt — to establish order or complete conquest, according to which source one reads — showing General Wolseley and Major-General Butler riding between cheering Highlanders and dying Egyptians. Only the central section survives, the rest destroyed, it is said, owing to Butler's dislike of triumphalism in colonial actions. He was however knighted, whereupon Thompson became Lady Butler. Her husband later distanced himself from the actions of Cecil Rhodes and Lord Milner that prompted the South African War, writing 'The nation that will insist upon drawing a broad line of demarcation between the fighting man and the thinking man is liable to find its fighting done by fools and its thinking by cowards'. While his wife was always loyal, her artworks offer a more simply patriotic view of conflict and conquest: They provide a valuable visual record of standard imperialist views of the time.
But as such, they became increasingly anachronistic, especially during the twentieth century. The old fashioned, predictable subjects fell out of critical favour along with their creator, and Lady Butler was consigned to the derided Victorian age. She and William retired to Ireland. Her sympathies were re-aroused during the First World War, in which one of their sons was wounded and another served as military chaplain. Paintings such as 'The charge of the Dorset Yeomanry' and 'Canadian bombers on Vimy Ridge' reprised old themes, without attracting the old acclaim, and indeed some dispraise. Her last exhibit at the Royal Academy in 1920, showing Horse Guards retreating after the battle of Mons, was actively disliked in military circles. Elizabeth Butler's era had passed and, unfairly, her artistic reputation has not so far recovered.