Enid Bagnold — trailblazing novelist whose greatest novel launched Elizabeth Taylor's career
The largely forgotten novelist Enid Bagnold was an acerbic and yet tender author. National Velvet was years ahead of its time.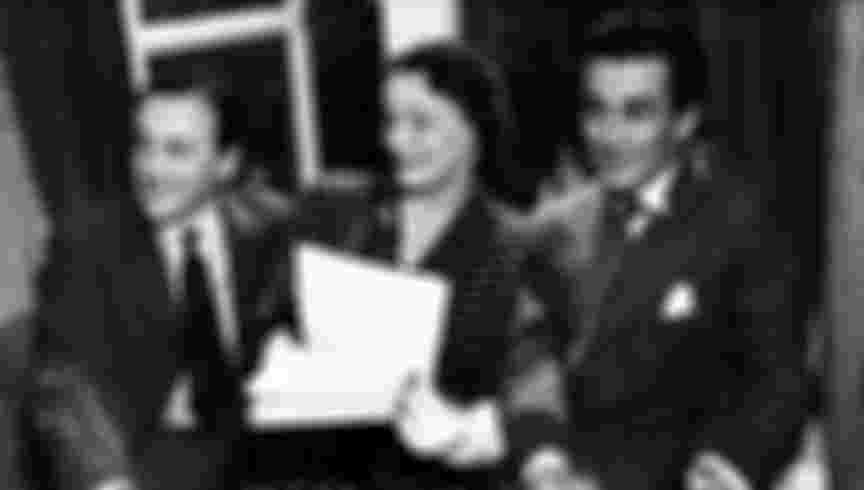 Three authors pictured at the Arts Theatre London, L-R: C,E,Webber, Enid Bagnold and John Whiting. Credit: Bentley Archive/Popperfoto via Getty Images/Getty Images
In 1944, while the world was embroiled in the final phase of a devastating global war, one of the most quintessential feel-good movies of all time was released. National Velvet, with palm trees misplaced on a California racecourse imitating Liverpool's Aintree, launched the career of twelve-year-old child star, Elizabeth Taylor, an English girl who happened to be living in America. It also made Enid Bagnold, author of the book on which the film was based, (relatively) rich and famous as well as endearing her to feminists who nonetheless had to wait another eight-six years before the fantasy she described so plausibly came true; that a girl could win such a dangerous race as the Grand National, first run in 1839.
Bagnold's 1935 novel of the same name is both a timeless classic that celebrates a young girl's love for, and unity with, a pony as well as a period piece, dated in superficial ways. It was never intended as a children's book, even though the heroine, Velvet Brown a butcher's daughter, is a child. Rather, it is a feminist novel with a story predicated on the determination of a young girl to achieve something never imagined possible; winning the four-mile annual steeplechase at a time when no female jockeys were allowed. And although they have been accepted since 1977, following the passage of the Sex Discrimination Act two years earlier, the iconic race never had a female winner until earlier this year, when on April 10 Rachael Blackmore made history with her victory.
Bagnold always described the novel as something that emerged from her own experience of family life as a mother of four children living in Sussex. Yet clearly it was the result of a talented artist using her creative imagination to twist, turn and embellish that everyday experience into something exciting and thrilling. The strength of the book for me is that it allows a young girl to dream of achieving something unthinkable (to reveal more would be a spoiler).
But perhaps the reason I love it most is because of the poignant mother/daughter relationship at the heart of the story. Most novels that focus on this intense bond are complex at the very least, antagonistic even, as the author is often at pains to show how she survived in spite of a difficult, demanding, or emotionally manipulative mother. How rare to see this relationship portrayed in such a positive and meaningful light, where the mother demonstrates her strong love for Velvet, but with boundaries. Her wish for her daughter to achieve a sporting victory that was beyond her own reach is based on love, not corrosive jealousy.
Perhaps that too was grounded in reality since Bagnold, an only child for the first six years of her life, learned confidence early through basking in her own adoring mother's love. Born into a somewhat stuffy military family in 1889, Enid spent her childhood in Jamaica, where her father, Colonel Arthur Bagnold, had a posting. Then the family returned to Shooter's Hill, close to Woolwich Arsenal in south London. More tomboy than rebel, Bagnold longed both to write poetry and have great adventures. On leaving school she studied painting with Walter Sickert but was not allowed to attend life classes. She then worked as a journalist with Frank Harris, a notorious publisher, editor and seducer more than forty years her senior, to whom she famously lost her virginity in an upper room in the Café Royal. Writing of the experience in her autobiography she described it unemotionally as 'going through the gateway to life.' She always declined further details beyond saying that the experience made her feel 'like a corporal made sergeant.'
Such military metaphors came easily to Bagnold. In 1914 the entire country was caught up in war with Germany, and she immediately joined the Red Cross as a nurse. She was by now keeping a daily journal and it was this that in 1918 became her first published book. A Diary Without Dates resulted in her sacking by the matron of the hospital where she worked as well as sudden, door-opening celebrity. 'The world is before me,' she wrote to Harris.
But the next book, based on her experience as an ambulance driver in France, was less successful. The Happy Foreigner lacked the bracing quality of A Diary and did not quite make the transition from fact to fiction, perhaps something she never quite mastered.
So she settled, in 1920, nudging 31, for marriage to Sir Roderick Jones, chairman and chief executive of Reuters news agency. Since I had begun my own working life at Reuters, I knew that although Jones was deeply unpopular within the company – mostly because of his arrogant, dictatorial ways – there was a rich personal archive held at its offices in Fleet Street. Since Jones and Bagnold wrote each other almost daily letters, yet did not share a bedroom, this archive was to give me enormous insight into Bagnold's personality and drive once I embarked on writing her biography in the 1980s.
In Jones, Bagnold found a dapper little man with a title – although she always maintained that 'Lady Jones' was a ghastly name – which gave her some social standing. She also acquired security and respectability and, if not passion, then a feeling that she was loved. Jones had made her a business-like proposition from the start. 'Marry me and you will have a better opportunity for self-development than you will with many men.'
He was right. She was always more interested, in her writing and her life, in examining who she was than the mechanics (as she saw it) of sex.
For his part, Jones clearly enjoyed the intellectual lustre, if not the slight raffishness, that Bagnold gave him.
But she was not quite raffish enough for the bohemian Bloomsbury set she brushed up against and longed to be welcomed by in Sussex, where the Jones family now lived. Virginia Woolf had already described Bagnold to her sister as a 'disagreeable chit.' Now, as Lady Jones, they concluded she was a snob as well.
In her idiosyncratic autobiography (published 1969), Bagnold wrote that she was driven to explore family history because of her fascination that 'sperm had been shot across two centuries to arrive at me.' Such an earthy – and original – simile was typical of her writing (she once described her own prose as 'beautiful vomit') but it also revealed her intense fascination with herself. Not unusual for 'a born writer!' as she called herself. She kept everything – letters, photos, notebooks, and scrapbooks all embellished with guidance for a putative biographer. Pictures of the Franco-Romanian princes, Antoine and Emmanuel Bibesco, for example, who had been close friends of Proust, were annotated with helpful comments; 'This is the brother who committed suicide' or 'Here we are visiting a church together.'
Over the next decade Bagnold produced four children while her literary productions slowed down. She adored motherhood. Being a mother both deepened her understanding of humanity and was a distraction. She was boastful about her fertility, once saying: 'you do not know what it is fully to be a woman until you have had at least three children and I am having four.' Such politically incorrect boasting, unimaginable today, did not win her many friends even in the 1930s. Her habit of speaking her mind without reflection was to bring her serious enemies in 1938 when she made a trip to Nazi Germany and wrote a foolish and superficial piece for the Sunday Times about how she had seen children running about happily 'a steady, disciplined people adoring its leader.'
After the Second World War, the money from Hollywood long since spent and her husband retired, Enid turned to writing plays. She had not exactly mellowed, and, desperately craving fame as a playwright, was as ambitious as ever. But wartime had brought her many difficulties, which gave her work a broader perspective. One day inspiration struck. She read of a woman, a former murderer, applying for a job as a nanny. An idea took root that she turned into a huge theatrical success with the oft-revived play, The Chalk Garden. The household into which the woman walks was, as ever, a thinly veiled version of her own.
Yet who today reads the novels of Enid Bagnold? And how many people realise that Elizabeth Taylor, renowned for her beauty, her performance in Cleopatra, her marriage(s) to Burton and her support for research into AIDS, made her breakthrough thanks to a book written in the 1930s by an English novelist hardly known today. As part of my research for writing Bagnold's biography, I interviewed Taylor and asked her what appearing in the film as Velvet Brown had meant to her at such a young age. Initially, she had been considered too small but was so determined to get the role she resolved to grow three inches and prove the studio bosses wrong. She did grow a little during the months the studio bosses took to decide and so they gave her the part in any case.
Taylor was articulate in describing to me some forty years later why she was so moved by the book. She had grown up in England where she had learned to ride from a young age and loved the sport. She had such a natural affinity with the horse used in the film that it was given to her on her thirteenth birthday and she looked after him until he died. But Taylor also understood that the role could be transformative for her career. She was not wrong. National Velvet, the jewel in Bagnold's crown, is well worth a reread.