Fritz Mannheimer – stockbroker of peace
The German-born Jewish emigré found riches as a clever banker in inter-war Amsterdam. He was soon to find a higher purpose for his accounting skills: the fight against fascism in Europe.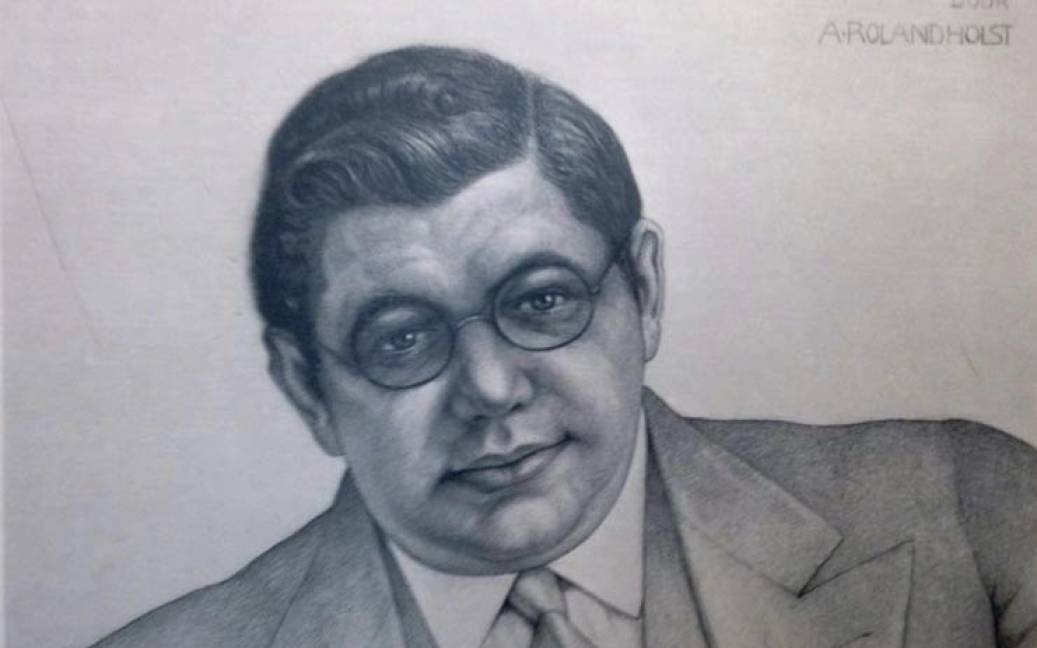 Portrait of Dr. F. Mannheimer by A. Roland Holst-de Meester. Credit: Rijksmuseum Vol. 22 (1974).
High-flying international bankers can be difficult figures to write about, especially when their lives are marked by controversy and their true motivations shrouded in mystery. This is especially true in the case of Fritz Mannheimer (1890-1939), a financier relatively unknown today who was pivotal to the interwar financial world.
Described by contemporaries as the 'King of Flying Capital' and notorious for his risky lending schemes, incessant networking, dubious business ethics and opulent lifestyle, Mannheimer was a German-Jewish émigré who spent most of his life between the Netherlands and France. A private banker to governments large and small, he developed from a shady securities trader to a contrarian supporter of Weimar democracy. Mannheimer liaised with Wall Street bankers as well as the Soviets, befriended the leading central bankers of his time, spurred the renaissance of Amsterdam as a banking capital between the wars, and engaged in ever more creative efforts to stem the depredations of Nazism.
The period between the world wars was an economically globalised era rife with geopolitical rivalries and domestic instability. In this climate of heightened uncertainty, unscrupulous operators with a tolerance for political risk and an eye for opportunity could acquire enormous riches. Such figures included the Swedish 'Match King' Ivar Kreuger, developer of a near-global monopoly on matchsticks; the Italian Camillo Castiglioni, who rode the growth of the aviation industry in the First World War to become the world's first aeronautics millionaire; and the infamous German mining magnate Hugo Stinnes. Fritz Mannheimer is easily placed in this group of supreme opportunists. But his historical significance lies less in his business exploits than in the greater political goal towards which these ventures were increasingly geared: averting European war and stopping fascism.
Fritz Mannheimer was born in Stuttgart in 1890, the youngest of two sons of wine merchant Maier (Max) Mannheimer and his wife Lili Fränkel. He studied law at the University of Heidelberg and gained his first trading experience at Commerzbank. In the pre-war years Mannheimer lived in Paris, working for a French bank funnelling Western investment to tsarist Russia. When the war broke out, he returned to Germany. In Berlin he landed in the orbit of Walther Rathenau, the visionary chairman of the electronics conglomerate AEG. Rathenau had been appointed the chief raw materials planner of the German war economy. Recognising the ambition of the young arbitrageur, he took the fateful decision of sending him to Amsterdam.
The Netherlands was a propitious place to spend the First World War. As a neutral country it continued to trade and transact with firms and governments on all sides in the conflict. This allowed Mannheimer to procure vital metal imports for Rathenau's office. By 1916 he had also become the Amsterdam agent of the Reichsbank, Germany's central bank. Mannheimer's skilful currency and securities trading allowed Germany to bypass the Allied blockade of Central Europe, which cut off its banks and firms from global trade. By cultivating good relations with the Dutch business and financial elite, Mannheimer was able to conduct deals through local proxies. His chameleon-like ability to hide enormous transactions by using intermediaries would become one of his most valuable skills to his friends in different European governments.
Amsterdam had been a major financial centre since the seventeenth century, when its bankers lubricated global commerce and helped to create the Bank of England. But by the turn of the twentieth century the Dutch capital had been displaced by larger European cities: the real action took place in Paris, in Berlin, and above all, in London, the financial capital of the world. What provided Amsterdam with an opportunity to stage a return was the unique situation in the aftermath of the First World War. All the major financial centres had overstretched themselves in funding their own warring governments. Dutch wartime neutrality meant that Amsterdam's financial powder had been kept dry. Mannheimer used this opening to great effect.
In 1920 Mannheimer became a leading partner in the new Dutch branch of the respected Berlin banking house Mendelssohn. The Amsterdam-based institution became the key foreign funder of the young Weimar Republic in its early years, when the survival of German democracy was most in question. On several occasions Mannheimer's last-minute fundraising saved the Reich finance ministry as it struggled to find the funds with which to meet the reparations burdens imposed by the Versailles Treaty. This was a great relief to Walther Rathenau, by now the German foreign minister. Mendelssohn & Co., Amsterdam underwrote the first major post-war credit to the Weimar Republic, long before American financiers felt it safe to lend to Germany.
Thanks to Mannheimer, Mendelssohn & Co., Amsterdam acquired influence in the financial universe of the twenties that was out of all proportion to its small size. From a palatial canal house on Amsterdam's Herengracht, Mannheimer directed his forty-strong staff in wide-ranging operations; a radio antenna specially installed on the rooftop relayed fluctuations on Wall Street to him ahead of the competition. Outflanking the large joint-stock banks of London, New York, and Paris, Mendelssohn & Co., Amsterdam became a valued underwriter of stock and bond issues. It financed corporate giants such as Standard Oil and Royal Dutch Shell, but also arranged loans for the governments of Peru, Chile, Brazil, Argentina, Romania, Hungary, Yugoslavia, Czechoslovakia, and Belgium. Mannheimer's bond flotations backed the tottering French cabinet after fascist riots in 1934, while his provision of trade credit to German firms provided a lifeline during the nadir of the Great Depression.
In his style and habits Mannheimer appeared a character from a Balzac novel: straight-speaking and jovial, ambitious and shameless, prancing and flamboyant yet also work-addicted and intensely secretive. A man of Burgundian tastes, hooked on extravagant dinners, fine wines and cigars, he grew corpulent and strained his health and nerves. In the conservative Amsterdam banking world, where modesty and discretion were highly prized, Mannheimer was distrusted and frowned upon. He did not naturalise as a Dutch citizen until 1936, over two decades after his arrival in the country. By then, fascist parties were launching anti-Semitic attacks on him and his allies in government, even though it was his efforts that had averted the collapse of the Dutch gulden just months before.
As his wealth grew Mannheimer amassed an enormous private art collection. On the eve of the Second World War, it was the finest of its kind in Europe. His desire to accumulate art was as boundless as his work ethic and as ecumenical as his political contacts. The Mannheimer collection grew to over 3,000 objects, including a vast selection of Meissner porcelains from the court of Saxony; ornate Louis XV and XVI furniture; a Mary Magdalen picture by Crivelli; a fourteenth-century silver reliquary bust of Saint Thecla; exquisite paintings by Rembrandt, Vermeer, Rubens, Steen, van der Heyden, and Poussin; several Watteau and Fragonard drawings; alabaster, bronze and majolica sculptures by Falconet and Houdon that once belonged to Madame de Pompadour; hundreds of ornate Russian gold items and natural stone vases; medieval manuscripts and wall tapestries; and an ornamental shield carved from elk's antler from the grave of Charlemagne's son, Louis the Pious.
As the Great Depression destroyed the short-lived prosperity of the twenties and fascism emerged across Europe, Mannheimer began to undertake daring schemes of a different kind. He was a quintessential financial capitalist. But during the thirties he increasingly ignored considerations of profit, reasonable risk, and due diligence, pursuing what is best described as a form of private antifascist finance. Mannheimer had long been prepared to deal with leftist governments and movements shunned by others. He had drawn criticism for being an early participant in the Soviet 'Art for Tractors' program, created by Stalin in 1927 to fund Russian industrialisation by selling the Hermitage's voluminous Romanov-era art collections. But after 1936 Mannheimer also funded the beleaguered Republican government in Spain as it fought the nationalist camp in a vicious civil war.
Most significantly, after the Nazi seizure of power Mannheimer started to support the French Third Republic as the last bulwark against fascism in Europe. He cloaked the assets of Robert Bosch, one of the few major German industrialists to oppose Hitler. As Nazi persecution of German Jews became more severe, he funded Jewish refugee organisations. Mannheimer also directed the gold reserves of the Bank for International Settlements, a 'central bankers' central bank' created by the Allies to process reparations payments, towards Paris, where he spent a growing portion of his time.
It was this all-out support for the French republic that ultimately led to his downfall. In support of his close friend, finance minister Paul Reynaud, Mannheimer attempted a risky conversion operation to bring French government debt on a more sustainable long-term footing. Amid a general European anxiety about impending war, the French issue failed to find enough buyers. The massive funding shortfall broke Mannheimer's overstretched private bank. In ill health and facing bankruptcy, he died at his French country house on 9 August 1939; officially of a heart attack, although many suspected the possibility of suicide. His young wife Marie Annette Jane Reiss and their daughter moved to Britain and eventually the United States.
Mannheimer's mercurial life had a dramatic epilogue. Mendelssohn & Co., Amsterdam collapsed within days of his death. The bank's assets were divided among its creditors. Mannheimer's art collection came into the possession of the Dutch state, to which he owed large sums of money. But only months later, Nazi armies occupied the Netherlands. Hitler and Göring took a special interest in his collection, confiscating much of it and moving it to Austria, where it was intended to become a core section of the planned Führer museum in Linz, Hitler's birthplace. At war's end, large parts of the treasure were recovered from salt mines in Bohemia and Austria by the US Army's art-hunting 'monuments men' and returned to Amsterdam, where they form a mainstay of the Rijksmuseum's painting and objects collection today.
Mannheimer's sudden death saved him from facing the serious political and financial problems that his anti-Nazi strategy would inevitably have confronted. The details of his life, brought to light by historians Johannes Houwink ten Cate, Kees Kaldenbach, and Sylvie Bailly have underscored how important his role in the interwar financial world was, but also how brittle and hubristic the foundations of his position were. Mannheimer was indisputably a master at leveraging state power through the machinery of money. Yet despite his proximity to power, there were limits to what a single quasi-stateless person could achieve against the massive nationalist currents of the thirties. Several obituaries compared his volatile career, built on keeping a liquid masse de manoeuvre always at the ready, to the flawed ambitions of Napoleon. One banker rightly said that Mannheimer had 'speculat[ed] on a European peace in a game of financial poker.' But the German state whose democratic experiment he had once supported became a behemoth that quickly ignored economic incentives altogether.
Mannheimer was indeed a Napoleonic figure, exploiting all means available to enlarge his own power and maintain a balanced European order. Like other self-made men of means and influence in modern history, however, he encountered political forces that ultimately escaped from his control and turned against him.