Giovannino Guareschi: Italian Orwell
In his contrarian pamphlets and sketches, Guareschi earned his reputation as an uncompromising critic of Italy's post-war decadence.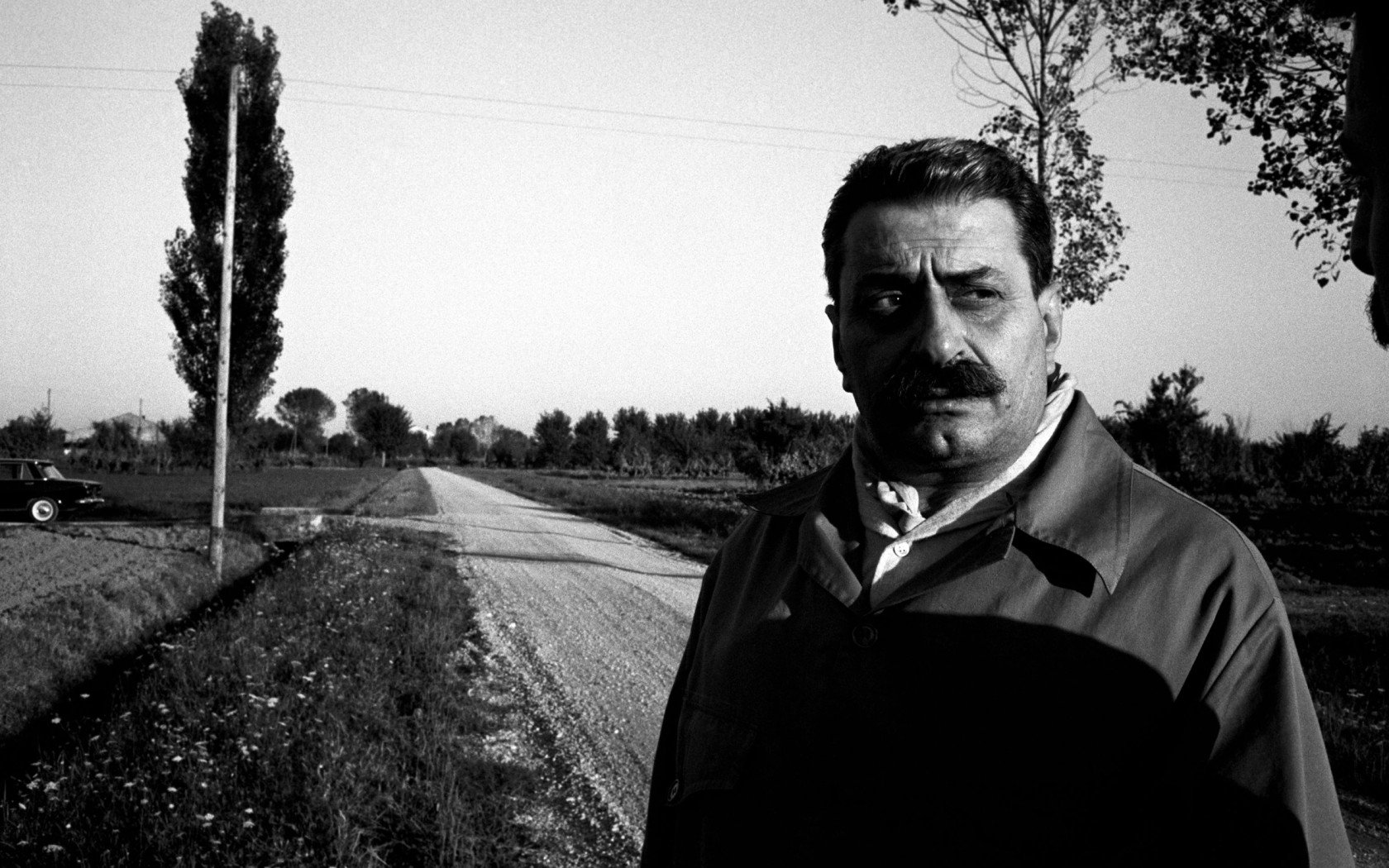 Giovaninno Guareschi in 1946. Credit: Angelo Cozzi / Mondadori via Getty Images.
A prophet is rarely honoured by his own people, especially if he's also a satirist, poking fun at their hypocrisies. Giovannino Guareschi, commercially one of the most successful Italian writers of all time, was scorned and ridiculed for much of his life and he was so pugnacious, stubborn and unclubbable that only a handful of people attended his funeral.
Even today, you're deemed slightly suspect if you admit admiration for him: he's either accused of being too playful (his simple, witty prose means that he's considered decidedly low brow) or too destructively serious (he felt humour had an extremely high calling: 'humour doesn't destroy', he wrote, 'humour reveals what should be destroyed because it's bad.') The intelligentsia was envious of his success, but also appalled by his reactionary nostalgia ('I'm opposed to progress') and right-wing Christianity (his Don Camillo stories have a crucifix which speaks to the priest). And yet, more than 50 years after his death and as I watch yet another Italian political crisis unfold, it's hard not to conclude that Guareschi's was one of the most prescient and perceptive voices of the twentieth century.
He was born in the tiny hamlet of Fontanelle, near Parma, in an area known as 'la Bassa' – the lowlands next to the river Po, in 1908. His family shared a house with a socialist cooperative and since he was born on 1st May – as the workers were celebrating – he was lifted aloft on the balcony by Giovanni Faraboli, the socialist leader, and declared 'a new comrade'.
Guareschi's father wasn't good with money: he had been imprisoned for almost two years for unpaid promissory notes and, as a salesman of agricultural machinery to landowners, he often came into conflict with the socialists. Guareschi was only six when the family was forced to sell up and move to Parma. In many ways, Guareschi spent his life eulogising the rural paradise of 'la Bassa' and trying to get back there.
As he was growing up, his long-suffering mother kept the family going by cycling to Marore, a village outside Parma, where she had become a primary school teacher. In 1925 Guareschi's father went bankrupt and the family was again forced to move house. But it was in those formative teenage years that he met people who would profoundly influence his life: before the bankruptcy, Guareschi had attended the city's private college, the Convitto Maria Luigia, where he was tutored by the great screenwriter Cesare Zavattini ­– writer of, amongst many other films, Bicycle Thieves (Ladri di biciclette). He often bunked off school to hang out with the builders, butchers and gardeners of the city, and when he failed his Latin exams, he was tutored for his retakes by a priest in Marore, a man who became the model for Guareschi's most famous literary creation.
When he left school, Guareschi was introduced by Zavattini to newspapers and magazines in both Parma and, later, Milan. He drew cartoons and wrote sketches, rising to become the editor of the satirical magazine, Bertoldo. He married and had two children. But in 1942 – having been misinformed that his younger brother had died on the Russian front – Guareschi got drunk and shouted obscenities against Mussolini in the silence of the night. He was immediately arrested and conscripted into the army. Refusing to fight for the Germans after Italy joined the Allied cause in September 1943, Guareschi was sent to a concentration camp for interned Italian military for almost two years. There he tried to entertain other internees with sketches and skits (many of which became part of his bittersweet book, Diario Clandestino).
Despite returning safely to his parents, wife and children in 1945, Guareschi was melancholic after the war. Ever on high-alert for hypocrisy, he felt that the celebration of partisan victories was unpatriotic (he called 25th April, Italy's day of liberation, 'an exaltation of defeat'). As a member of the 'white resistance' (those who refused to fight for fascism) he was dismayed by how the 'real' resistance (actively fighting against it) continued after the war. There were so many revenge killings (usually of priests and fascists by partisans) in those post-war years that he described Emilia as the 'Mexico of Italy'.
Like P.G.Wodehouse (whose fun short stories are comparable), Guareschi was often accused of witless proximity to fascism. In reality, he simply distrusted anti-fascism and didn't believe that suddenly, after the war, the whole country had completely changed political opinion. 'Having little confidence in themselves, the Italians', he wrote, 'have to be 'anti' something to feel important.' It took a contrarian to know one.
Suspicion of Guareschi increased when he campaigned against the 'popular front' of Communist and Socialist parties in 1948 from the pages of his new satirical magazine, Candido. He invented the figure of 'three-nostrils', the party operative whose additional nostril was used to make him blindly obedient to party diktats. Like Orwell, Guareschi believed that Communism, not fascism, was the greater totalitarian danger of the late 1940s and early 50s.
And yet, at the same time, he called the Christian Democrats 'a completely accursed bulwark against Communism.' He distrusted the leading Christian Democrat politician, Alcide De Gasperi, calling him 'worse than an Austrian spy'. In 1954, he published an article accusing De Gasperi of having urged the Allies to bomb the outskirts of Rome during the war (the authenticity of the letter, since destroyed, is still contested). Guareschi was sued for libel and imprisoned, in Parma, for 409 days. He refused to ask for a pardon or appeal the decision, once penning a four-page letter to his wife in which he wrote, repeatedly, only the words 'I am right' on every page.
He was against the grain in every way, describing himself as 'a Monarchist in a Republic, a right-winger in a country which is moving, decisively and inflexibly, towards the left, a supporter of private enterprise in times of statism, an advocate of unity in a time of regionalism, a supporter of Italianism in a time of anti-nationalism, an intransigent Catholic in a time of Christian Democracy, I haven't been – as it might appear – an independent, but an anarchist. Not a free man, but a subversive.'
By then Guareschi had moved back to 'la Bassa', to Roncole (a T-junction village better known as the birthplace of Giuseppe Verdi). He tried to build up a smallholding and hostelry – the house he jokingly called 'the unfinished' – and with his fat, black moustache, wiry hair and bicycle he had begun to look like the local peasants he eulogised. For Guareschi, the Bassa was a place of passion and fury. His fellow 'bassaioli', he said, were notoriously hot-headed. He called them 'balenghi' – weird or odd – because they were forced to be nocturnal: 'the beating sun makes people sleep in the day, and the mosquitos keep them awake at night.' He wrote of how 'everything seems immobile in the lowlands and one gets the idea that nothing ever happens along these deserted riverbanks and… inside those red and blue houses with small windows.' But for Guareschi, it was a constantly inspiring landscape: 'In a land like this, you only need to stop on the road and look at a farmhouse drowning in maize and hemp and immediately a story is born'.
His comic Don Camillo stories (he wrote 346 in all) made Guareschi globally famous. The recurrent theme of a tough priest always at logger-heads with an irascible, Communist mayor, Peppone, struck a chord not only in post-war Italy but around the world, reflecting the different, but comparable, pulls of Christian piety and political emancipation. Those central characters were modelled on men he knew – the priest who had helped him as a teenager and Faraboli, the socialist with the 'clear and honest face'. But there were two other presences that lent the deceptively simple stories a metaphysical depth: the crucifix (which speaks to the priest) and 'the great river', the Po. Like the crucifix for Don Camillo, the river is a cleansing, pacifying presence: 'at the end, the two enemies agree on the essential things because of the broad, eternal breath of the river which cleans the air.'
The stories became successful films because they were nostalgic portraits of the passions and politics of rural life, but that nostalgia made Guareschi evermore at odds with Italy's break-neck modernisation. He dismissed the country's post-war economic miracle as 'a hot and dusty wind which smells of cadavers, sex and sewers.' The pointless acceleration of life he memorably compared to moving a sack of potatoes by kicking it. He called Italian television 'a factory of cretins'. Most of all he dreaded Italians' incessant resort to smoke-in-the-eyes rhetoric: 'rhetoric makes the masses drunk… and makes them fall into fatal errors', he said. He feared rhetoric 'more than a pistol placed to the temple'.
He was also very acute in his analysis of the recurrent cycles of Italian politics: he identified the 'baroque messianism' whereby the country always longs for a saviour, a strong and competent leader to slash through the bureaucracy, corruption and compromise… but when that saviour fails, there's always the 'degrading but handy' scapegoating: 'we hang them or remove them, and the masses remain pure and without sin.'
In 1963, Guareschi was asked to participate in an eccentric documentary in which two famous writers from right and left – he and Pier Paolo Pasolini – were tasked with answering one central question: why is modern life characterised by unhappiness and anxiety? Perhaps because he had always been against the times in which he lived, Guareschi's contribution now seems far less dated. 'Our unhappiness comes from freneticism', he said. There was a proto-ecological critique in his analysis too: 'humanity has rebelled against nature and this uncertainty in our future causes anxiety.' As he wrote in one of his last Don Camillo stories: 'the earth doesn't betray. It's humanity that has betrayed the earth.' He wrote that 'Man is behaving as someone who has a beautiful peach, but throws away the pulp to gnaw on the nut.'
In later years, Guareschi was largely ignored or forgotten. Often cantankerous and spectacularly self-righteous, he fell out with film producers and publishers and – as a chain-smoker – he suffered ill-health. He died in 1968, aged only 60. He was buried with the monarchical version of the Italian flag on his coffin and a bucket of earth was brought from the bed of his beloved river Po.
Guareschi is often compared to that other contrarian Christian with a priestly protagonist, G.K. Chesterton. Both celebrated provincial simplicity rather than cosmopolitan conceitedness and they share the same faults too: Guareschi's quips are sometimes too slick and deliberately quotable. Most people would now conclude that his stances on decolonisation, homosexuality and anti-fascism are simply wrong. But that, perhaps, is his greatest lesson for our age: that in an era of culture wars and screeching tribalism, we can – like Peppone and Don Camillo – still revere and listen to those with whom we disagree. Giovannino Guareschi's life suggests that it's worth treasuring, rather than vilifying, the honest contrarians.