Helen Sutherland – brave cultivator of the beautiful
An isolated, austere, and fastidious heiress - Helen Sutherland dedicated herself to art.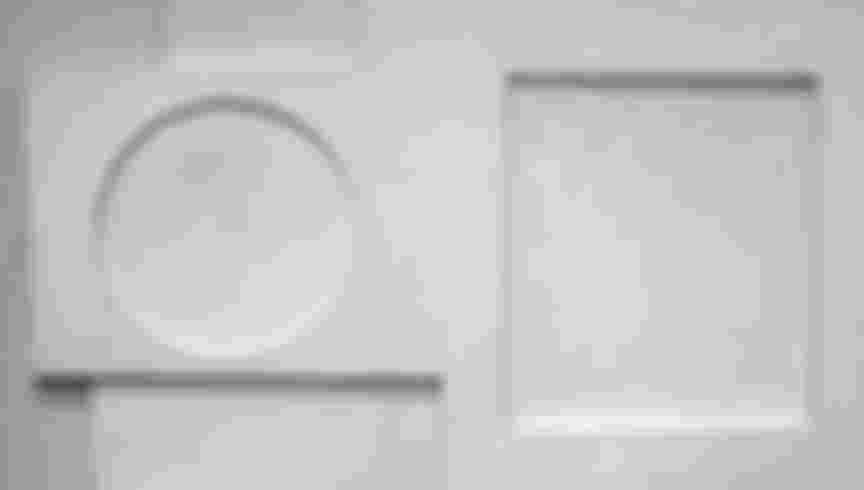 1934 (relief), Tate Modern, London - Wikipedia Creative Commons
'Give her my picture. I can always paint another picture, but we could never get another Miss Sutherland.' Those were the words of Jimmy Floyd, a member of the Ashington Miners' Art Group, speaking of Helen Sutherland, collector of art and of artists. Sutherland was a patron of rare and particular stripe. Money on its own was not enough. Nothing was so soulless as 'dull cash' and unthinking cheques. Art without friendship was a prize not worth having.
Sutherland thought art ought to be a 'communion.' She liked pictures, but more than pictures she liked people. Whether you were a sculptor, a poet or a Sunday Painter, Miss Sutherland bought and supported, coaxed and encouraged. Her homes at Rock Hall in Northumberland and later at Cockley Moor in Cumbria became sanctuaries for artists and she 'a sort of Abbess'.
Sutherland's taste was brave. She bought a Mondrian, a Gabo, a Henry Moore maquette. She bought Ben Nicholson's earliest white reliefs. 'My little darlings,' she called them. She bought drawings and watercolours by David Jones, still-lifes by Winifred Nicholson, a stringed sculpture by Barbara Hepworth. She bought art that no one else was buying. She loved to see works 'red hot – white hot being done'. Her honorary godson Edward Hodgkin said that the general reaction was a sorry shaking of bowler-hatted heads and the verdict: 'This shows the folly of letting an unmarried woman loose with a lot of money.' Modern art was at best suspect, at worst obscene.
Helen Sutherland (1881-1966) was tiny, tough and exacting. Not much more than five feet tall with rather a sharp nose and rather a cross mouth. Fouquet would have done her justice. 'Not beautiful,' thought Hodgkin. And not at all what her parents had wanted. She had been brought up to be a Belgravia lady: butlers, sables, the complete, stifling, Victorian works. Her mother Alice, Lady Sutherland was elegant, slender and 'difficult' with all that word entails. Her father Sir Thomas Sutherland, son of an Aberdeen housepainter, started as a junior clerk at the Peninsular & Oriental Steam Navigation Company and worked his way up to be chairman. Sutherland's two brothers were both killed: one in the Boer War in 1902, the other in an accident stepping from a train in 1916. Her early marriage in 1904, aged 22, to Richard 'Dick' Denman was unhappy, unconsummated and, in 1913, annulled. On her mother's death in 1920, Sutherland received a legacy of £12,000 and the benefit of a Trust. When her father died two years later, she inherited a further £30,000 and half the value of his London properties and contents worth £40,000 or more. At, 41, an heiress without ties, Sutherland 'took to modern art.' She went to Paris and bought Seurat, Courbet, Maillol and Derain. She went to all the little London galleries. She bought Paul Nash, Cedric Morris, a Duncan Grant or two. She met Picasso and Brancusi and admired the latter's cactus plants.
She had been educated at a boarding school in Barnet and at a Convent of the Assumption in Paris. She never forgot the convent's order, grace and simplicity.  Sutherland could be brittle and frugal, gay and extravagant. She ordered her birdseed from Fortnum & Mason, her diaries from Smythson and her soap from Guerlain. In town, she wore silk. In the country, a soft tweed cloak and fur-lined boots – size 3. When her dressmaker alighted on the perfect bow-collared blouse with satin buttons, Helen ordered a score in pink, fawn and a subtle dove grey. ('She didn't like pictures really that had a lot of colour,' observed Oliver Kilbourn of the Ashington Art Group, 'She liked pictures that were more or less greyish.') She was immaculate but had no patience for hanging about. When her corsetière was late she cursed French timekeeping: 'I must rush out & a buy a Ben.'
The homes she made were havens. Every room spotless, every window a picture. Here a Winifred Nicholson landscape, there a vase by William Staite Murray. Ben Nicholsons at every turn, David Joneses by the dozen. In February, there were snowdrops in cut-glass vases, in June, Arum lilies, in winter, Christmas roses. From Hatchards she sent for Orlando, the Four Quartets, the letters of D.H. Lawrence. From Faber she bought every pamphlet. Always, waiting on a table, was that day's copy of the Times. (Woe betide the man who read the news before his hostess.) She laid on music, day trips, walks. 'She could outstrip the strongest in the tooth of a gale,' said her friend Jim Ede, who later made a place for art at Kettle's Yard in Cambridge.  Meals were delicious, but spare. Only one slice of ginger cake allowed at tea, but that slice so rich and so good. T.S. Eliot spoke highly of Sutherland's white currant jam.
'One had to contribute,' wrote her friend Nicolete Gray, historian of inscriptions and lettering, 'to be beautiful if possible and wear beautiful (not necessarily smart or conventional) clothes, to join in the conversation (and Helen was ruthless to those whose contribution was foolish or trivial).' Weekends with Sutherland, Gray admitted, could be 'something of an ordeal.' Strictly no muddy shoes, absolutely no fuss or 'special favours' when it came to food. Child guests, now in their nineties, remember parental pep-talks on the platform at King's Cross station, forty-five minutes early for the train to Alnwick where Mills the chauffeur would be waiting in Miss Sutherland's Rolls Royce. David Jones wrote a guilty parody of Sutherland's backseat driving: 'Mills this and Mills that and do be careful not to run down that bunny-rabbit and remember you must call at Mrs. Thing's and don't forget to take the other road and not to be later than 5.31 or 5.32 at the very latest…'
Sutherland became Jones's most devoted – and demanding – patron. Nothing would persuade Jones to come to her parties in London, but he found a refuge at Rock and painted some of his finest pictures from an upstairs window. Jones had a terrible mishap habit. Once, ashamed of his unkempt appearance, he attempted to cut his own hair. Sutherland caught him emptying the clippings in the wood, her wood, where she liked to walk and watch the birds. At Cockley Moor, Jones spilled ink over his white, white, bedroom and sneaked blackcurrants to eat in bed. Sutherland repented her outbursts. 'My irritability,' she wrote, 'which I do not wish to excuse, is largely of the explosive kind and happens almost involuntarily – like a sneeze!'
She minded minor infractions, but not the long dark nights of the creative soul. 'Never did she reproach me for my sins,' wrote the poet Kathleen Raine, 'only for my faults – for not turning my mattress daily, or for leaving an electric light on in the passage outside my bedroom, or taking too much water for my bath; but never for leaving my husband, for my inability to cope with my life, or for being in love.'
Stiff as she was, she was kind. Children were asked to put on art shows with grand openings and red spots to show which works were 'Sold'. She nursed David Jones through his 'nerves' and paid him an allowance at a time when his trousers were held up with string. She offered seclusion and monastic peace in which to write or paint. Kathleen Raine thought Cockley Moor like 'a place of the imagination – some castle in Spenser… one of the places of arrival where treasures are shown to pilgrim or traveller, and wounds are healed.' Artists gave Helen beauty, music, light, delight – all the gifts of the imagination. In return, she gave her entire attention. She looked, read and listened with devotion and she kept a keen and open mind. With each new revolution in Ben Nicholson's art, she sought to 'fathom' out his aims. She made no distinction between high art and low: a Pitman was as worthy as Picasso.
In July 1935, Helen received seventeen miners from the Ashington Art Group at Rock. They biked the 25 miles and David Jones was chivvied into giving them the tour. The Group came to adore 'Miss Sutherland'; she called them 'those painting miners of mine.' Sutherland arranged for the Group to go to London and put on a bus to the Royal Academy, the National Gallery, the Tate and Hampton Court. The great 'Art Pilgrimage' was a triumph. 'We have sojourned for a while in a goodly land,' wrote Arthur Whinnom, secretary to the Group, 'and have companioned with people of our own mind and our souls wax strong within us.'
Sutherland was an Anglican, staunch in her own faith, gentle in her tolerance of others. For the church at Rock, she commissioned Ben Nicholson to design an offertory box, Barbara Hepworth an altar cloth and the architect Leslie Martin a new rectory. When she moved to Cockley Moor, high and icy, she asked Martin to build a music room and library. 'Outside it's wild & remote,' wrote David Jones to Jim Ede, 'but within it has all Helen's civilised feeling just as Rock had.' During the War, she took in five evacuee boys, the oldest eight-and-a-half, the youngest just one. Sutherland was in her sixties and sticklingly set in her ways. The 'din' was appalling, but she dedicated herself to their needs: 'Singing, reading, dancing, exercises, weeding, fresh air, language, learning to talk, learning to write letters home to their mothers…' A photo shows Sutherland, book open on her lap and four little boys in shirts, shorts and socks at her feet.
After the financial slump of the thirties, after drawing on her capital, her means were more stretched. 'I note your remark about being empty in purse,' wrote Ben Nicholson, 'but I think if you were totally and forever empty in purse I should still want to show you new work, and I think the work would still want you look at it.' Helen Sutherland could have been just another society woman, rich and idle, bored and lonely. Instead, she gave herself to art. She bolstered, criticised, enthused and reproached. She made homes that inspired artists, made possible their making. Looking back on her life she reflected that her friendships with artists and poets had been a miracle, 'a kind of family life given from above.'