Iain Macleod — short-serving chancellor and lost Tory leader
Iain Macleod was an exceptional man and a uniquely gifted politician. He attracted a following among those who regarded themselves as left-of-centre Conservatives and had an especial appeal to young people. To some admirers, he was the greatest Conservative leader they never had. By any yardstick, his was a career worth studying.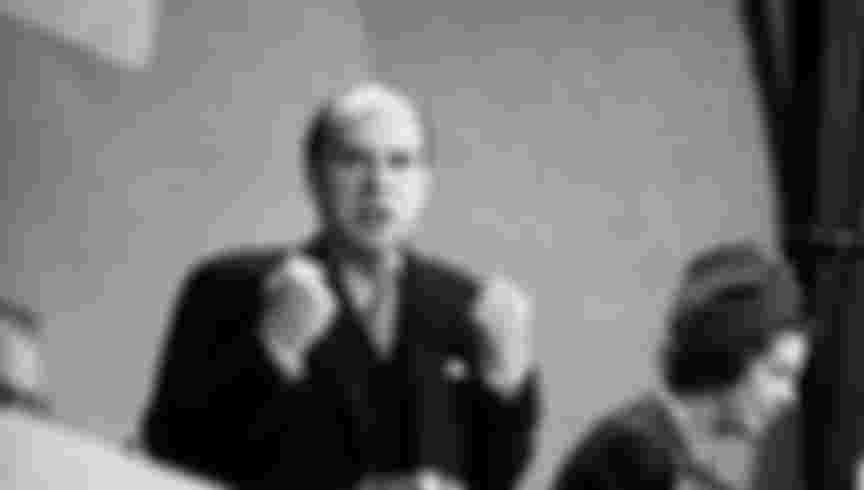 Iain Macleod, co-chairman of the Conservative Party, clenches his fists during a forceful speech to the Tory Party Conference at Blackpool. Credit: PA Images / Alamy Stock Photo
The eruption of fiscal chaos in Britain, provoked by a Chancellor of the Exchequer removed just 38 days into his term of office, conjures the memory of an equally controversial Tory statesman who served just one month as Chancellor, before dying in 11 Downing Street, at the early age of 56. Iain Macleod was the Conservative minister most feared by his party's opponents, a formidable debater and involved in all the fiercest political controversies of his day. The tax-reforming Budget of 1971 that was delivered nine months after his death by Anthony Barber was the programme Macleod had devised. Yet most of Iain Macleod's political career was remote from fiscal preoccupations: it was his contentious policies as Secretary of State for the Colonies that left a mark on the pages of history. Macleod was an object both of adulation and of deep suspicion. He attracted a following among those who regarded themselves as left-of-centre Conservatives and had an especial appeal to young people. To some admirers, he was the greatest Conservative leader they never had. By any yardstick, his was a career worth studying.
Iain Norman Macleod was born at Skipton, in Yorkshire, on 11 November, 1913. Despite being born in Yorkshire, where his father worked as a doctor, his family were Highland Scots, descended from the Macleods of Pabbay and Uig, clan tacksmen, or gentry, with an unbroken pedigree going back to the time of James IV of Scotland. This Scottish heritage was reinforced by holidays spent on his father's estate on Lewis and education at school in Dumfriesshire and then at Fettes College in Edinburgh (later also the alma mater of Tony Blair). That education was rounded off by Cambridge, where he took no interest in politics and left with a Lower Second in History. The young Macleod had always been obsessed with sport, but even that became eclipsed by the great passion of his life: playing bridge. He was a member of the team that won the Gold Cup in 1937 and, while holding down a job at the printing firm of De La Rue, followed by studies for the Bar at the Inner Temple, he relied chiefly on his bridge winnings for a solid income: by the late 1930s he was winning the equivalent of £140,000 a year in today's money, tax free.
Macleod's playboy existence was ended by the outbreak of the Second World War. He immediately enlisted as a private in the Royal Fusiliers, but by April 1940 had been commissioned second lieutenant in the Duke of Wellington's Regiment. His battalion was sent to France where, in May, he was badly injured by a log that flew off a road block when a German armoured car rammed it. Macleod's thigh was 'almost pulverised' and he walked with a limp for the rest of his life. This disability would later be aggravated by a rare inflammatory illness — ankylosing spondylitis — which prevented Macleod driving a car from 1957 onwards, made movements of his head difficult and caused him daily pain throughout the second half of his life. It is testimony to his character that he disciplined himself to ignore the pain and transacted the business of several high offices of state without allowing it to distract him.
In 1941 he married Eve Blois, who became the great support and mainstay of his political career. Macleod was appointed a Staff Captain but, during these early war years, his riotous behaviour still sometimes broke out: one night he got drunk and, after his superior officer, the Deputy Assistant Adjutant General, refused to play stud poker with him, fired a revolver shot through his bedroom door, which he then smashed down. In a spirit of camaraderie, there were no repercussions. Macleod landed back in France on D-Day with 50 Division and served through the Normandy campaign, being returned to Britain in November 1944. It was during this campaign, in the closing stages of the War, that Iain Macleod first expressed an interest in going into politics. Asked what his aim would be, he replied: 'To be Prime Minister.'
As a first step, Macleod and his father called a meeting to found a Conservative Association in the Western Isles, which only the two of them attended and at which Macleod was nominated — by his father, actually a Liberal — as National Government candidate for the 1945 general election. Churchill sent his endorsement and Macleod won 2,756 votes out of 13,000, a record high for a Tory in that area. After demobilisation from the Army, Macleod set about a political career in earnest, securing a post in the Conservatives' Parliamentary Secretariat. There he met Enoch Powell, who became a friend and rival, and Reginald Maudling, who shared Macleod's appreciation of the comforts of life. In 1948 the Secretariat was absorbed by the Conservative Research Department, where Macleod became a protégé of its chairman Rab Butler. Macleod had already embraced the welfare state and the new economic and social Toryism championed by Butler, who described the Industrial Charter approved by the Conservative Party conference in 1947 as 'an assurance that, in the interests of efficiency, full employment and social security, modern Conservatism would maintain strong central guidance over the operation of the economy'.
The Tory Party had thus committed itself to essentially socialist principles of state interventionism. The extreme conditions prevailing at the end of the War, the need to rebuild the nation's bombed infrastructure and wrecked economy, along with the need to reassure voters there would be no return to mass unemployment or erosion of the National Health Service they had begun to cherish and would eventually fetishise, all of this forced the Conservatives, after suffering electoral annihilation in 1945, to temporise.
Iain Macleod was elected to Parliament, as MP for Enfield West, with a majority of 9,000 votes, at the general election in February 1950, aged 36. The following month, with Labour's majority now reduced to five seats, he made his maiden speech, on the NHS. It was a remarkable speech, enormously well informed, in which Macleod was critical of Government priorities within the NHS, pointing out that 10,750 dentists were being paid more in gross income than 21,000 doctors. This speech and Macleod's focus on social policy were soon to bear fruit. The Conservatives returned to power in 1951 and one of the spectacles of parliamentary debate was Iain Macleod's tormenting of Aneurin Bevan, of whom he said that a debate on the Health Service without Bevan would be like Hamlet without the First Gravedigger. Churchill, again prime minister was impressed and appointed Macleod as Minister of Health (a non-Cabinet post) in May, 1952.
Macleod's period as Health Minister, though inevitably fraught with various crises, was a period of consolidation for the flagship institution of the post-War welfare state. He wanted no new legislation on his watch, successfully defended the NHS from Treasury attacks on its budget, gave increased support to the previously neglected field of mental health and publicised the fact that Richard Doll, a British clinician, had proved the link between smoking and lung cancer — at a press conference where he chain-smoked throughout. Socialised medicine was a subject close to Macleod's heart and he left Health with his reputation enhanced when Anthony Eden, Churchill's successor, brought him into the Cabinet as Minister of Labour, in 1955. He attempted to take a firmer line on strikes and held out against trade union demands during the 1958 bus strike. This earned Macleod a reputation for toughness. It was during his tenure at the Ministry of Labour that the Suez crisis occurred. Macleod conveyed an impression of frequently being unhappy with government policy, but he did not resign and shared collective Cabinet responsibility for that ill-fated adventure.
It was in 1959, with his appointment as Secretary of State for the Colonies, that Macleod was presented with the opportunity of making history. This was the most controversial ministry of his career. Macleod described his complex constitutional arrangements for post-independence Northern Rhodesia (now Zambia) as 'incredibly devious and tortuous' but 'easily the one I am most proud of'. Lord Salisbury, a former Cabinet minister, denounced Macleod in a speech in the Lords as 'too clever by half'. Of the six nations over whose independence Macleod directly presided, Nigeria subsequently endured four military coups, a genocidal civil war that left between one and three million dead and eventual suspension from the Commonwealth. Tanganyika (as Tanzania) became a one-party state under Julius Nyerere, Marxist-socialist and closely allied to China until 1995. Sierra Leone, after several military coups, became a one-party state from 1968 to 1991. British Somaliland had a less unhappy experience, but eventually broke away from the Somali Democratic Republic in 1991. British Cameroon had only been under indirect rule by Britain and split between Nigeria and French Cameroon. In the years that followed the reforms, only Kuwait could be considered to have developed into a successful state.
That is hardly a record that vindicates Macleod's policy. He may have felt that delay in granting independence would foster militant Marxist insurgencies and civil wars; but the dissolution of the Empire turned into an undignified scuttle that did nothing to enhance Britain's prestige. Macleod had been less than diplomatic in his interaction with colonial authorities and was replaced as Colonial Secretary in 1961 by the more amenable Reginald Maudling, while Macleod became Leader of the House of Commons and chairman of the Conservative Party. Scandals such as Vassall and Profumo were eroding the Government's position and Macleod recommended that Macmillan should sack the austere Chancellor Selwyn Lloyd and carry out a Cabinet reshuffle. Even Macleod was startled by Macmillan's 'Night of the Long Knives', when he sacked one-third of his Cabinet.
When the Conservative leadership crisis of 1963 resulted in the emergence of Lord Home as Prime Minister, Macleod and Enoch Powell refused to serve in his government. This deeply divisive controversy further increased the accusations that had haunted him for his entire political career, that Macleod was 'devious'. Even Rab Butler, his former patron, who had intended to make him Chancellor if he had become prime minister, said that 'Macleod was very shifty, much more so than you think'. So universal was this perception, even among his friends, that it is a charge difficult to refute. But being devious is the essence of being a politician and need not imply anything dishonourable.
His subsequent career consisted of editing the Spectator magazine, returning to opposition politics as shadow chancellor and, after the Conservative victory in the 1970 general election, finally being appointed Chancellor of the Exchequer. He served for just one month, dying of a heart attack in 11 Downing Street on 20 July, 1970.
Iain Macleod was widely seen as a future prime minister. He had captured the leadership of the left wing of the Conservative Party, the long-standing strain of 'One Nation' Toryism which, since 1945, had become influenced by quasi-socialist assumptions of state interventionism. That ideological identification, had he lived, might have prevented his entering 10 Downing Street. In every other respect he was well qualified. Macleod was charming, when he was disposed to be, and had a charismatic personality. Loyalty to his friends was one of his attractive characteristics (he stood by Jack Profumo after his fall). In defeat, he was robust: in 1965, when he was beaten in the Glasgow University rectorial election by the 76-year-old Lord Reith (a humiliation for a man who had always enjoyed an especial rapport with young people), he wrote to the chairman of his campaign: 'As Lady Macbeth observed, "Who would have thought the old man had so much blood in him?"'
He was effortlessly witty: the man who had denounced, in a political context, a 'magic circle' of Etonians controlling the party leadership was happy exchanging combative banter in the bar at White's. His intellect was of a high order. But, above all, it was his exceptional skill as an orator – on a good day he could rival Churchill – that made him formidable. His command of the English language was Churchillian and his speeches were couched in classical periods that lent them portentous weight. Even his illness augmented his imposing presence: the need to turn his whole body, in lieu of his head alone, produced an authoritative effect. From the platform at the annual Conservative Party conference he exerted a magnetic influence over the party faithful – including many not enamoured of his policies – that won him massive ovations.
Iain Macleod was an exceptional man and a uniquely gifted politician. Britain's Conservative Party is greatly disadvantaged by the absence of anyone of equal talent within its ranks today.