Maria Antonia of Bavaria — Electress of many talents
Maria Antonia, Electress of Saxony, was an artistic polymath who helped re-shape elite culture in the Enlightenment age.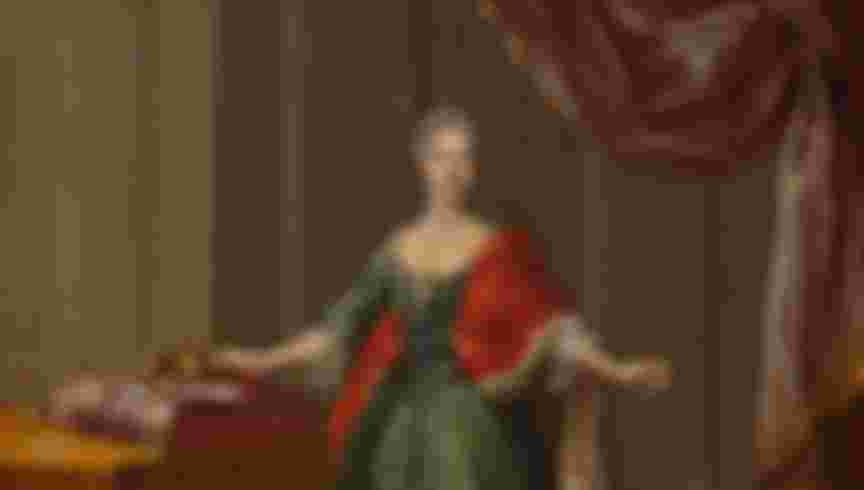 An eighteenth-century portrait of Maria Antonia of Bavaria, Electress of Saxony, by Peter Jacob Horemans. Credit: Heritage Images / Getty Images.
The opera Talestri: Regina della Amazzoni opens with a reluctant young Talestri becoming queen of the warrior Amazon tribe. She is torn between duty and love – as their ruler, she must renounce men. Talestri is a story of feminine power in conflict with personal happiness; of the politics of leadership; the clash of public and private selves. There is marriage, death, war, and maternal love; strong female characters take the lead. That this examination of female agency, a work of such a contemporary bent (albeit based on ancient myth) was written in the eighteenth century is only one remarkable thing about it. The other is that its author, librettist and composer, whose pseudonym for publication was E.T.P.A, was Maria Antonia, a princess of Bavaria who became the Electress of Saxony. She even sung the lead role herself. Like Talestri, her own trajectory was shaped by love, politics, death, and war.
Maria Antonia (1724 – 1780) was daughter and wife of an elector; the oldest surviving child of an elector of Bavaria who became Holy Roman Emperor Charles VII (and briefly, King of Bohemia too), and his wife, Maria Amalia of Austria. Such parentage made her a princess and a duchess, and ensured consanguinity with most of the crowned heads of Europe – Marie Antoinette was her first cousin – although it was Maria Antonia's intelligence and warmth that enabled her to connect courts across the continent. Her parent's gift to her was an exceptional education, one that began in childhood but which she herself ensured lasted way beyond that.
She was brought up in the undoubtedly inspiring surroundings of Nymphenburg Palace, Munich. The baroque wonder included a fairy-tale Hall of Mirrors in the Amalianburg, the hunting lodge built for her mother, one of many places within the palace estate where concerts and plays were staged. Maria Antonia studied music in many forms – singing, composing, playing the harpsichord and oboe – with two distinguished opera composers from Venice, Giovanni Battista Ferrandini and Giovanni Porta. By the time she was twelve she could write letters in Italian and French (and knew German and Latin too); by sixteen she could play the piano and sing a main role, a shepherdess, for example, in a 'pastoral' by Ferrandini. Her life was accompanied by an opera score: her birth in July 1724 was celebrated with the first performance of Pietro Torri's Amadis de Grecia. The dynastic marriage that awaited her would be marked by several more premieres, including Christoph Willibald Gluck's Le nozze d'Ercole e d'Ebe and Johann Adolph Hasse's La Spartana generosa. On 13 June 1747 she was married by proxy in Munich to a fortuitously musically-minded cousin, Friedrich Christian, son and heir of the Elector of Saxony. She moved to Dresden where they wed in person one week later. The marriage was a harmonious one: they had nine children, with seven living into adulthood. In his private diary he called her 'Zweites ich' – second self.
By the time she was married, she was already well-known as a composer, accepted by the Accademic dell' Arcadia in Rome in the same year as Ermeldina Talea Pastorella Arcadia; this became her pseudonym – ETPA. The Accademia aimed to promote taste in poetry and opera; she was also enrolled into the Accademia di San Luca for her painting – she was an accomplished pastellist, print-maker and portrait painter. She was also a poet, and read Enlightenment thinkers and precursors including Descartes, Locke, Rousseau and Voltaire.
Marriage and children – even war – did not interrupt either her studies or her creativity. In Dresden Maria continued her music lessons with Nicola Porpora, who had taught famous castrati such as Farinelli and Caffarelli and who, for a while, was a rival to Handel as impresario in London, and Hasse, Porpora's rival. She wrote the libretto for Hasse's oratorio, La conversione di Sant'Agostino (1750), in addition to her own many compositions, culminating in her two – still performed – operas, ll trionfo della fedeltà in 1754 and Talestri, regina della amazon in 1760. During the Third Silesian War (part of the Seven Years' War), Maria Antonia left Dresden for Munich and Prague – Saxony was sandwiched between two rival powers, Prussia and Austria, and coveted by both. The Prussian Frederick the Great laid siege to the city without success in 1760. She returned in 1763, when her husband acceded to the Elector's throne. Parts of the city had been devastated by war and in an extraordinarily radical act for the era, her husband entrusted the state finances entirely to his wife – including responsibility for the porcelain factory at Meissen and the establishment of a Dresden art academy. But tragically, not only had her nine-year-old son Joseph died that March, but her husband caught smallpox and within ten weeks of becoming elector, he too died. In December his widow was left co-regent (with her brother-in-law Franz Xavier) to her son and heir, Friedrich August, until the boy turned eighteen, in 1768.
Throughout this time, her work (under 'ETPA') was translated and published by the influential Breitkopf company, garnering many positive reviews. She was also patron to musicians and artists such as Anton Raphael Mengs. And after the havoc of war, she turned entrepreneur, setting up two textile mills and a brewery to help the resuscitation of the local economy. Despite these responsibilities, she welcomed strangers into her circle, and had a talent for friendship. In 1745 in Munich, before her marriage, she had set up an 'Ordre de l'Amitie' or 'order of friendship' which bound her siblings and friends by codes of discretion and loyalty. It was in the role of friend that I came across her: first, as a correspondent of Frederick the Great, with whom she established a deep affection in spite of his army's destruction of Dresden.
Frederick wrote to her, adoringly, 'Hence, should one find art and virtue united in one person, is it possible not to love her? This love is not the kind of love that frightens away modesty, it is not the flame that burns in the hearts of lovers, but rather an irresistible fondness, coupled with admiration. This, Madam, is the feeling that you awaken in my soul, and which no power can destroy.'
In the summer of 1765, Frederick wrote to Maria Antonia describing a guest at the wedding of his handsome nephew and heir. She was an English lady called 'Madam Chudleigh,' 'who after draining a couple of bottles, staggered in dancing, and was about to fall on the floor. This adventure has much amused the public, unaccustomed to seeing ladies travelling alone, and even less prefer fumes of wine to the graces and the good disposition that suits them so well, and which is their finest adornment.'
The dowager electress replied that she had heard of the Englishwoman from the 'Carlsbad water drinkers' and that 'I would not be less happy to see a drunk woman dancing, although the honour of my sex would deprive me of the desire to laugh with English travellers, and it was said she would pass here; but she may have been afraid of finding no more wine from Hungary.' Indeed, she was expecting Elizabeth Chudleigh, subject of my book The Duchess Countess, who was then a maid of honour to the dowager Princess of Wales. Chudleigh would go on to become the (bigamous) Duchess of Kingston. The Saxon envoy in London, Count Hans Moritz von Brühl, had been entertained by Chudleigh in London and as a result, she had received an invitation to the court of Dresden from the dowager electress. As this jolly correspondence was taking place between Frederick and Maria Antonia, Chudleigh was exchanging what traveller Nathaniel Wraxall described as the 'melancholy and deserted magnificence of Berlin,' via boar shooting near Leipzig, for the 'rich, finely undulated, and populous country, covered with marks of opulence, industry and freedom,' with its small capital of Dresden, 'cheerful, elegant and in a situation the most picturesque.'
In spite of the damage done by the Prussian occupation, Dresden was still charmingly civilised, with its court art collection, its Grosser Garten, and the River Elbe, which divided the old town from the new. When Elizabeth Chudleigh arrived, her fellow widow was with her six children (including her fourteen-year-old son for whom she was co-regent) at their summer residence of Pillnitz Castle, a baroque palace full of chinoiserie to which the court travelled down the river by gondola. The anecdote of Frederick's was an unlikely start to a sentimental, lifelong friendship between the two women who shared a love of music and art and an audacious lust for experimental autonomy – a refusal to accept gender limitations. Like Chudleigh, Maria Antonia liked to travel; she visited Frederick the Great at least twice and for a while considered settling in Rome, as did Elizabeth; both women appreciated Roman culture in all its forms, and were friends with the affable and humorous Pope Clement XIV.
It has been said that in Maria Antonia's operas she was controlling her image, styling herself as a compassionate leader, a patroness of the arts, and a goddess of wisdom. If that was her intention, it worked. Certainly she was an erudite, multi-talented diplomat on behalf of the Bavarians, considered by the writer Peter Paul Finauer a 'a model of extraordinary scholarship' and a 'magnanimous Minerva.' Music critic Charles Burney wrote that 'she sung in a truly fine style' (although he thought the music too loud for her 'weak' voice as she aged). A sympathetic, enlightened, dynamic polymath of talent, who dedicated herself to learning all through her life, Maria Antonia died at the age of 55 in April 1780. Two hundred years later the renaissance of her operas began; the magnanimous Minerva plays on.