Mimi Baez Fariña – life beyond the 60s
The lost folk singer Mimi Fariña's career shows the story of the 'greatest decade' of the 20th century in a new light.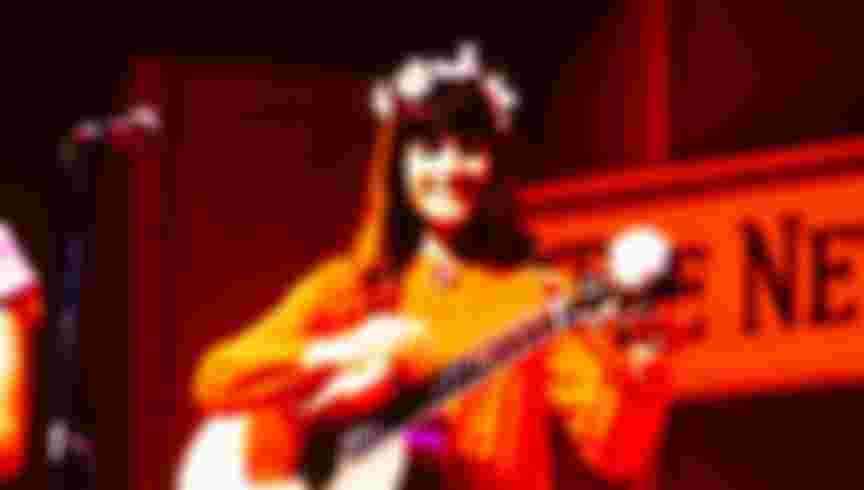 American singer-songwriter and activist Mimi Farina at Newport Folk Festival in 1967. Credit: John Byrne Cooke Estate/Getty Images
A young couple sit across from each other, a small table in the middle. Pete Seeger, the doyen of the American folk revival, sits in the background as they play in concert. Richard is an assured, confident performer who introduces each song and has an unerring ability to look into the camera as if he were holding an earnest conversation with a friend. The woman, Mimi, is quieter; she communicates in smiles, glances, and half-laughs, but is wholly absorbed and serious when performing. Seeger occasionally intercedes with questions or music or accompanies on the banjo. Mimi and Richard Fariña are guests on his television show Rainbow Quest, a series dedicated to folk music and its contemporary practitioners.
Mimi and Richard Fariña had recently been a hit at the 1965 Newport Folk Festival – the same year Bob Dylan had shocked the world with his electric set. Part way through their performance, it began to pour with rain. The weather posed a threat to the exposed wires and instruments but, huddled under an umbrella, the pair continued to play. Their audience proceeded to dance and strip off their clothes in a near-frenzied state, covering themselves in the mud – such was the power of their rhythmic, repetitive melodies.
Mimi Baez Fariña was born in 1945 in Paolo Alto, California. She was the younger sister of folk singer Joan Baez, and the youngest of the three Baez girls. While others in the folk scene shrouded their lives in faux mystery and intrigue – Richard Fariña claimed to have worked with the terrorist IRA organisation, been involved in the Cuban revolution, and had a mysterious metal plate screwed inside his skull – Mimi Fariña's early life had its own drama. Her father was a physicist who frequently moved for his work; and Mimi's childhood was split between California, New York State, and Baghdad. As Joan Baez begun to make a name for herself in the Cambridge music scene, Mimi, despite being only thirteen, frequently accompanied her to coffee houses and concerts.
When she was sixteen, she moved with her parents to Paris: Joan stayed in America to pursue her music, and Pauline – the eldest sister – had married the artist Brice Marden. Details of Mimi's first few months in Paris are hard to come by: she seems to have all but quit school, toured with a ballet troupe, and appeared in a film. When, in 1965, Pete Seeger asks her what she is 'doing these days', she answers 'me, um… singing and dancing' with a shy smile.
In 1962 she met Richard Fariña. He was in France with his then wife, the folk singer Carolyn Hester. Along with a handful of other musicians, they had a picnic near Chartres Cathedral. Wine-drunk for the first time, Mimi proceeded to be sick on Richard. Seemingly unfazed, he sent her a poem a few days later. In 'The Field Near the Cathedral at Chartres', he describes Mimi's 'sudden dance free of all design' and the 'tale in [her] dark body's book'. What it lacks, perhaps, in poetic finesse it makes up for in feeling; Richard had married Hester after an eighteen-day courtship, and after he met Mimi, the divorce was similarly speedy.
Richard and Mimi married in Paris in April 1963. Mimi was seventeen, and the marriage was a secret: she was still a minor, and her family were wary of the older man. The couple moved to California, near Joan's house in Carmel, and were married for the second time with her family's assent.
The marriage was not just one of intense affection – Richard had written Mimi hundreds of letters and poems while they were separated – but also of creative brilliance: from a tiny cabin in the Carmel Valley, they created a new, almost other-worldly sound. The songs have a stripped-back old time feel, Richard plays an old-fashioned Appalachian dulcimer, and many of their instrumental tracks are re-workings of nursery rhymes. But the overall effect is anything but traditional; Mimi's skilled guitar playing bounces off Richard's rapid dulcimer melodies, and their two voices mix in such a way to become, at times, indistinguishable. Each song builds off repeats and echoes. The lyrics are often so touchingly naïve, and whole songs are constructed from a refrain that lasts no longer than a few bars, but the overall effect is one of mesmerising, kaleidoscopic complexity. It is no surprise that so few of their songs have been covered – it would be difficult to know where to start.
The couple were signed by the record label Vanguard, with whom Richard also had a book deal. Celebrations for a Grey Day was released in April 1965, and Reflections in a Crystal Wind later that same year. The albums are filled with joy – 'Pack Up Your Sorrows' is a bouncy, beautiful piece and 'One-Way Ticket' is a lilting, jazzy paean to the couple's itinerant, sun-seeking existence. But they also hold so much more; there is undeniable irony in 'Sell-Out Agitation Waltz' and 'Hard Loving Loser', and unmistakable sadness in 'The Falcon' and 'Another Country'. The early sixties was the era of the protest song as the generation after Seeger and Woody Guthrie begun to write about the injustices that plagued their America. While Dylan was writing 'With God on Our Side', and Baez was singing 'We Shall Overcome', the Fariñas were singing 'House Un-American Blues Activity Dream'. The fantasy-like absurdities combine with the harmonica and almost monotone vocals to create a protest song that is as creatively innovative as it is political.
The Vanguard contract was a three-album deal, but Richard died before another album could be released. He was involved in a fatal motorbike crash in 1966; Mimi was made a widow on the day she turned twenty-one.  While Richard was undoubtedly loving, he was also controlling: he managed all their finances, and refused to help her to learn to drive. Mimi was suddenly very alone.
She started to record songs for a solo album, but Vanguard released Memories instead: a compilation of unreleased material of the Fariña duo, two Mimi solo tracks, and a couple of duets with Joan Baez. It is an accomplished album, but it depicts Mimi as little more than a bereft widow. On the album cover, she stands outside with a bunch of flowers, her messy hair hanging loose, her big eyes speaking of innocence and sorrow.
It would be too easy to end a portrait here. Mimi Fariña was married to a sixties cult legend, a man whose near-mythic status only increased as a result of his death. But while Richard continued to live on only in rumours and legend, Mimi's life carried on in the flesh. She started dancing again, and sang with rock and roll acts. She also returned to acting, joining a short-lived comedy group called The Committee.
In 1968 she remarried, to the producer Milan Melvin. It was a colourful event; Mimi – with a yellow flower crown in her dark hair – looks as if she is in costume, an actress playing a gypsy queen. Joan wrote 'Sweet Sir Galahad' as a story of the couple's romance; the whole affair existed in stylised, romanticised recollection. The marriage did not last longer than three years. In 1970, Mimi met Tom Jans and began recording with him. The album they produced, Take Heart (1971), is tender and skilled – and reveals Mimi's song writing talents – but it lacks the sheer innovation and jigsaw-like coherence of the first two Fariña records. By 1972 that partnership too was over. Mimi again made moves towards a solo album, but resented the relentless commercialisation: she refused to sell-out.
Instead, Mimi began Bread and Roses, an organisation to take music inside institutions such as prisons, juvenile detention facilities, and nursing homes. In 1972, she had joined Joan Baez and B.B. King in a concert in a New York prison – the recording of the performance is available on YouTube; the joy their music provided is clear to see. Mimi took this mission further, and proceeded to dedicate her life to it. Bread and Roses held charity benefit concerts and regular performances.
In 1985, Mimi released Solo, singing alone for the first time. Her voice sounds less wavering and vulnerable than it does on any early recordings, but it is just as emotive and evocative. A few of the songs on the album had been sung by Joan Baez, but Mimi's own rendering of her own lyrics gives them a new power; after being the wife, sister, and duet-partner of many other creative titans, she had the chance to sing by herself. This creative independence could be overstated, though. Despite her lyrical brilliance, many of the songs on the album are not hers – and others are tracks she sang on Memories. But this does not really matter: by the time Solo was released, Mimi had moved beyond the world of professional jealousies and touring squabbles. The album is more a record of her career and life – with its many different, overlapping partners, styles, and lovers – than it is a cohesive creative output.
Mimi died of cancer in 2001, aged 56. She has not been forgotten so much as pushed into the margins; any listener is far more likely to come across her in a duet with her sister than any of her own albums. Yet, in an era of blustering protest rhetoric, public quarrels, and a widespread fashion for obscuring biography and exaggerating the truth, there's a quiet solidity, purpose, and substance to Mimi Fariña – despite her waif-like appearance.