The squandered promise of Willie Wilde
Willie Wilde - Oscar Wilde's older brother - had been destined for a distinguished public life, but the siren song of dissolute journalism proved too tempting.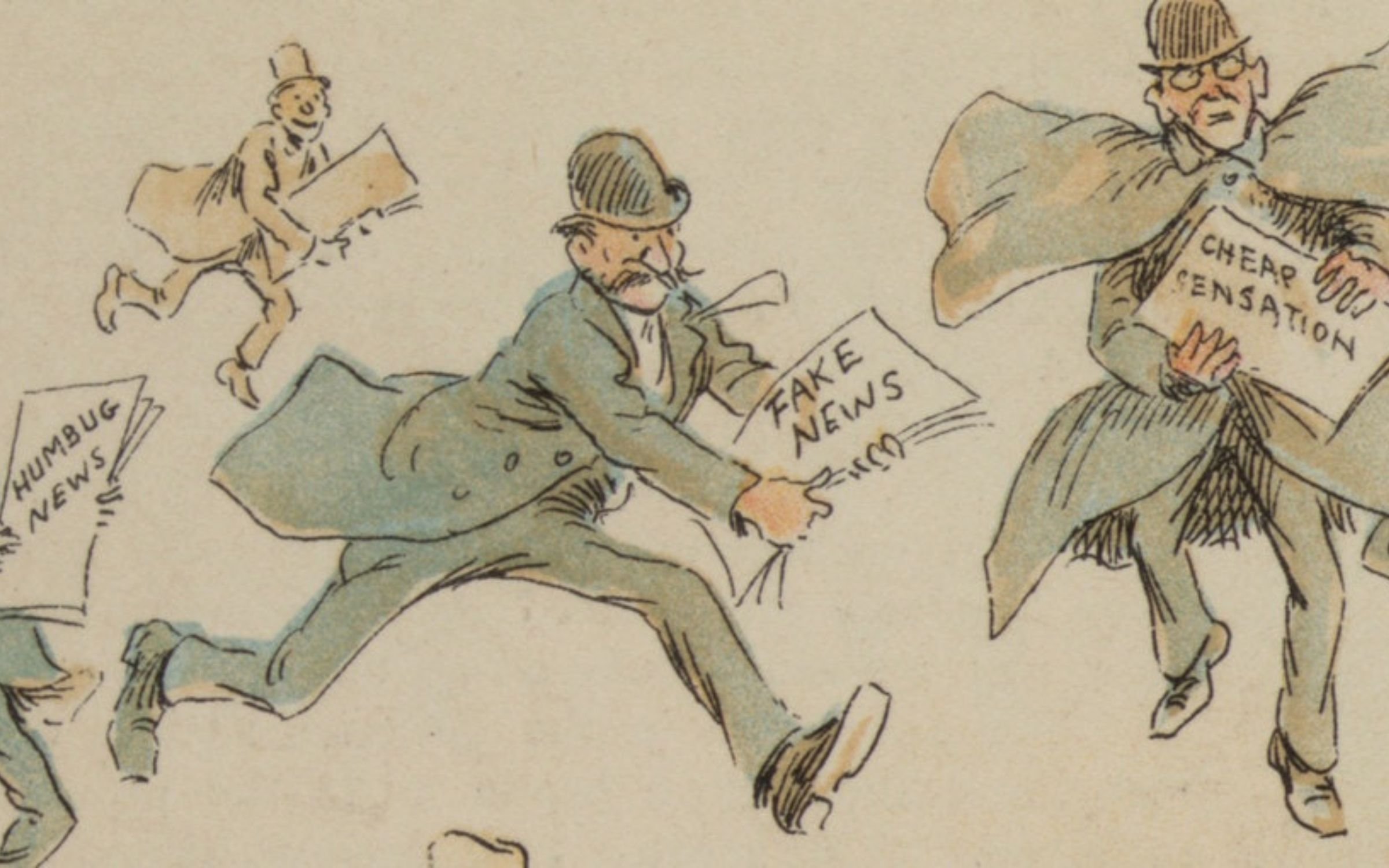 The fin de siècle newspaper proprietor / F. Opper. DIGITAL FILE FROM ORIGINAL PRINT; Library of Congress - no known restrictions
Lady Wilde had romantically exalted ideas about her children. The Irish nationalist and 'poetess' gave her second son, Oscar, his 'grand, misty and Ossianic' name, in the hope that he might be a poet. While for Oscar's elder brother Willie she imagined a no less glorious destiny. 'I will rear Him a Hero,' she informed a family friend, 'perhaps the first President of the future Irish Republic.'
And – for a while at least – it seemed that she, and her husband, the distinguished Dublin surgeon and antiquarian, Sir William Wilde, might not be disappointed in their first-born. Certainly Willie (born in September 1852, two years before Oscar) was a conspicuously bright, even brilliant, child; and good-looking too, in his mother's estimation: 'slight, tall and spirituelle looking with large beautiful eyes full of expression'.
His school days – at the Portora Royal School ('the Eton of Ireland' as Lady Wilde fondly imagined it) were lit with glory. He was a serial prize-winner across a range of subjects, from Classics to 'Holy Scripture'. He even won the Junior High Jump competition – with a leap of 4 foot 1 inch.). Affable, good at music, fond of sport: he was popular with his school-fellows in a way that the dreamy and bookish Oscar never achieved. The headmaster would regularly hold him up as an example to emulate.
Moving on to Trinity College Dublin, he took a First Class degree ('Gold Medal') in the modern philosophical course 'Ethics and Logics'. His love of argument and gift for language found a vent in the workings of the university's two great institutions the Philosophical and the Historical Societies. Willie spoke regularly, and brilliantly, at both. In 1874, he won the Phil's 'medal for oratory' – pipping his fellow committee-member and great Dublin friend Bram Stoker.
He was artistic. He played the piano with real feeling. He drew well – providing an illustration to his father's discursive history of Lough Corrib. He had an interest in sculpture. And (like his famous mother, and younger brother) he wrote poetry – contributing translations and original pieces to TCD's poetry magazine, Kottabos. One sonnet, on the daring subject of Salome, began, 'The sight of me was as devouring flame/Burning their hearts with fire, so wantonly/That night I danced for all men to see!'
But these, it seemed, were diversions for an idle hour. It was in the arena of public life that he would make his name. He had read for the Bar while still at Trinity, qualifying in both Ireland and England (at the Middle Temple), and it was hoped that a legal career might be the platform for an entry into politics. Lady Wilde's enduring fame – as the fiery nationalist 'Speranza' of the Post-Famine years – ensured much goodwill; while Sir William Wilde's wide connection gave Willie an added standing. He looked the part too, having grown taller, and more imposing with the years, while retaining those dark, expressive eyes. He now also sported a fine black beard.
And yet, and yet…. Over the ensuing decades the bright prospects, flickered, faltered and then dimmed. As Oscar's star gradually rose during the 1880s and 90s, Willie's fell. His failure, imperceptible at first, pronounced at the end, provides a telling shadow history to his brother's fabled career: a reminder that (in Willie's own phrase) 'brilliancy' on its own is not enough. Other things are needed too: an iron will, good fortune, ambition, and real energy. Max Beerbohm, who came to know the brothers well, and retained an affection for both, considered Willie's case 'a tragedy of family likeness.'
For Willie the 'Enemies of Promise' began to gather quickly. The death of Sir William Wilde, in 1876, deprived him of both useful contacts and sound advice. It also gave him money. As the eldest son, he inherited the family home in Merrion Square and the bulk of his father's estate.
He abandoned the Law, discovering that money could be made more easily in Journalism. The proliferating publications of the late Victorian period required content, and Willie – with his ready wit and facile pen – found that he was well able to supply it. He began by contributing 'paragraphs' on Irish subjects to the fashionable London weekly, the World. But his horizons soon broadened. Selling up in Dublin, he removed to London – together with his mother – and set up home in Knightsbridge.
He had good connections. Bram Stoker was now working for Henry Irving at the Lyceum, the most exciting theatre in the capital. Willie began writing theatre reviews for Vanity Fair. And he was on hand to help promote his brother, when Oscar came down from Oxford in 1879, anxious to make his name in London as a literary and artistic figure. Willie ensured that Oscar's name was mentioned in the papers – that his sayings were repeated, and his attitudes known.
But the brothers, though they met at their mother's regular Saturday afternoon 'salons', had friends in common, and played tennis together upon occasion, moved, essentially, in different circles. As Oscar strove to enter the new, cultured, Upper Middle Class 'Society' of talent and distinction, Willie was drawn increasingly into the journalistic Bohemia of late-night drinking clubs and raucous fun. Having been taken on as a leader writer by the Daily Telegraph he found he could get his day's work done in a leisurely fashion by the middle of the afternoon. After that the round of pleasure could begin.
He did occasionally bestir himself. His reports on the Parnell Commission (in the Telegraph) were highly regarded – not least for their 'light and gently humorous point of view'. And he attempted to break into drama, adapting F.E. Anstey's novel, The Tinted Venus for the stage. But such flights were rare. He became known, amongst his cronies, as 'Wuffalo Will', the man who was 'born tired.'
Sex, too, since his university days, had been a dangerous, and constant, distraction. There had been affairs, liaisons, scandals, disappointments and embarrassments. (He had, in 1878, been secretly engaged to the young Ethel Smyth. The future composer and suffragist had, though, the sense to break off the arrangement after a fortnight.)
In 1891 the thirty-nine-year-old Willie thought he might recruit his flagging fortunes – and realign his future – by marrying an American millionairess, the magazine proprietor, and family friend, Mrs Frank Leslie. She was sixteen years his senior, and allowed herself to be persuaded by Willie's plausible charm. She took him back to New York, hoping to put him to work in her newspaper empire. Willie, however, had other ideas. Stepping off the boat he announced that 'what New York needs is a leisure class, and I am determined to introduce one.' He put in long hours at the Lotos Club, running up huge bar bills. The mornings were spent asleep. After a year of this, his wife announced that 'Willie is of no use to be – by day or night', and that she would be taking him back to England, and leaving him there, prior to arranging a divorce. Being a successful business woman she had made Willie sign a pre-nuptual agreement. He would receive no pay-off.
Back in London, and back living with his mother, Willie found that the Daily Telegraph and his other former employers no longer wanted his services. He continued on a downward spiral, doing drama criticism for 'unimportant papers' and writing 'general articles in which he would mention tradespeople and get perquisites.'
To make matters worse, American press-reports of his divorce proceedings, mentioned how he had spent his afternoons at the Lotos Club, doing 'simply killing' imitations of Oscar, in a 'fat, potato-choked sort of voice.' This led to an awful breech between the brothers – and just at the moment when Oscar's career was taking off, with the success of his first 'society' comedy, Lady Windermere's Fan – and the notoriety of his banned 'Symbolist' drama, Salomé.
There was to be no easy reconciliation. Despite the pleadings of Lady Wilde, Oscar remained immovable. His animus against his brother found vent in several disparaging witticisms. With regard to Willie's incessant cadging and increasingly grubby appearance (accentuated by his sallow open-pored complexion), Oscar remarked, 'Willie sponges on everyone but himself.' Commenting on Willie's holiday at Eastbourne, he suggested that it 'was more of an alcho-holiday.' And, perhaps, there is a suggestion of their vexed relationship in Jack Worthing's laments about his reprobate 'brother' in The Importance of Being Earnest.
There would, however, be a forced and awkward rapprochement in 1895, during the crisis of Oscar's downfall. Released on bail, between his two trials, Oscar found an unhappy refuge at Oakley Street, in the house shared by Lady Wilde, Willie, and Willie's new, young, wife – Lily. Willie was anxious to support his brother but, as Oscar reported, his efforts were often counterproductive. 'Willie has been defending me all over London,' he told W.B. Yeats. 'My poor brother, he would compromise a steam engine.'
Following Oscar's imprisonment, Willie was left to deal, alone, with the death of their mother, in February1896. It was a crushing blow for him, although he was consoled slightly by the birth of a daughter, Dolly – who, as her doting mother remarked, seemed to have inherited 'a fair share of the [Wilde] family brains'. (She became a celebrated figure on the expatriate literary lesbian scene of 1920s Paris, before dying – aged 45 – of, probably, a heroin overdose.)
Willie, though, did not see her grow up. Nor did he see Oscar again, either during, or after, his time in prison. His own health compromised by drink, debt and disappointment, he died, in London, on 13 March 1899, aged just forty-six. If he had been born tired, he died exhausted.