Tobias Smollett – a life in caricature
Early champion of the grotesque style, Tobias Smollett's life was as raucous as his literary creations.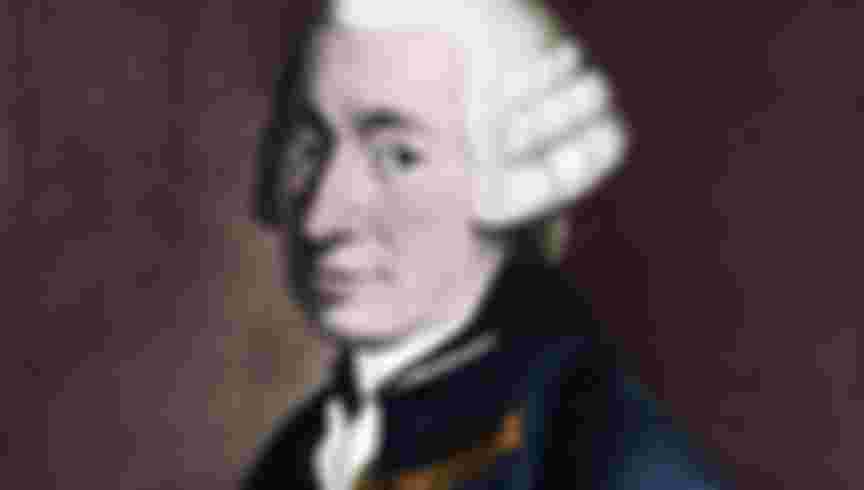 Portrait of the Scottish novelist Tobias George Smollett in the National Gallery. Credit: Club/Getty Images
At the end of 1747, Tobias Smollett wrote a letter to his friend Alexander Carlyle. 'I have finished a Romance in two small Volumes, called the Adventures of Roderick Random, which will be published in a Fortnight. It is intended as a Satire on Mankind, and by the Reception it has met with in private from the best Judges here I have reason to believe it will succeed very well.'
When that novel – Smollett's first – appeared the following year, it did indeed succeed very well. A vibrant, uproarious and at times caustic account of a young man's exploits and misdeeds on land and at sea, Roderick Random captivated readers and launched the career of the 27-year-old Scotsman. That career comprised a vast output which showed Smollett to be a jack of all literary trades. He wrote novels, poems, plays, polemics, histories and book reviews; he translated Cervantes' Don Quixote and works by Voltaire; and he founded and edited three notable magazines, including the influential Critical Review which stimulated enquiring minds until 1817. Not that Smollett lived to see its last issue. Years of overwork and financial worries took their toll on his health. He died in 1771, aged 50.
Three centuries on from his birth (the date is unclear, but he was baptised on 19 March, 1721) Smollett is only remembered as a novelist. What's more, only a couple of his novels remain in print. Throughout these evergreen works, and at sporadic intervals in those that have fallen into neglect, we find, and relish, Smollett's winning ingredients: picaresque misadventures, biting satire, coruscating wit, trenchant social observations and memorable casts from all walks of life.
Although centring upon a 'North Briton', Smollett was keen to stress to his readers that his first novel was no thinly disguised autobiography. 'The low situations in which I have exhibited Roderick I never experienced in my person,' he told one American admirer ('low' being eighteenth-century parlance for 'coarse'). However, Smollett had plenty of 'high' experiences to draw on for this book and others. His finest works have lasted because of the singular way he combined the rough with the smooth and blended fact and fiction.
Smollett was born in Dunbartonshire of a landed Scottish family. He studied medicine at Glasgow University, then, like Roderick Random, moved to London to seek his fortune. When war with Spain broke out in 1739 he enlisted as a surgeon's second mate, and endured horrors onboard HMS Chichester during the disastrous Battle of Cartagena. Back in England, Smollett began toiling in Grub Street, making his mark as a novelist but failing dismally as a dramatist. He was jailed for libel, embroiled in an acrimonious feud with John Wilkes, and plagued by anti-Scottish abuse. He got away from it all by travelling around Britain and the Continent. His journey's end was a villa near Livorno, where he and his wife settled in a desperate bid to restore his health.
Following his death, Smollett's novels slowly fell out of favour. Critics such as William Hazlitt liked to compare and contrast Smollett with his old rival Henry Fielding, often placing the former in a paler light: 'Smollett excels most as the lively caricaturist: Fielding as the exact painter and profound metaphysician.' Eminent Victorians like John Ruskin took a harder line, condemning Smollett's characters for their cruel pranks and bawdy humour, and dismissing the books they appear in as 'open pieces of filth.'
Many of Smollett's creations are caricatures, but they are fully fleshed-out, warts-and-all figures who make their presence felt on the page. And while their escapades are filled with nastiness, ribaldry and bodily functions ('Smollett,' writes his biographer Jeremy Lewis, 'would exploit to the full the comic potential of enemas, laxatives and emetics') each lurid touch is another bright dab in a richly colourful scene. George Orwell, who in the last century led the charge in reviving interest in Smollett, got it right when he said that 'by simply ruling out "good" motives and showing no respect whatever for human dignity, Smollett often attains a truthfulness that more serious novelists have missed.'
He attained that truthfulness in Roderick Random. In and around the hero's wild antics and lively encounters with characters of all stripes, whether on the bustling streets of Hogarthian London or onboard the man-of-war Thunder or in foreign lands, Smollett highlights naval, medical and political failings, flagging up injustice and incompetence and skewering hypocrisy.
With Roderick Random, Smollett started as he meant to go on. Unfortunately, his following fictional offerings were decidedly hit and miss. The strongest of them all, The Adventures of Peregrine Pickle (1751) had its fair share of admirers in its day, including Dickens. Many interludes still pack a punch and raise a smile, including those featuring the protagonist's protector, the garrulous old seadog Commodore Hawser Trunnion. But Smollett relies too much on slapstick (there is forced hilarity in a scene involving a chamber pot with holes in it) and numerous digressions, and overall the book lacks the zest and pace of its predecessor.
Smollett's third and fourth novels, The Adventures of Ferdinand Count Fathom (1753) and The Adventures of Sir Launcelot Greaves (1761) – the former fronted by a diabolical Iago-like anti-hero, the latter by a chivalric Don Quixote-esque do-gooder – are for completists only. Each is blighted by episodes that take either too long to get going or too long to conclude.
A lesser writer would have continued churning out work with diminishing returns. However, Smollett was saving his best until last. First there was nonfiction in the form of Travels through France and Italy (1766), a hilariously splenetic, not to say xenophobic, record of an eventful European trip. Travel clearly didn't broaden Smollett's mind. Thin-skinned and hot-tempered, he finds fault with everything and everyone. His constant grouching made such an impression on Laurence Sterne that, two years later, in his own travel book A Sentimental Journey, he depicted Smollett in all his misery as 'Smelfungus.'
Then came a final, dazzling work of fiction. Published only weeks before his death, The Expedition of Humphrey Clinker is Smollett's masterpiece, and widely regarded as the most accomplished epistolary novel in English. In Smollett's previous novels he sent his peripatetic characters far and wide to explore distant lands. In this one he charts the progress of a Welsh family party as they tour England and Scotland. 'Every day is now big with incident and discovery,' writes one of the travellers in a letter. What they experience is both entertaining and insightful. But just as compelling is who they are, what they feel and how they operate.
Head of the group is Matthew Bramble, a cantankerous, gout-ridden country squire who shares and articulates his creator's scathing views on the state of the nation. His sister Tabitha, on the lookout for a husband, is in Bramble's words, 'resolved to throw at every thing she meets in the shape of a man, till she can fasten the matrimonial noose.' There is also their niece Lydia, 'as soft as butter and as easily melted'; their nephew Jery, an Oxford student and 'a pert jackanapes'; and feisty, saucy, barely literate lady's-maid Winifred. Along the way, they meet one Humphrey Clinker, who 'turns out a great original' and so is employed as a footman and brought along for the ride.
And what a ride it is. The travellers come into contact with a rogues' gallery comprising artists and actors, doctors and politicians, dukes and duchesses, scoundrels and highwaymen, bucks and gamesters, 'a parcel of authorlings' plus a grotesque, outspoken 'Scotch lieutenant.' They navigate balls, duels, fires, accidents, mistaken identities and dubious alliances. Bramble suffers most. In a series of detailed letters to his doctor, he sums up and writes off each leg of his trip: London is 'this misshapen and monstrous capital,' Durham 'a confused heap of stones and brick,' Bath 'a mere sink of profligacy and extortion.'
Bramble's steady supply of scathing and hyperbolic invective is just one source of amusement in the novel. There is huge enjoyment to be derived from the gossipy nature of the characters' letters. Tabitha emerges as a precursor to Sheridan's Mrs Malaprop whereas Winifred's crude misspellings anticipate the verbal trickery of James Joyce. When the group returns home and various members are, according to Winifred, 'chined, by the grease of God, in the holy bands of mattermoney,' we are sorry to see them go.
Smollett's two great novels – one at the start of his career, the other at the end of his life – are more than mere travelogues. They are tall tales which still manage to ring true. They thrum with riotous, rambunctious energy and are emboldened by their author's candour, anger and satirical swipes. And then there are the laughs. Smollett served up ridiculous incidents and comic exchanges because, as one character in Humphrey Clinker puts it, they 'heighten the humour in the farce of life.'