Celebrating Ligeti's soundspace odyssey
The music of György Ligeti, the great Hungarian composer, still sounds like that of the future.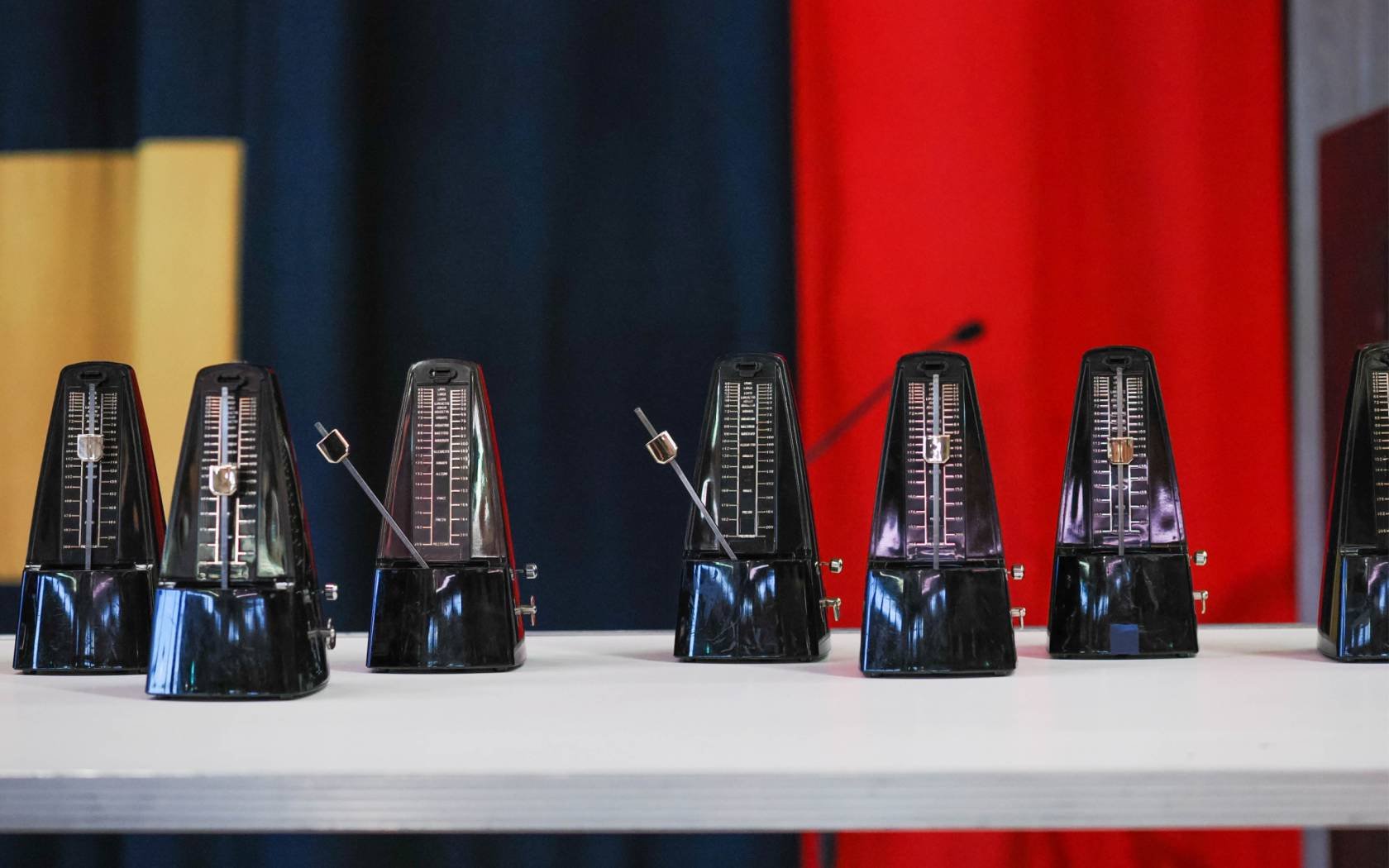 The London Sinfonietta celebrates the life of provocatively distinctive composer György Ligeti. Credit: Phoebe Walsh
Classical music loves an anniversary, and the centenary of György Ligeti (1924-2006), celebrations of which have already begun, is no exception. His music has been the subject of retrospectives at the BBC Proms, Aldeburgh Festival, Birmingham Contemporary Music Group, and London Piano Festival, to name just a few.
London's Southbank Centre and the resident London Sinfonietta celebrated the Hungarian-born composer with Ligeti 100 – the usual concerts and talks, as well as the chance to participate in a performance of Ligeti's 1962 work for 100 metronomes, Poème Symphonique. An unmissable opportunity for serious music nerds; I signed up immediately.
In the piece, which lasts around a quarter of an hour, the mechanisms are wound up and set going until, eventually, they fall silent. It is both funny and absorbing. Some of the comedy arises from the ironic solemnity of the set up: we all gathered on a stage in the foyer of the Queen Elizabeth Hall and wound our machines, before placing them with sacramental dignity on the tables in front – 'channel your inner performance artist', we were briefed. The sound of one hundred in action raises a smile, perhaps because of the miraculous complexity of the fluttering field of clicks created by the simple act of setting them going, whose shifting interlaced rhythmic patterns seem as organic as a murmuration of starlings catching the light. The sheer number gives the scene a dreamlike, Dalí-esque quality.
The puffed up title – all sweeping nineteenth-century Romanticism – is wry, but Poème Symphonique is no sarcastic refusal of the symphonic tradition. The forces involved – one hundred 'performers', and, that day, thirty three 'interpreters' setting the piece going – mirror the numbers required for a Mahler symphony or Strauss tone poem; it is just as eye-catching as a spectacle, too, with a simple and absorbing narrative arc that has a quietly elegiac character, lapsing into silence as each instrument falls away, like the end of Mahler's Ninth. Ligeti's music is full of classical and archaic forms – madrigal, concerto, sonata, ricerata – and was circumspect about the dogmatic iconoclasm of his avant-garde peers, Stockhausen and Boulez.
The audience seemed genuinely gripped as, piecemeal, the ticking fell away, until only two remained, metal arms waving across the foyer at each other in a distant, melancholy duet (like all the best comedy it has a streak of pathos). Even a piece for machines is subject to human caprice – the final metronome ticked on, with quiet defiance, for whole minutes on its own. Presumably, in the confusion of setting up, it had been wound twice (we were given strict instructions to do only three half-turns of the key for each machine). A huge cheer erupted as the final machine fell quiet, as if we'd just watched a superstar soloist execute some virtuosic conclusive cadenza.
Poème Symphonique recalls Franz Joseph Haydn's so-called 'Farewell' symphony (1772), whose players laconically depart the stage one by one (Haydn's protest on behalf of the Esterhazy musicians after a protracted summer season). Like Ligeti, Haydn often drew on folk music and was born in a village that now lies on Hungary's border. Both have great feeling for music's comic potential, witty and slapstick by turns; Ligeti's Six Bagatelles for wind quintet caused genuine chuckles when performed later by musicians from the London Sinfonietta.
As with performing Haydn on gut strings, Poème Symphonique is now a piece of historical performance practice – its premiere is closer to the first performance of Stravinsky's The Rite of Spring than it is to our own time. No one uses mechanical metronomes anymore – go to a rehearsal these days and you'll see musicians use an app on their phones to check tempi instead.
Poème Symphonique represents a modernist incursion of non-musical sounds into music – or rather, the recalibration of what kinds of sounds can constitute it. It follows works such as Erik Satie's 1917 ballet Parade, which used typewriters, aeroplane propellers, ticker-tape, and a lottery wheel, or the baleful sirens and boat whistle of Edgard Varèse's Amériques – a process of incorporation that reaches a kind of apogee in John Cage's works for amplified cacti in the 1970s, running a feather over the amplified spines. Ligeti's own anti-opera Le Grand Macabre (1977, rev. 1996) begins with a chorus of car horns in an apocalyptic traffic jam – a streetwise version of the great brass fanfares that opened nineteenth-century operas, such as Verdi's Rigoletto or Wagner's Tannhäuser.
A single metronome on a chair ticked away as the audience filed into the Queen Elizabeth Hall a bit later – perhaps the rogue diva of earlier returning for a final curtain call. It was there that the understated desolation of Poème Symphonique's ending opened out onto the icy vacuum of the 1966 cello concerto, performed by Tim Gill. An anti-concerto, it eschews conventional virtuosity, beginning with distant, sustained single notes that gradually bloom in the accompaniment; any hint of expressive warmth that came from Gill's growing vibrato was like the residual light of a dying star. The piece closes with an agitated, unaccompanied cadenza of feathery, scuttling harmonics. Its whispers are those of human beings in hiding, as Ligeti so often was – first from the Nazis, then the Soviets, then the Hungarian regime, which he fled for the West in 1956.
Pierre-Laurent Aimard, the pianist who has scaled the infernal staircase of Ligeti's études more than any other, spoke of an 'irrepressible shout' in Ligeti's work. His most famous music – used without permission by Stanley Kubrick in 2001: A Space Odyssey – might make the skin crawl, but Aimard also detects in it a pervasive, animating life force. Baladă și joc, a short violin duet from 1950 performed with fierce dedication by Jonathan Morton and Emily Trubshaw, is infused with Romanian folk music – it is one of the few pieces that survives from Ligeti's pre-exile period, and testament to Béla Bartók's influence.
Ligeti's Piano Concerto (1980-88), concluding the concert, struts into life with zany syncopations that recall both Art Tatum and the maniacal player-piano polyrhythms of Conlon Nancarrow; its orchestra, with single trombone and double bass, piano offset stage right, feels like a jazz band, albeit one that did a residential course at Darmstadt. A harmonica – a distant relic of folksy naivety – creeps out after the terrifying militaristic climax of the second movement, signalled by the screech of a policeman's whistle. It ends with a luminous, breathless flight of escape. The hall was packed out – a rare sight in the contemporary music world. Aimard was right about Ligeti: irresistible.