John Craxton's art of living
The artist John Craxton's vigorous pursuit of pleasure, his hedonistic philosophy, led him to the shores of Greece and beyond.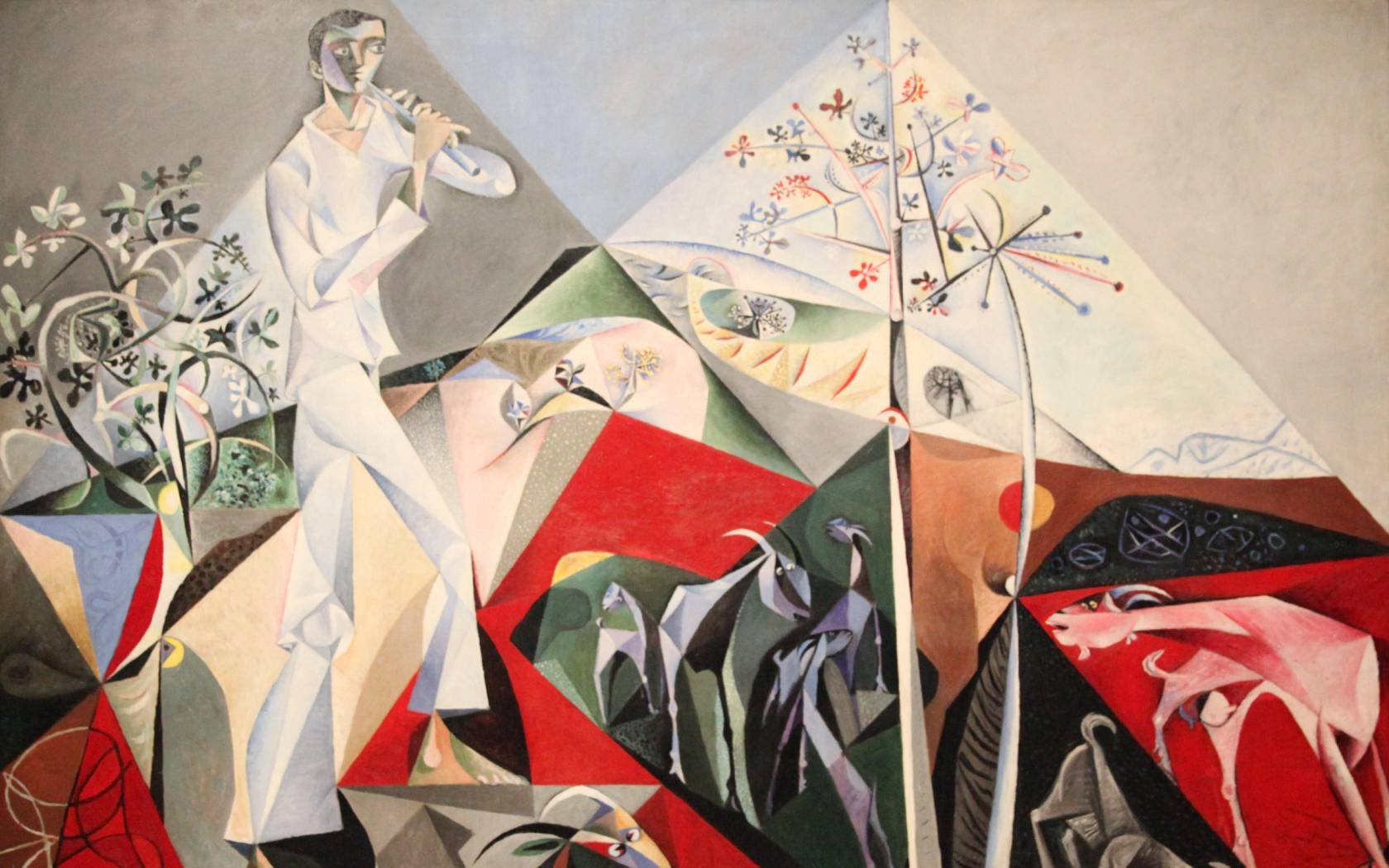 Pastoral for PW by John Craxton. Credit: Dinendra Haria / Alamy Stock Photo
In 1935, the writer Lawrence Durrell moved his family from England to Corfu to escape the dull weather and puritan mores, or what he dubbed 'the English death'. He was among a generation of expatriate artists and writers from Britain and North America – Henry Miller, Patrick Leigh Fermor, Leonard Cohen – who exchanged inter- and post-war deprivation for the warmth and sensuality of the Aegean. 'Other countries may offer discoveries in manner or lore or landscape', Durrell wrote in a memoir of his time on Corfu, Prospero's Cell, 'Greece offers you something harder – the discovery of yourself.' Few have heeded those words better than the artist John Craxton.
He was born in 1922, in North London, to an upper-middle class musical family, the fourth of six children. Like most boys of his background, Craxton spent the early years of his life in and out of various public schools. At Prebendal, in Chichester, he first took an interest in art, piqued by the cathedral's romanesque bas reliefs. Roaming wild in Sussex, he explored ancient yew forests, ruined Celtic temples, and Bronze Age burial mounds. At school in Dorset, he lost himself in the Pitt Rivers Museum's trove of ancient artefacts: Egyptian funerary portraits and millennia-old Cycladic marble figurines. Thereafter, he nursed a preternatural yearning for Greece.
Never formally trained, Craxton attended life-drawing classes in Paris in 1939, but the looming shadow of Nazism eclipsed his longing for the Mediterranean. Instead, he spent the war years acquainting himself with London's art world. Peter Watson, founder of the influential art magazine Horizon, was a patron. Painter Graham Sutherland proved a mentor. The Blitz also provided Craxton with an opportunity to pursue illicit homosexual encounters under the cover of the blackout.
Coming of age, however, presented him with the prospect of conscription, but in 1941 he was deemed unfit for service (tuberculosis, undiagnosed until later life, may have fuelled an unconscious desire for warmer climes). The brush with death was a boon for his art. He set to work on an ink and watercolour drawing, Poet in Landscape, in which a solitary young poet retreats into his imagination, amid a menacing rural landscape transfigured into the machinery of war. This melancholic vision owed much to the work of 19th-century Romantic artist Samuel Palmer, himself a disciple of William Blake. Craxton produced a series of similar works, leading art critics to cast him as a neo-romantic, an epithet he loathed. 'You are either romantic in spirit, or you are not,' he said: 'you can't be neo-romantic.' When wartime restrictions eased, he set off in search of Greece.
The country would shortly descend into bloody civil war, but when Craxton arrived in Athens in the spring of 1946, the atmosphere was jubilant. The city's buildings basked in a strong light and the air was filled with the scent of honeysuckle and pine. The National Archaeological Museum reopened and its ancient statues were taken out of storage. The poet George Seferis remarked that it was a 'second coming of bodies that gave you crazy joy'. It was a kind of resurrection for Craxton, too, who drifted to the Greek island of Poros, soon to be joined by his soon-to-be erstwhile friend Lucian Freud, where the consummation of his desire for Greece led to a spell of rapturous creativity.
Craxton threw himself into ordinary life, picking up a demotic Greek punctuated with the crudest language he could summon. Evenings were spent in bars and tavernas, where he drew musicians and sailors with whom he also enjoyed a new-found sexual freedom. His paintings exude the same life-energy. In Pastoral for PW, a solitary goat-herd (a self-portrait) plays the flute, walking across a bucolic landscape populated by bewitched, sun-struck goats, a nod to the Orpheus myth and the ancient god Pan.
Greece in the 1940s was still undisturbed by mass tourism, the rhythms of daily life little changed since the time of Homer. Cloaked shepherds tended herds of goats by firelight. Caves and grottoes once dedicated to Pan were now the domain of local saints. Craxton was fascinated with what he called 'the persistence of myth in everyday existence'. Visiting Knossos in Crete, he saw a ring-seal depicting the ancient Minoan practice of bull-leaping, and was startled to realise that an acrobatic dance performed in a taverna by one of his lovers was its folk continuation, four millennia later.
Quoted in Horizon, Craxton said 'I can work best in an atmosphere where life is considered more important than art – where life is an Art.' In the 1950s he wound up on the party island of Hydra, where his lust for life threatened to consume his art. Ensconced in the family mansion of Greek painter Nico Ghika, he spent his time seducing locals and carousing in the tavernas with fellow artists. It was his lover – Christopher Mason, a young painter – who persuaded him that the seductions of Hydra were toxic to creative ambition (the later destruction of the Ghika mansion in a mysterious fire served as a reminder of the importance of people over place). Craxton fixed on Chania in Crete, a rundown harbourside town of Ottoman and Venetian architecture.
There, he put his life philosophy into practice. Riding his motorbike into the White Mountains, he gifted cigars to his shepherd friends. Under the spell of the 'grandeur' of the Greek Orthodox Church, he restored the tarnished frescoes of the island's medieval churches. A practical joker, he claimed that the art critic John Berger only warmed to his pictures when he impishly told him he painted Greeks without shoes as an anti-poverty protest. After a 1967 coup, though, Craxton's reputation as a mischief-maker saw him exiled by the country's colonels. Ian Collins, author of a biography of Craxton, A Life of Gifts, believes his banishment was due to a grudge held by a local official. Lucian Freud, by then a sworn enemy, claimed it was for pilfering ancient artefacts.
By this time middle-aged and penniless, Craxton returned to England, where a 1967 retrospective at the Whitechapel Gallery was coolly received by critics. One reviewer claimed he was an artist who 'struggled hard against the handicap of happiness'. It was a reminder of the puritanism of an English art culture he had left behind. For eight years in exile, he wandered around Ireland, Libya and Tunisia in search of the Greek spirit of place. Finally returning to Greece in 1976, two years after the fall of the junta, he resumed his old life and art with equal and renewed vigour. Some of his best works were produced in this intense period of creativity. Still Life with Three Sailors evokes the taverna life he had long loved. In Cat, Tree and Bird, a cat stalks a bird amid the labyrinthine branches of an ancient olive tree, the colours evoking a coming Aegean dusk.
Craxton spent increasing lengths of time in London when health problems finally caught up with him. Like his friend Patrick Leigh Fermor, he smoked scores of cigarettes a day until a 'death rattle' in his chest persuaded him to kick the habit. He last visited Chania in 2006 and always dreamed of returning to his old harbourside haunts. At 87, dying in a Hampstead hospital, the actor and friend Anne Valery told him: 'We only die once dear, so make the most of it.' The same is said of life.
 John Craxton: a Modern Odyssey at the Pallant Gallery, Chichester (28th October – 21st April).