Nepal's shifting loyalties — All Roads Lead North: China, Nepal and the Conquest for the Himalayas by Amish Raj Mulmi review
As the old adage goes, Nepal is a yam between two boulders. However, slowly but surely Nepal is unsticking itself from its southern neighbour and turning north towards China.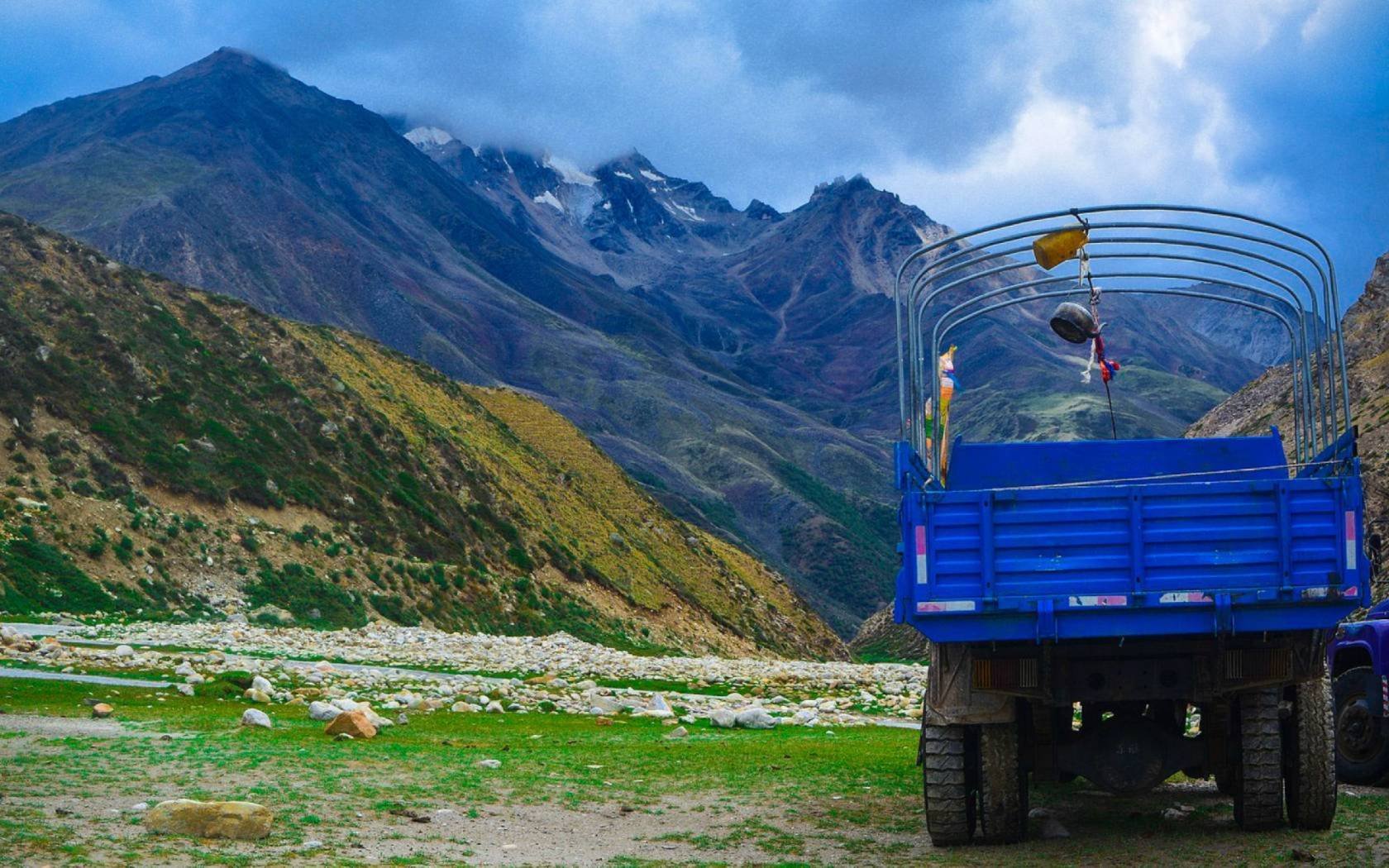 A truck owned by a Nepali man Kul Chering. He is reported to be the first person to buy a vehicle from China and use it for the transportation of goods from China to Nepal in the Limi valley. Credit: Sabin Adhikari/ Wiki Commons
The Prithvi highway running between Nepal's two largest cities, Kathmandu and Pokhara, was completed in 1974 and partly funded by the Chinese government. It is named after Prithvi Narayan Shah, the first king of Nepal who began the process of uniting the disparate kingdoms into a nation state in the eighteenth century. Upon forming his country, Shah neatly summarised its geopolitical situation in the oft-quoted adage, 'Nepal is a yam between two boulders', a mentality which has guided Nepalese international relations ever since.
All Roads Lead North, journalist Amish Raj Mulmi's debut, chronicles Nepal's complicated yet largely consistent turn towards the upper boulder, China, which has only accelerated since the undeclared Indian fuel blockade which began in September 2015 and ended six months later. For many, along with the devastating earthquake in 2015, this marked a turning point in Nepal's relationship with its neighbours. The blockade demonstrated the dangers of India's smothering and jealous control of Nepal's economy and politics which were cemented by a 1950 agreement. India's Prime Minister at the time, Jawaharlal Nehru, stated that 'no other county's relationship with Nepal can be as intimate, and every other country must have to realise and appreciate this intimate geographical, cultural and other relationship between Indian and Nepal'. The historical and cultural ties between the two nations have kept this special relationship intact to a degree, but after years of meddling in Nepal's politics, its constitution and its economy, the Kathmandu elites have begun the process of disentangling from India's influence which, from their perspective, yields little in return.
In contrast, China was quick to send aid to Nepal both following the earthquake but crucially during the Indian blockade. For Mulmi, the Chinese lorries carrying desperately needed petrol to Nepal were largely symbolic of 'Nepalese resistance with Chinese assistance' but this symbol of support was enough (along with a 215-million-dollar loan to build the long-awaited international airport in Pokhara) to convince Nepal's last Prime Minister, K.P Sharma Oli, to agree to use China's ports—a significant detangle from Nepal's dependence on India, likely to mark more to come.
Mulmi however, demonstrates the close and long-standing cultural and economic ties between Nepal and its northern neighbour (Tibet until 1950, now China) by travelling through the borderlands, from Mustang to the border village Limi. Indirectly, his journey through these remote settlements is an intriguing means to consider statehood and nationalism; areas of northern Nepal often have no physical links to the capital, with Kathmandu holding the status of a distant, abstract power. There is little to no police presence on the Nepali side of the border and inhabitants of these regions struggle to see the benefits of their tax contributions. Meanwhile, China has built roads north, connecting these isolated villages to their own border towns, providing lucrative employment and cheap goods. As one Nepali man told Mulmi while pointing to his new solar power battery, 'China has done more for us than Nepal'.
China's annexation of Tibet runs through the book like a scar colouring Nepal's relationship with Beijing in a complex and often contradictory manner. While Nepal initially welcomed exiles, has close familial and religious ties with Tibetans, and is part of a 'gentleman's agreement' with the US requiring them to provide safe passage to any Tibetans travelling to India, support for Tibetan exiles was lukewarm from the start and soon dissipated largely in order satisfy China. After a series of anti-China protest prior to the 2008 Beijing Olympics, the Nepali government began to crackdown on the approximately 20,000 Tibetans living in its territories. If Nepal hopes to continue reaping the significant, albeit slow-growing, rewards of their friendly relationship with Beijing, any entertainment of Tibetan culture and sovereignty must be discouraged— for instance, while portraits of the Dalai Lama are a fixture in many Nepali households, Tibetans living in Nepal are banned from displaying his image. Today, the position of Tibetan refugees in Nepal has never been worse. Mulmi records bleak conversations with refugees stuck in a nightmarish bureaucratic no-man's land. Children born in Nepal to refugee parents are paperless and therefore unable to work, drive or purchase property. Mulmi names his chapter on Tibetan exiles 'Ghosts' in reference to the painful liminal state of the exiles but also the fading echo of Tibet and its culture. As one Tibetan puts it: 'It's very difficult for us to identify with Tibet […] after so many years. We look at photos and we imagine Tibet in our minds. We have to be satisfied with that.'
Interviews like this punctuate the book. One of the most engaging aspects of the work is how Mulmi deftly wings from the world of macro-geopolitics to the stories of ordinary Nepalis and how their lives have been affected by these developments. With snapshots of mountain journeys on the back of a young Mustang man's Chinese motorbike, to a Nepali owned Sichuanese restaurant in Kathmandu, to a village which has recently uncovered real prosperity thanks to the enormous Chinese demand for yarsagumba, a fungus known as 'the Himalayan' Viagra', Mulmi succinctly captures how China's influence has crept into every corner of Nepal and offers a colourful mosaic-like of depiction of the disparate and rapidly evolving country.
While the transformation may initially seem stark, Mulmi is keen to emphasise that it has been a long time coming. Furthermore, Mulmi insists on demonstrating that Chinese promises have proven to be slow to materialise, writing 'the irony here is that, while other powers already perceive Nepal as being within Beijing's sphere of influence, Nepal itself has got little out of the relationship', with domestic politics, a lack of transparency on both sides and the pandemic clogging up the wheels of development.
And yet Nepal has firmly aligned itself to the Chinese worldview, proclaiming Taiwan as part of China, welcoming the Hong Kong security laws, and supporting Beijing's actions in Xinjiang, actions which others have called genocidal. Nepal is likely to support the future, Beijing-appointed Dalai Lama. This would fall in line with Beijing's slow effort to shift the centre of Buddhism away from Tibet, away from India, into Nepal—despite Buddhists only making up 10% of the Nepali population. 
Mulmi, like many of his fellow Nepali, is ambivalent towards his country's new relationship with China. He appreciates the growing partnership as a means of getting Nepal onto the road to modernity and prosperity, but he is also not so naïve to think that this aid will not come with a cost, or at the very least a compromise. In his epilogue he hints at potential cracks in this new love affair. The soft and subtle influence of Beijing has shifted from economic funding and 'political advice' to what many Nepalis consider economic exploitation and political meddling. The discussion surrounding the jewel of Nepal's Himalayan crown— a mountain which goes by Sagarmatha, Chomolungma, or Everest depending on who's asking—forecasts further geopolitical complications between the yam and its northern neighbour. Although the mountain, being famously large, spans across the Nepali-Tibetan border, the peak falls in Nepal's territories. And yet, since 1960 Beijing has sought to heavily involve itself with the peak, with China and Nepal most recently finalising the height of the peak according to Chinese measurements— setting the peak almost a metre higher than previously thought. This new declaration overrode the work of Nepal's Survey Department which had been measuring the peak for the past two years and not so continentally coincided with Xi Jinping's influential visit to Kathmandu. China's demand for compromise is unlikely to end at Everest's peak and references to disagreements such as these and the debt-traps which have been laid in other countries taking part in the Belt Road Initiative show an awareness that Nepal could be playing with fire. Mulmi however sees the situation as one that is risky but manageable so long as Nepal enjoys competent and shrewd leadership, stating that Kathmandu's ability to 'deliver on Beijing's expectations without eroding its own sovereignty' will be its test.
All Roads Lead North is an important and lively study of Nepal's past and future, in which it will likely find itself squeezed by a third boulder as the US turns its attention to the Indo-Pacific. After some confusion, in 2017 the Nepali government signed a 500-million-dollar deal with the US's Millennium Challenge Corporation which will likely come with its own compromises. Certain passages take the reader's knowledge of the intricacies of Nepal's politics and past for granted however, Mulmi does well to balance big-picture history and politics with on-the ground reporting, breathing life into complicated geopolitical and economic movements and amplifying the perspectives of individuals who witnessed these events and live with their consequences. While Nepal's relationship to China is particular, in that the two only became neighbours seventy-two years ago with the annexation of Tibet, All Roads Lead North is an extremely useful guide to China's strategy throughout Asia and holds clear clues to how its future will unfold.
Nepal's shifting loyalties — All Roads Lead North: China, Nepal and the Conquest for the Himalayas by Amish Raj Mulmi, C Hurst & Co Publishers Ltd, pp 328, £30