Queenly forces to be reckoned with
The historian Alison Weir illuminates the lives of the women who sometimes challenged, but indisputably shaped and secured, England's royal dynasty.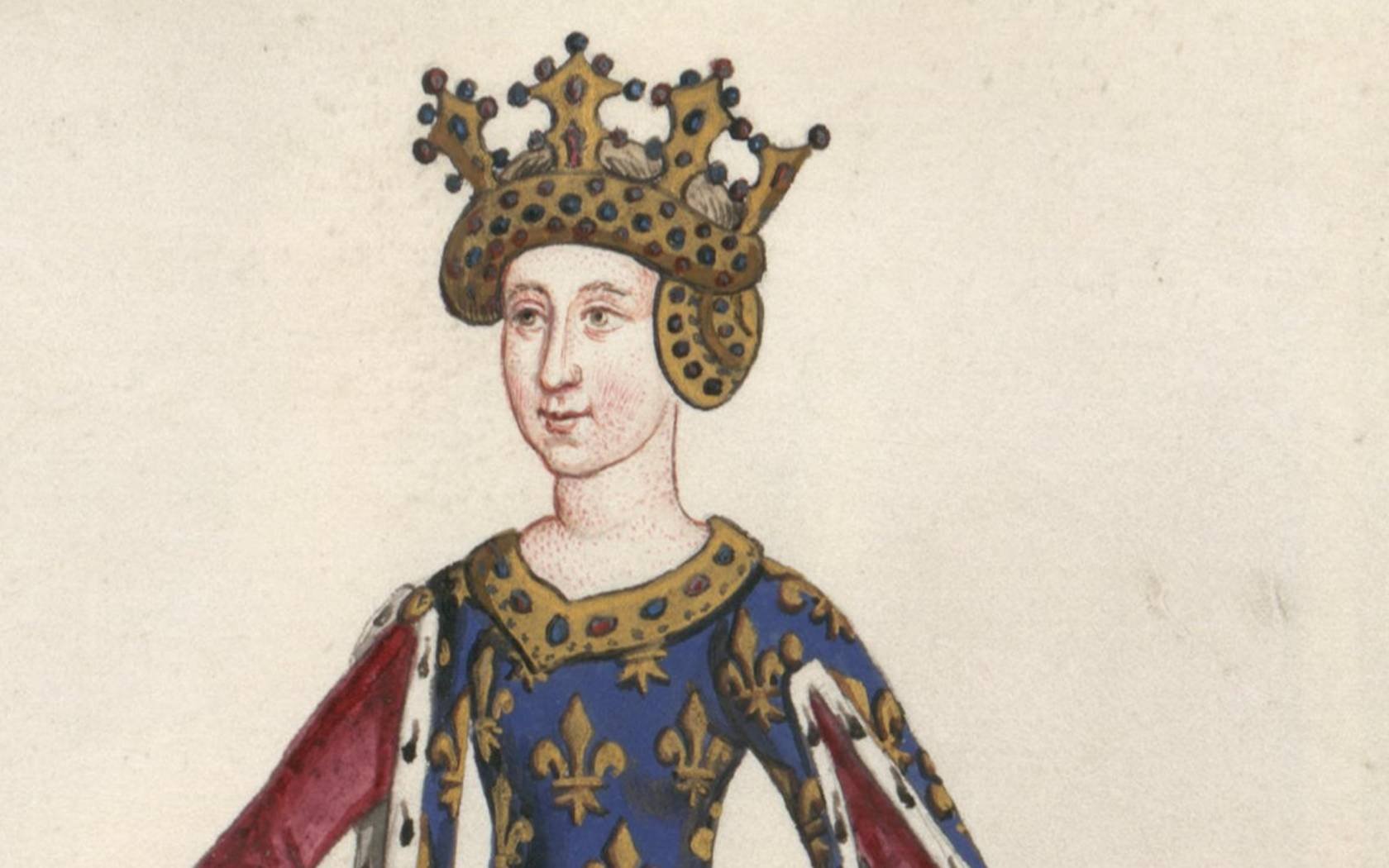 Isabella of Valois. Credit: The History Collection / Alamy Stock Photo
England's Medieval Queens: Queens of the Age of Chivalry by Alison Weir, Jonathan Cape, 496pp, £25
Our desire to learn about the queens of the past doesn't seem to be diminishing. If anything, it keeps increasing, as the popularity of The Crown on Netflix and Becoming Elizabeth on STARZ attests. In the book series England's Medieval Queens, Alison Weir illuminates the lives of well-known — and lesser well-known — women who, at times, challenged yet secured the English dynasty. Whether vilified or adored, these queens shaped Medieval England. In her latest instalment entitled Queens of the Age of Chivalry, Weir introduces the lives, accomplishments, and tales of five queens. They might not have been as powerful as their male counterparts, yet, without doubt, they deserve to be remembered.
The first queen Weir sheds light on is Marguerite of France, the daughter of Philip III of France and Maria of Brabant, who became Edward I of England's second wife in 1299. According to the chronicles and surviving letters written by the queen, Marguerite was a gentle soul who sought peace in her relationships. Although she was 40 years younger than Edward, this did not prevent them from enjoying each other's company. Pious and devoted to her husband, when Edward died, Marguerite allegedly declared that 'all men died to me' and she remained a widow for the rest of her life. But she was more than just a devoted wife; she was the cement holding together Edward I's royal family, and she played a significant role in ensuring good relations between the king and his surviving son from his first marriage to Eleanor of Castile, the future Edward II.
Marguerite was a peacemaker at heart as well as a caring mother and stepmother. When her husband died, she took on a more active political role while keeping an eye on her stepson, Edward, and his impetuous lover, Piers Gaveston, especially as Edward was now promised to Marguerite's niece, Isabella of France.
Gaveston's improper and arrogant behaviour infuriated the new queen, Isabella, who soon complained to her father, Philip IV of France. This was not an easy marriage and Isabella was not a trophy wife; she was determined to be respected in her adoptive country, and became highly involved in Anglo-French politics.
Weir successfully relates the drama and political games played at both the English and French courts. From Edward II's male favourites and the affair of La Tour de Nesle, to the conflicted loyalty of the queen between France and England and the accusations she faced of adultery, treason and regicide, both the life and reign of Isabella were far more complex than one might realise. In the book, Weir details Edward II's tumultuous reign and successfully sheds light on Isabella's own influence over her husband, his enemies, and his allies, proving that her legacy goes beyond the allegations she faced.
Arrested for treason and, at first, estranged from her own son, Isabella tried to make amends for her past offences. In the end, she was granted a regal funeral, yet history remembered her as the worst queen England had ever had. By retelling her story with less judgement and more compassion, Weir reminds us Isabella was not the black sheep of the English monarchy that many would like her to be. The complex relationship between Edward II and his son Edward III — including how the father lost it all in favour of his son — is also fully explained.
Weir moves on to Philippa of Hainault, wife of Edward III, who showed complete adoration for her husband and ensured their marriage was a successful one. Weir describes Philippa as 'the most popular and beloved of England's medieval queens.' While one would assume that Philippa was obedient and passive during Edward's reign, Weir proves that she was also an astute woman who developed diplomatic skills and a love for entertainment, tournaments, and jousting.
As  mother of princes who would not become kings, but who would still mark history for posterity (especially John of Gaunt), Philippa of Hainault's life remains embedded in the lives of her husband and relatives. Upon the death of Edward III, Richard II, his grandson, became king. His first marriage was quickly arranged to Anne of Bohemia, daughter of the Holy Roman Emperor, Charles IV, and a true European princess — by birth and by her family connections all around the continent. Anne's reign was short-lived, but the love and passion that existed between her and Richard is well presented by Weir; the readers feel for Richard who lost the love of his life at a time when he needed her support the most.
Richard's second wife, Isabella of Valois, was only a child, just six-years-old, when she was sent to England. Richard was impetuous and reckless. At the death of his uncle, John of Gaunt, he made the terrible mistake of annexing the duchy of Lancaster and distributing lands to his favourites. In doing so, he made his cousin, the future Henry IV, his mortal enemy. Tensions grew rapidly until Henry overthrew Richard — which led to his own coronation and rule.
At ten years old, Isabella was now a widow, left alone without much protection in a hostile country that had just turned against her husband. Relations with France deteriorated as Isabella returned to her home country without her family jewels or her dowry. Isabella's fate was not the one she had envisioned when she became queen of England — but, due to her status and bloodline, she remained a key figure of fourteenth-century Europe.
Weir's great achievement is to bring back to life these women who were forces to be reckoned with. This book is a captivating read about the fourteenth-century English queens who marked history with their courage, devotion, and spiritedness.