The boundless creativity of Wayne Shorter
The saxophonist and composer transcended the jazz idiom to become a giant of modern music.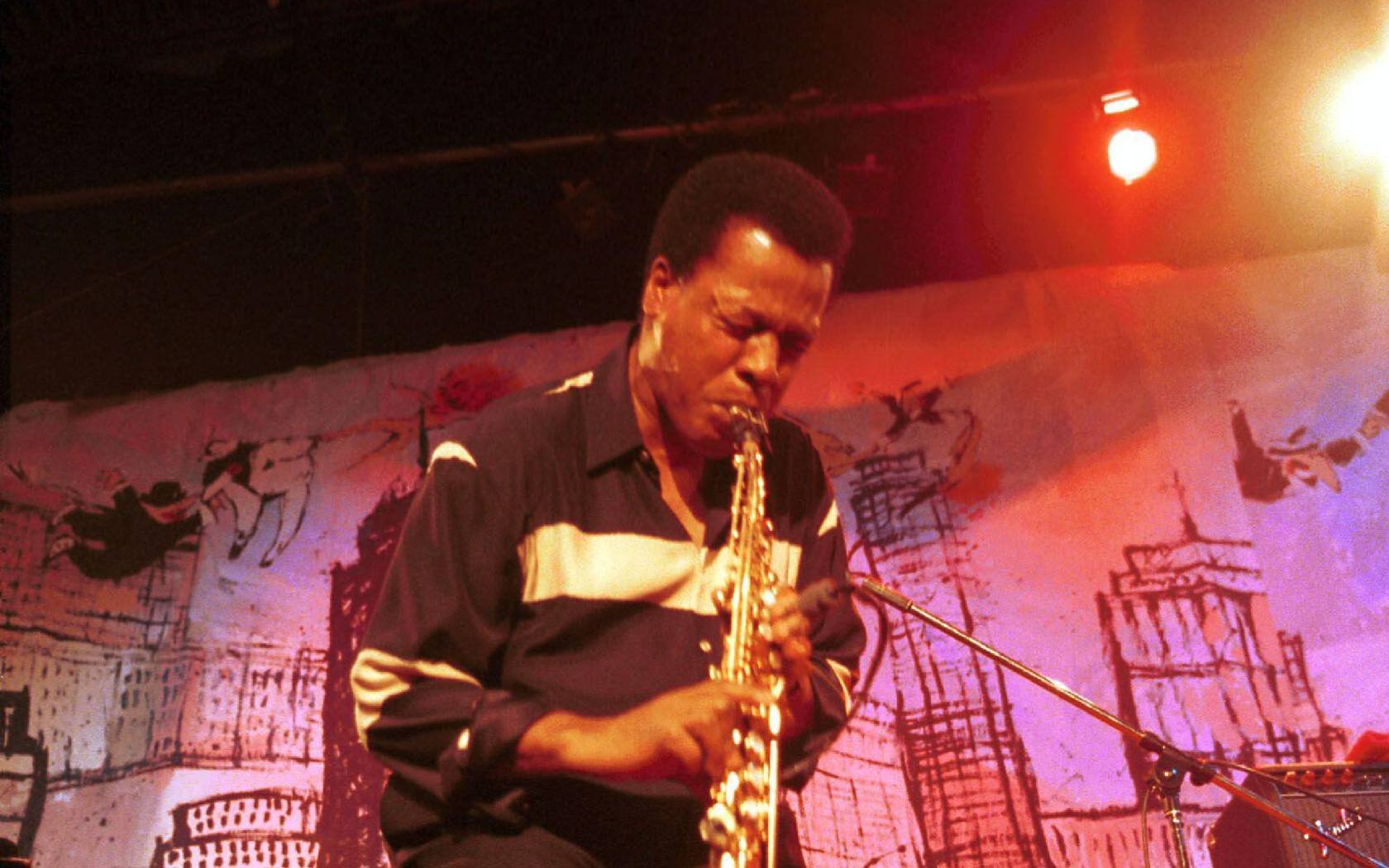 American jazz saxophonist Wayne Shorter. Credit: PAP / Alamy Stock Photo
Wayne Shorter: Zero Gravity, 2023, directed by Dorsay Alavi, is available on Amazon Prime
Eight years in the making, the new three-part documentary Wayne Shorter: Zero Gravity, manages to capture the limitless imagination of one of the great composers of modern music who sadly made his 'flight into the unknown' back in March this year. From a comic-obsessed youth in 1940s Newark to one of jazz's most dynamic and inventive players, Wayne Shorter was at the vanguard of every major turn in jazz from 1960 onward.
He may have missed out on bebop; he was still a teenager trying his best to mimic Charlie Parker on the high school bandstand with his brother Alan – an interesting free jazz trumpeter in his own right. The young brothers, buying into the rebellious nature of bebop, crumpled their Oxford button-down shirts, tilted the brow of their trilbies over their eyes and wore full-length jackets to invoke a floating effect when they walked; Alan chose the alias 'Doctor Strange' and Wayne went by the nom de jazz 'Mr. Weird'. But hard bop, post-bop, avant-garde jazz, modal jazz, funk fusion, Brazilian jazz; take your pick. None of it would sound the way it does without Wayne Shorter.
Shorter was born in Newark, New Jersey in 1933 to working-class parents who cultivated their children's creativity and resilience. Even though their house had a little lean to it, owing to wonky foundations, his mother would assure Wayne never to be embarrassed about bringing anyone home. The Shorters' leaning tower of Newark in the city's Ironbound district was a happy childhood home where Wayne and Alan let their imaginations run wild in the neighbouring vacant lot. An empty space of concrete and gravel became Mars or the rainforest, a medieval castle or the bottom of the ocean. Wayne would listen to mystery shows on the wireless and at 15 years old produced his first full-length comic book. A creative spirit, he was sent to Newark Arts High School. He was well-behaved but, after getting caught playing truant at the movies, he was transferred to a course he was more interested in. It was at the relatively late age of 16 that he took up clarinet lessons.
Zero Gravity, directed by Dorsay Alavi, does a magnificent job of emphasising Shorter's childlike imagination, which was to propel his musical creativity even to his final years. Throughout the documentary, some of the most important narration is performed by a boy acting as a young Shorter, as when he says: 'I am searching for an indestructible happiness.' The third portal (episode) opens with the Herman Hesse adage: 'The more one matures the younger one grows.' This cosmic profundity lurks at every turn, but without pretension. This works because Shorter was – as is his best friend, Herbie Hancock – a committed Buddhist. They do not believe in a beginning or an end. He took up the religion in the early Seventies as a way to deal with his daughter's seizures and mental illness, and it stuck. No doubt the New Ageism of the period influenced him. But when the acid wore off, the Haight-Ashbury contingent left Eastern teachings in the dust – Shorter practiced until he died.
The first portal transports the viewer to the whirlwind of New York in the mid-to-late Fifties through to when Shorter joined Miles Davis's Second Great Quintet in late 1964. After studying classical composition at NYU, Shorter was spotted on the bandstand in a club by the experienced saxophonist Sonny Stitt; from then on he was known as 'Fast Fingers', which morphed into the 'Newark Flash'. From 1956 to 1958, Shorter served in the army. On being discharged, he played with the pianist Horace Silver and trumpeter Maynard Ferguson. In 1959 he replaced Hank Mobley in the ultimate incubator of jazz talent: Art Blakey's Jazz Messengers. Here he quickly became the lead composer with harmonically sophisticated pieces that dazzled and broke new territory. He developed a chemistry with trumpeter Lee Morgan who was then replaced by Freddie Hubbard and the finest iteration of the Jazz Messengers was realised.
The radical newness and kaleidoscopic buzz of ideas and talent is intoxicating. The glamour of Sugar Ray Robinson or Sydney Poitier turning up to hear the hard bop at Birdland or Minton's in the finest cut suits, a new take on Ivy – Black Ivy – is the perfect visual accompaniment to Shorter's original, ultra-modernist harmonic lines. Outside of Harlem's smoky clubs, the tension of the Civil Rights Movement and the menace of Vietnam threateningly growls on, imbuing the music with urgency and poise. See Shorter's 'Free For All' and Coltrane's 'Alabama' for the truest kind of political art.
The Jazz Messengers toured Europe and were greeted by screaming girls when they arrived as celebrities in Japan. In 1961, he met his first wife Teruko – 'a mystery he never solved' – and they had a daughter Miyako. Becoming a father, he said, is like being a musician: 'always a state of becoming'. By the 1963 Jazz Messengers album Buhaina's Delight, which contains three Shorter compositions, he was getting restless and Miles Davis pinched him for his own band. From there, compositions became less predictable and more complex. Of his 1966 classic Speak No Evil, music critic Ben Ratliff wrote: '[It is] the first taste of a gnomic compositional style that would haunt jazz forevermore […] Just about everybody playing jazz born in the 1950s and after accepts it as a foundation.'
The Second Great Quintet used many Shorter compositions: 'E.S.P.', 'Nefertiti', 'Footprints', 'Water Babies'. A free, loose, fast style prevailed – but the music never suffered. As Carlos Santana, an executive producer of Zero Gravity, points out: 'Most people when they play fast, it gets really shallow. Very few can play extremely fast [and] profoundly deep.' But Wayne could. Hancock, another executive producer of the documentary and pianist in the Second Great Quintet, said: 'Miles pretty much changed everybody's compositions. Miles never had to change any of Wayne's compositions. They were perfect.'
A star-studded cast takes us through Wayne's extraordinary life: Joni Mitchell, Sonny Rollins, Neil deGrasse Tyson, Ron Carter, Reggie Workman, Jeff Garlin, Bob Blumenthal. But I was struck by how many had since passed: Curtis Fuller, Jimmy Heath, Wallace Roney, Nat Phipps, even Wayne himself. He is so alive and vital on camera. It's a relief this project started when it did.
Wayne Shorter was visual with music; Joni Mitchell compares him to Debussy. She says he could respond to her visual cues: 'In this song, you're the bird.' 'Sure thing, Joan.' Lenny White describes him coming up with the bass line to 'Footprints' after thinking about how a giant might walk. Before Miles Davis passed away, he asked Wayne to write him a song: 'But leave a window in the strings so I can get out of there.'
His life was marked by tragedy – not that you'd know it. In 1986, his daughter from his second marriage to Ana Maria Patricio died of a seizure at 14. He lost his brother and mother in quick succession in the late Eighties. Then in 1994, Ana Maria and his niece Dalila died when their plane exploded over the Atlantic Ocean 12 minutes after take-off. Shorter received a letter of condolence from then President Bill Clinton. Shorter's philosophy is that 'Tragedy is temporary. There is a constant we have to pursue.' That constant, for him, is eternity. With his fiendishly inquisitive mind, he challenges the idea of linear time: 'I don't like the words beginning and end… because who says.'
In the Seventies, Shorter found huge fame with the jazz fusion of Weather Report, with co-leader Joe Zawinul. He worked with Brazilian singer-songwriter Milton Nascimento on a stunning album Native Dancer. He recorded extensively with Joni Mitchell, appeared on Steely Dan's Aja, and even on The Rolling Stones' 1997 album Bridges to Babylon.
In the new millennium, his quartet with John Patitucci, Danilo Pérez and Brian Blade created compositions in real time: 'Jazz is like saying: once upon a time… and then fill in the blanks.' Even in his final years, Hancock said Shorter's music 'makes you question what music is… the old categories of harmony, melody, rhythm is not accurate'.
It is perhaps the pianist Danilo Pérez who comes out with the show-stealing line: 'Wayne never really wrote a song, he's been writing the soundtrack to his life. His music never sounds finished. It says to you "to be continued". It says: "I'll see you later".'
I'm no Buddhist, but I sincerely hope so.