Cannes: festival of freedom
The Cannes film festival remains as free spirited as ever.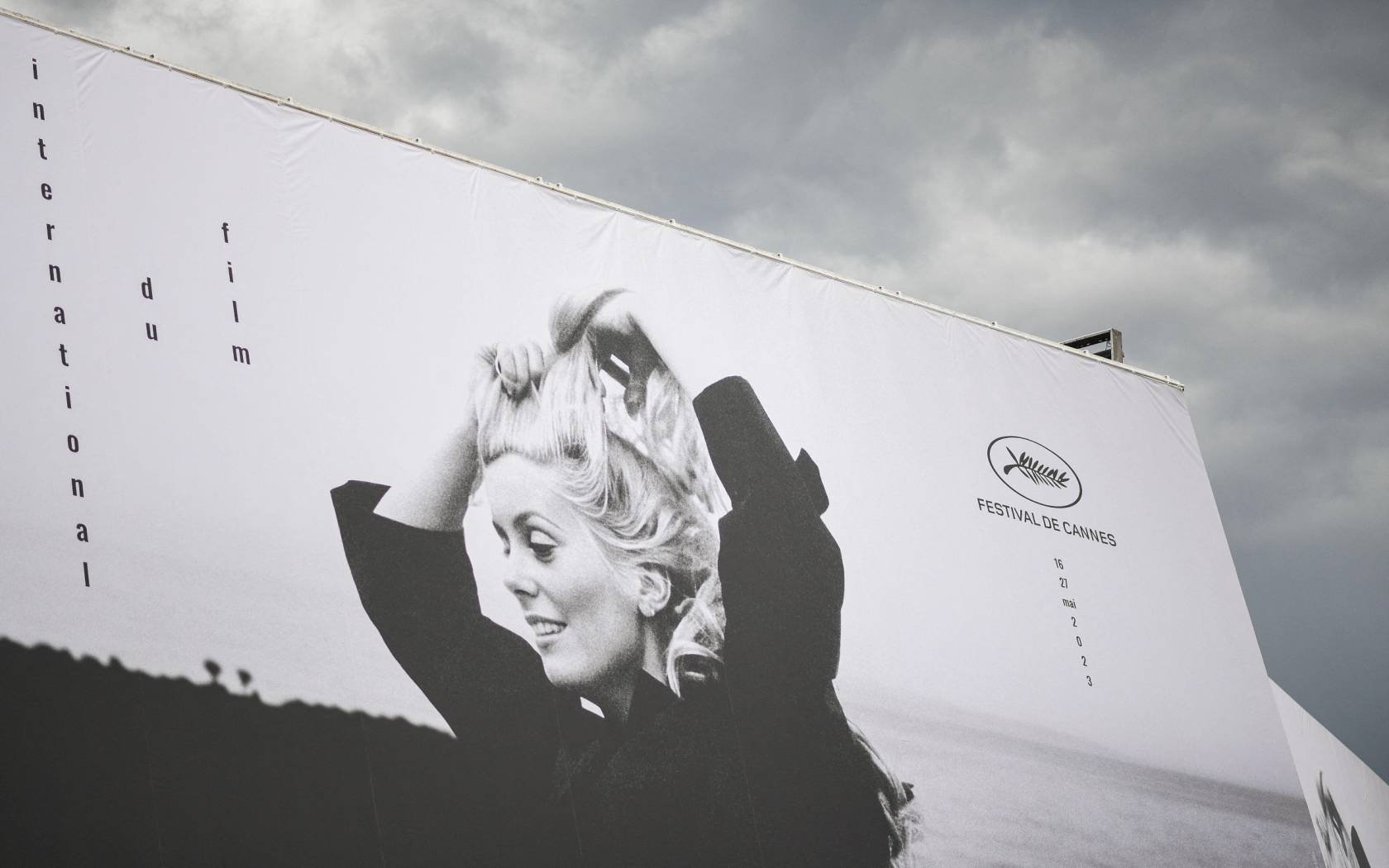 Poster for the Cannes film festival, 2023. Credit: Abaca Press / Alamy Stock Photo
Exterior – Night – Flashback. The Cannes film festival was born in Venice one early evening in August 1938, as a reaction against authoritarianism. That Summer, Adolf Hitler and Benito Mussolini imposed the winners on the jury of the sixth edition of the Venice Film Festival, also known as the Mostra, the first international film competition of its kind. Instead of the American film they all agreed on, jury members reluctantly yielded to political pressure. Leni Riefenstahl's Olympia and Goffredo Alessandrini's Luciano Serra, pilote, two propagandist films, were declared the winners. In protest, the American, British, and French delegations left immediately and swore never to take part again in such a masquerade.
In France, this became an Affaire d'Etat. Diplomats, politicians, and artists got involved: what was needed was an international film festival that was free and democratic, a free festival for the free world. In just a few months, after first considering setting it up in Biarritz, the French government chose the city of Cannes. Louis Lumière, the father of cinema, would preside on the jury of the first edition, which took place at the same time as the Mostra, late August, early September. Hollywood tycoons and American stars such as Tyrone Power, Gary Cooper, Mae West and Paul Muni weighed in and duly arrived on the Croisette. The competition line-up included The Wizard of Oz by Victor Fleming, Only Angels Have Wings by Howard Hawks, Union Pacific by Cecil B. DeMille, and The Four Feathers by Zoltan Korda. However, on 23 August, the news of the Molotov-Ribbentrop pact shocked the world and froze festival goers. And on 1 September, Germany invaded Poland. Cannes's first edition had to be cancelled after just one screening, that of William Dieterle's The Hunchback of Notre Dame.
Exterior – Day – Back to the Present. The festival's DNA, a mix of anger and libertarianism, still feeds its spirit and presides over its selection of films. Anger at past and present crimes, for instance. Nowhere was it more powerful this week than in Marco Bellochio's Rapito (Kidnapped), telling the true story of the six-year-old Edgardo Mortara, a Jewish boy kidnapped by the Church in 1858, under the pretext that the boy was once secretly baptised by his nanny. Eighty four this year, Bellochio is as indignant as he was in 1965, when he directed his first film, the shocking family drama Fists in the Pockets, now a film classic. In Rapito, he lays bare the tyranny and antisemitism of Pope Pius IX and his Church. His camera flies in hot pursuit of the brutal kidnappers as they carry off the small child from Bologna's arcades to the majestic stairs and corridors of the Vatican. Despite his family's frantic efforts, the young boy will never go back to his family. Brainwashed, he will become a priest. You can feel Bellochio's rage seething in every shot. This is operatic cinema at its finest.
Another director who, at 86, is still incensed at the ways of the world is Ken Loach, twice winner of the Palme d'Or. His latest film, in competition this year is The Old Oak which shows the difficult cohabitation in County Durham between newly arrived Syrian refugees with little grasp of the language and former miners whose community has been left to rot by successive governments. There is palpable pain in this film but also hope and moments of fun and lightness as those very different people learn how to live together, share and even love.
Love in Cannes is a rare if not fragile feeling going through convulsions, in turn violent, contrarian, and bitter-sweet. Even in happy ending stories, there is no escaping the bleak reality of the world outside. In Fallen Leaves Finnish master Aki Kaurismäki tells the story of the frailty of life and longing for love in Helsinki's working-class quarter. News bulletins of war raging in Europe provide the soundtrack for two lonely figures and their timid quest for happiness. And yet, despite poverty, solitude, mishaps, Kaurismäki's characters may well triumph against all odds. Kaurismäki's minimalism and classicism à la Chaplin is, as always, terribly poignant, and effective.
As always, Cannes and its selection of films from around the world offers a clear picture of our anxieties and paradoxes, our nightmares and dreams, and our obsessions, all expressed freely and without restraint. It can be shocking to see; it is however always liberating.