Chamonix's Sea of Ice — warning to a warming world
Chamonix's Sea of Ice, deep in the Alpes profondes, once a magnificent spectacle, has become a mere torrent of greyish stones and detritus.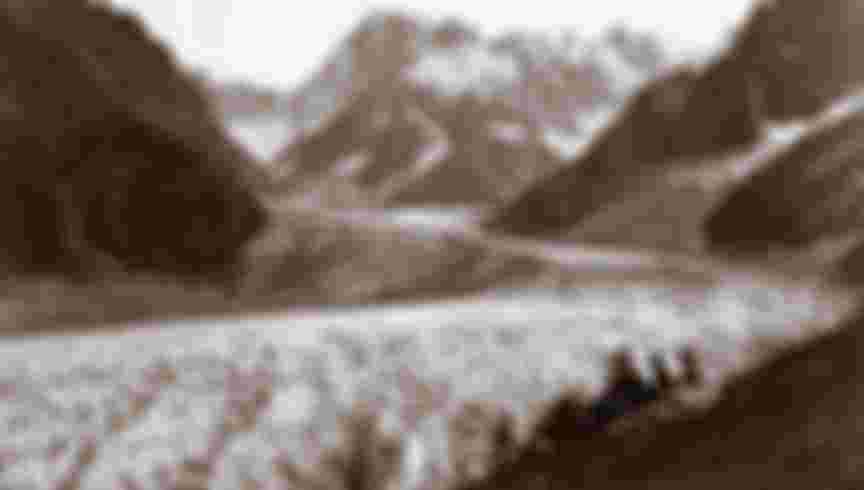 Print showing two women and a man resting during a walk alongside the Mer de Glace (Sea of Ice), near Chamonix, with the summit of the Grandes Jorasses in the distance. From a collection of 57 albumen photographs of rock and glacial formations in the United Kingdom, Europe, North America and Asia. Credit: SSPL/Getty Images
It was just a few days before the pandemic struck Europe. On 13 February 2020, French president Emmanuel Macron travelled to Chamonix in order to see with his own eyes the impact of global warming on France's largest glacier and, more precisely, on the famous Mer de Glace (Sea of Ice), located on the northern slopes of Mont Blanc. Just like the president, I was in Chamonix that day. I am a frequent visitor to the Alpine resort made famous by English mountaineers in the late nineteenth century. Strangely, I don't come to Chamonix for the skiing nor for its fabulous rock climbing and even less so for its fearless mountaineering. I come for the picturesque walks and for the Alps, the geography, relief, and gastronomy which I love. I never feel more European than in the Alps, its massifs majestically spreading in the heart of our continent, from France to Austria, from Italy to Switzerland, and from Liechtenstein to Slovenia by way of Germany. The breathtaking view I had once of the chain of the Alps from the bell tower of San Giorgio Maggiore in Venice was a revelation. So has, alas, been the changing view of the Sea of Ice in Chamonix.
In my regular visits to France's oldest ski resort over the last twenty years, I have seen what the French president saw that day in February last year, the severe shrinking of the seven kilometre-long glacier. And nowhere else in France have I seen better and more shockingly illustrated the impact of climate change. In the same period, we have also seen, in much of Europe, a recurrent pattern of heatwaves in summer and flash flooding in autumn, but too many people still see these events as some slightly harsher than usual seasonal phenomena. However, what is happening to the Mer de Glace will humble any sceptic.
This week, I am back in the Alpes profondes. For some walking, some work and a little pilgrimage. I am not the only one. Europeans and mountain lovers are back in Chamonix, the Haute-Savoie town of 8,000 inhabitants. Visitors are not back in their usual numbers though and that is fortunate, for Chamonix's glaciers cannot sustain the levels of mass tourism of the past decades.
Many returning visitors have a ritual: to ride on le petit train rouge to the Sea of Ice. A pilgrimage that has become a bitter-sweet experience. One just needs to hop on the little Montenvers red train departing from Chamonix's city centre. Built in 1908, this retro-looking cogwheel train takes you on a twenty-minute vertiginous ride to a 1,913 metre-high formidable viewpoint. From there, you can use the steps to reach the Mer de Glace. As the ice recedes, more steps need to be regularly added. Ten years ago, there were 380 steps; now there are 500.
Since 1850, the Sea of Ice has retreated by two kilometres, and it is losing thickness at lightning speed, an average of five centimetres a year. The rapidity with which it is slowly melting has recently increased because of the steep rise in temperature. Over the last fifty years, the temperature has risen by 4°C in Mont Blanc, far more than the world's average of 1°C. And since I first came to Chamonix twenty years ago, it has lost 70 metres in depth and 300 metres in length. Mass tourism has made it worse, of course, leaving in its wake a sea of non-biodegradable plastic rubbish.
The year 1777 now feels like an eternity ago. The deacon and historian William Coxe, travelling companion to English noblemen, wrote: 'I can no otherwise convey to you an image of this body of ice, broken into irregular ridges and deep chasms than by comparing it to waves instantaneously frozen in the midst of a violent storm.' The Sea of Ice as described by Coxe is a very distant memory, and today it looks more like a torrent of greyish stones and detritus.
Answering the plea of local mayors from Mont Blanc's villages and small towns, President Macron has decided to limit the site's access. Mont Blanc, which at just over 4,800 metres is the highest summit in Western Europe, is now a protected zone and its access limited to mountaineers and climbers who have planned their ascent and are appropriately equipped, not to tourists who have not even studied the weather before starting their ascent. This is a step in the right direction in curtailing mass tourism's deplorable consequences on nature. However, the bigger picture of global warming remains, which passengers of the little red train can only, sadly, testify to. Those who come here for the first time, or after a long time, can only exclaim, just like the French president last year: 'I never thought such fast melting possible. It is remarkable how the lack of decisions has allowed it to happen.' So what now?