Illuminated by Sidney Lumet, beyond reasonable doubt
Sidney Lumet's Twelve Angry Men should be on the school curriculum — has there been a more relevant film to watch today in our era of populism, over simplistic arguments, and fake news?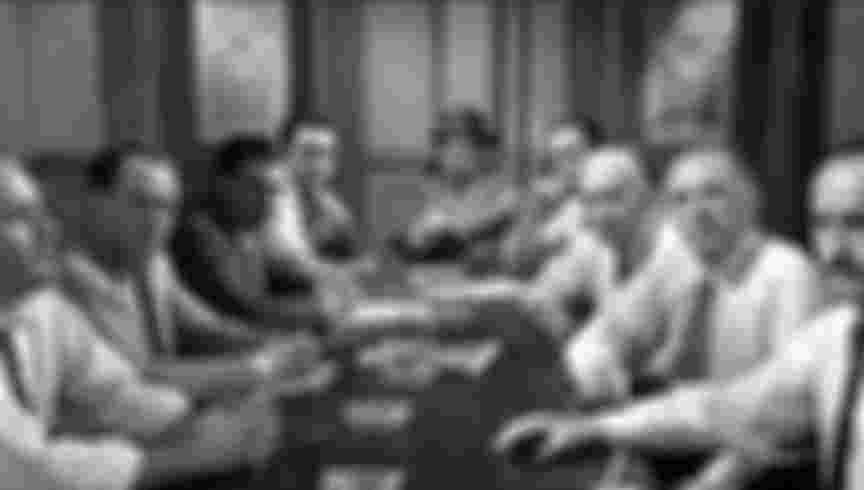 12 Angry Men, 1957. Credit: Pictorial Press Ltd / Alamy Stock Photo
Blessed be Paris's art house cinemas. Now that I have taken upon myself to pass on an appreciation of what the French call the Seventh Art to an 11-year-old, I realise fully the public, or dare I say civilisational, service they perform. Until recently, I loved them for the gems they are, places where I have acquired my knowledge and taste for cinema and its history. However, now that I have become a passeur between generations, I think UNESCO should list them as world heritage sites, never to be destroyed, always to be projecting films until the end of time.
Last week, I took my young companion to see Sidney Lumet's Twelve Angry Men on Rue des Ecoles, near the Sorbonne. If at the age of 11, you blindly follow an adult's recommendation, especially if paired with a gastronomic treat, you still tend to ask questions. 'Will there be action?' the child asked on our way to the cinema. Plenty of it, I replied, but not necessarily in the sense you mean. Having developed a sixth sense for adult ambiguity, the child said: 'Not a play adapted to the screen, I hope?' Touché. Twelve Angry Men is indeed a film adaptation of Reginald Rose's 1954 television play. Having been fed one too many Sacha Guitry's film adaptations at an earlier age, my little companion has developed a slight reluctance for that kind of cinematic exercise. 'Don't you worry,' I said, and I promised plenty of suspense. Walking there, I did wonder though if a child could enjoy watching twelve men talking around a table for 96 minutes.
The film opens on the face of a tough 18-year-old charged with stabbing his violent father, a former convict. The jury is swiftly ushered into a room for the deliberation. The twelve jurors must reach a unanimous verdict. We are in the dead of summer; it is very hot and the only fan in the room is not working. The case seems clear-cut, the teenager looks shifty and sounds guilty, and there is a baseball match later that day that many jurors, all men, would love not to miss. In other words, they are about to condemn a teenager to death with the clear mind of people who have no doubts. Except for one, played by Henry Fonda. 
Here begins the most penetrating dissection of humanity, the most admirable lecture on the power of doubt, and a gripping masterclass in what constitutes facts as opposed to prejudices. As The New York Times' film critic, A.H. Weiler, wrote in April 1957 after the film's release: 'Mr. Reginald Rose's basic thought is that the somewhat terrifying legal phrase, "beyond a reasonable doubt", should not be regarded as just a flat phrase casually coined by the law-makers.' Doubt as redemption.
For 96 minutes, the dissenting and open-minded juror played by Fonda questions, and often undoes, by sheer rigorous and logical reasoning, the evidence against the teenager. He has no idea whether the defendant is innocent but he knows the evidence presented against him hardly stands up to scrutiny, and the fact that he comes from a broken slum home should not influence the verdict. His analytical argumentation displeases and irritates those who were hoping to reach a quick verdict; it also reveals the characters around the table. Each juror represents a facet of America: the garage owner with racial prejudices, the self-made man with a tormented relationship with his only son, the ambivalent Madison Avenue advertising man, the wise and kind old man, the uneducated but smart and decent plumber, the serious stockbroker, the Eastern-European refugee and clockmaker who may have a clearer idea than most around the table about Justice. The cast is magnificent: among them, Lee J. Cobb, Ed Begley, Robert Webber, George Voskovec, Jack Warden, Jack Klugman, John Fiedler and Martin Balsam, all well-known faces, and the best of America's 1950s supporting actors.
The chiselled dialogues and superb acting are served by both a taut and economical mise-en-scène and intensely elegant photography. Sidney Lumet's very precise filming and framing phenomenally increases the power of what is being said in the room. The photography and camera work of cinematographer Boris Kaufman is a thing of beauty. The Russian born and French educated Kaufman is also the eye behind masterpieces directed by Jean Vigo, Abel Gance and Elia Kazan, as well as Lumet. When the whole situation of this jury-room drama should be static, Lumet and Kaufman manage to make the camera move in ways that enhance the dramatic tension. The result is compelling, absorbing, and sensitive. Twelve Angry Men shows that a film can be solemn yet not boring, passionate but not stupid, shattering and not cringey.
Has there been a more relevant film to watch today in our era of populism, over simplistic arguments, and fake news? Twelve Angry Men should be screened every weekend on national television and at school. In the same way, every teenager should read Victor Hugo's The Last Day of a Condemned Man, written in 1829, an ardent plea against the death penalty.
I had not seen Lumet's film since my student years. For two hours, the child and I were on the edge of our seats, our hearts beating faster, the palms of our hands sweaty, drinking those men's every word, and like them, doubting and questioning. We were in that room; we were the thirteenth and fourteenth angry men. And such complexity of thought and emotions felt prodigiously good.