Italia 1990s: footballing glory turned to dust
Themes:

The Lost Decade - 1990s Week on Engelsberg Ideas
The beautiful game seemed made for the Italy of wild hair, baggy shorts and Euro-optimism. But did the glory days of Series A ever really exist?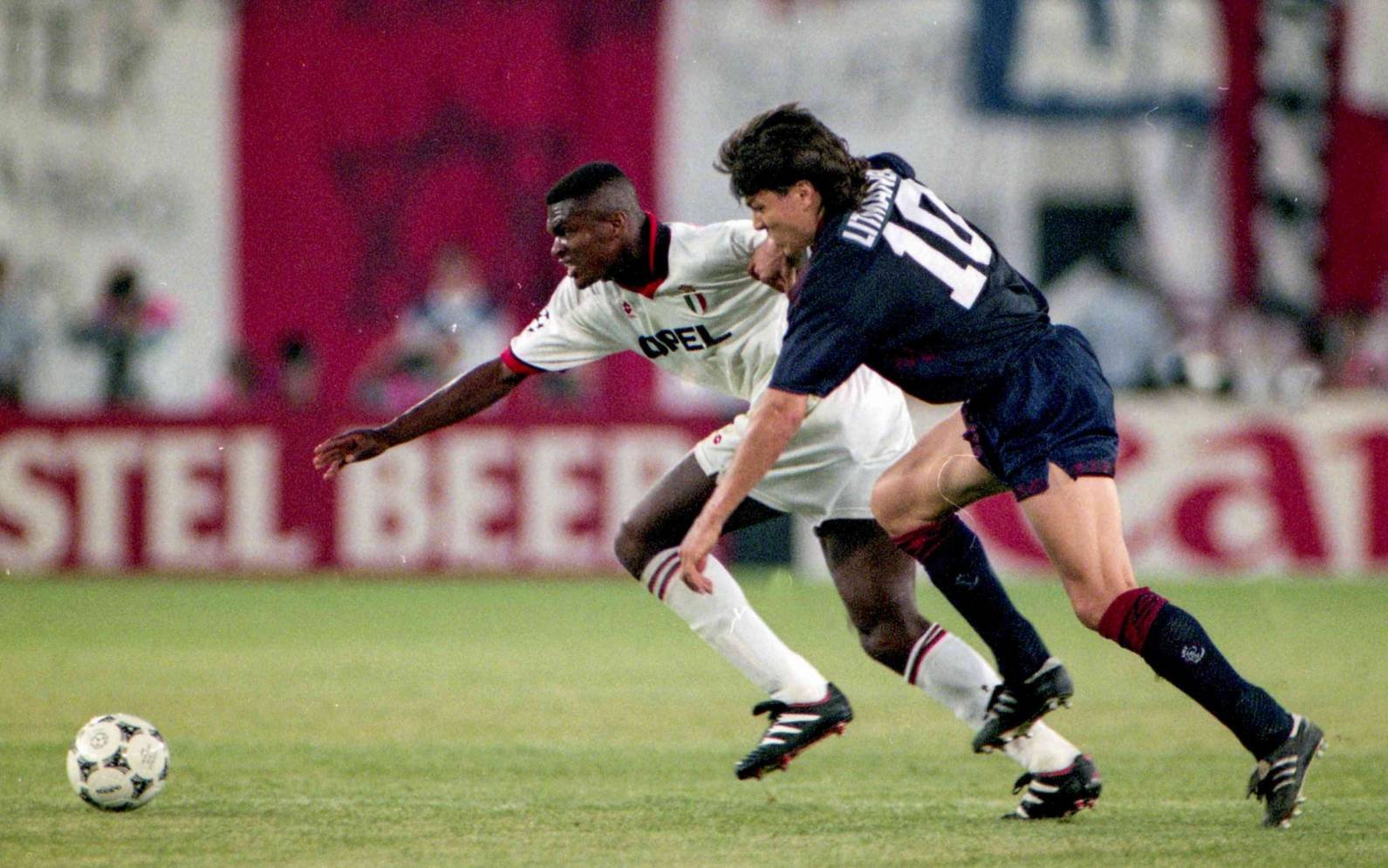 Marcel Desailly (left) of AC Milan and Jari Litmanen of Ajax during the Champions league finale match between Ajax and AC Milan, 1995. Credit: Alain Gadoffre / Onze / Icon Sport via Getty Images.
Although Italy didn't quite win the 1990 World Cup on its home turf, it was a tournament that made Italian football seem the coolest incarnation of the sport on the planet. The operatic soundtrack to that tournament, the stadiums and settings, the berserk crowds, and the intelligence and finesse of the Italian players, made it all seem like a promised land. Above all, the passions of an entire country appeared to blaze out of the eyes of the tournament's top-scorer, Totò Schillaci.
For those of us who were football-fixated, the attraction was also practical. Satellite television deals were making top-flight club football subscription-only. In Britain, if you wanted to watch free, the live games you had were Italian, thanks to that innovative programme on Channel Four, Football Italia –Serie A. The channel also offered a Saturday morning highlights programme which was, for millions of us sofa-dwelling students, the perfect start to the weekend.
There was something extraordinarily glamorous about those 1990s games. In an age before cheap-as-chips air-travel, Italy seemed so remote and exotic. The winter sunshine gave those games a chromatic clarity we just weren't used to. Coloured smoke billowed from hundreds of flares behind the goals and ticker tape fell like snow. The noise, too, was crazy: the unison chants of an entire stadium, the booming kettle drums and off-key brass bands, the stabbing whistling of indignant disapproval – all made those carnivalesque arenas seemed both ferocious and fun.
In an age in which many footballers had buzz-cuts, in Italy the players had dreadlocks or grey hair, or they were spectacularly bald. Or they looked macho even with an Alice band. Each player seemed to be their own man, unique and very kempt. The football strips helped. In the 1990s, before the fashion for super-adhesive tops, there were beautiful, baggy shirts with memorable designs: the Juventus bar-code with the 'Sony' sponsor, or Lazio's sky-blue with 'Banca di Roma'. Looking back, it's noticeable that they didn't, like now, have ads for things you'd never heard of, like foreign language betting sites written in Mandarin, but often simple logos for familiar Italian food and drink companies: Parmalat, Motta, Cirio, Danone and Beretta. There was something wholesome and mouth-watering about even the sponsors.
And then there was the swashbuckling football. In England, many managers (even the national manager, Graham Taylor) still believed in 'route one' – hoof the ball up field and chase and barge and huff and puff. Italy was light-years ahead: in the 1990s Italian tactics had long since moved away from 'catenaccio' (the excessively defensive 'dead-bolt') towards the stunning fluidity of 'total football'. Total football had been pioneered predominantly by the Dutch, and because Milan had three brilliant Dutchmen in attack (Ruud Gullit, Marco van Basten and Frank Rijkaard), the team inevitably played an uber-offensive football.  Zdenek Zeman, the Czech coach at Foggia, and later Lazio and Roma, also played a compelling 4-3-3 formation which, a bit like Bielsa's Leeds United today, always produced frenetic and high-scoring games.
Many matches were like a great, gun-slinging western. Even during the slow scenes you just knew something was building and soon there would be shots galore. It was strategic, cagey and clever. It had delicacy and daintiness, flair and feints, and then suddenly you saw pure, explosive speed and power. Many games were like tennis scores, or worse: I remember a Milan v Foggia game which finished 8-2, a Milan-Pescara which was 5-4 and there was a Gianluca Vialli hat-trick when Juventus beat Lazio 6-1. Milan beat Cremonese 7-1. In one of the first games I went to see live, shortly after moving to Parma in 1999, Parma put six goals past Inter.
As every football fan knows, aesthetic football isn't always winning football, but in Italy, in the 1990s, it certainly was. Between 1989 and 1999, Italian clubs won the UEFA cup eight times out of eleven. In that same period, the Cup Winners' Cup was won by three Italian teams (Sampdoria, Parma and Lazio), and the European Cup – the continent's highest accolade – was won three times by Milan and once by Juventus. Milan even trounced Barcelona in one final 4-0.
Some of the players were unforgettable: Beppe Signori, the tiny guy with size five feet whose left peg was like a baseball bat; Alessandro Del Piero, the most accurate volleyer of the ball I ever saw; Roberto Baggio, so tricksy that defenders, and goalkeepers, often fell over themselves as if chasing a chicken. And there was an added interest in it all from my perspective because a few British players – Des Walker, David Platt, Paul Gascoigne and Paul Ince – were playing in Italy, so I often felt like I had a horse, as it were, in the race.
There was such a youthful exuberance to it too. I was in my late teens and early 20s in the 1990s, and for the first time I was watching footballers who were younger than me: Alessandro Nesta, Gigi Buffon and Antonio Cassano all made their debuts in Serie A aged 17. Francesco Totti was only 16. There was something so fresh, optimistic even, about that era, and you never knew at the start of a season (unlike now) who was going to win: between 1990 and 2000, five different teams won the scudetto.
It all seems so long ago not just because of the intervening years, but because, in many ways, it was an illusion. It emerged, later, that quite a few players were doping, using creatine and nandrolone to improve performances. An unholy trinity of officials were bribing and blackmailing referees. Fake passports were allowing illegitimate players to join teams. Signori was soiled by a match-fixing scandal. He always denied the allegations and was finally cleared this week.  Del Piero was so badly injured that he didn't score a goal in open play for almost two years.
Many of the chairmen who had been folk heroes, bringing continental cups to their joyous suburbs, were revealed as financial frauds. Cirio and Parmalat went bust and their owners – cup-winning chairmen of Lazio and Parma respectively – both went to prison. Another chairman, Luciano Gaucci of Perugia, fled to Santo Domingo to avoid justice. From having seemed a saviour of Italian football as owner of Milan, Silvio Berlusconi went into politics and became a profoundly controversial Prime Minister.
Maybe the glamour seems tarnished only because I'm now living here in jaundiced middle-age and I know that the grass isn't greener. But other things have changed: it's sadly obvious that Italian football just isn't competitive anymore, either financially or football-wise. Juventus wins Serie A with monotonous regularity (nine times in a row so far), but hasn't won the Champions' League (ex-European Cup) since 1996. No Italian team has won the Champions' League for more than a decade; none has won the UEFA cup (now called the Europa League) at all this century.
And yet I still can't shake my love for that glorious decade of football. I miss the daring and chutzpah, and am trying to understand why they disappeared. Perhaps stat-saturated analysis has eroded spontaneity, or else a weary, cautious insistence on experience has squeezed out the exuberance of youth. Maybe the internet has so deleted any distance that nothing seems exotic or unexpected anymore. Most likely it's just that Italian society in general no longer has that swaggering self-assurance that gave rise to such intoxicating, almost cocky, football – or if it does my eyes are too dim to see it.
More from The Lost Decade - 1990s Week on Engelsberg Ideas