Mustang: the heart of Nepal's China dream
The Himalayan region is where Nepal's aspirations of Chinese-backed economic development are being realised.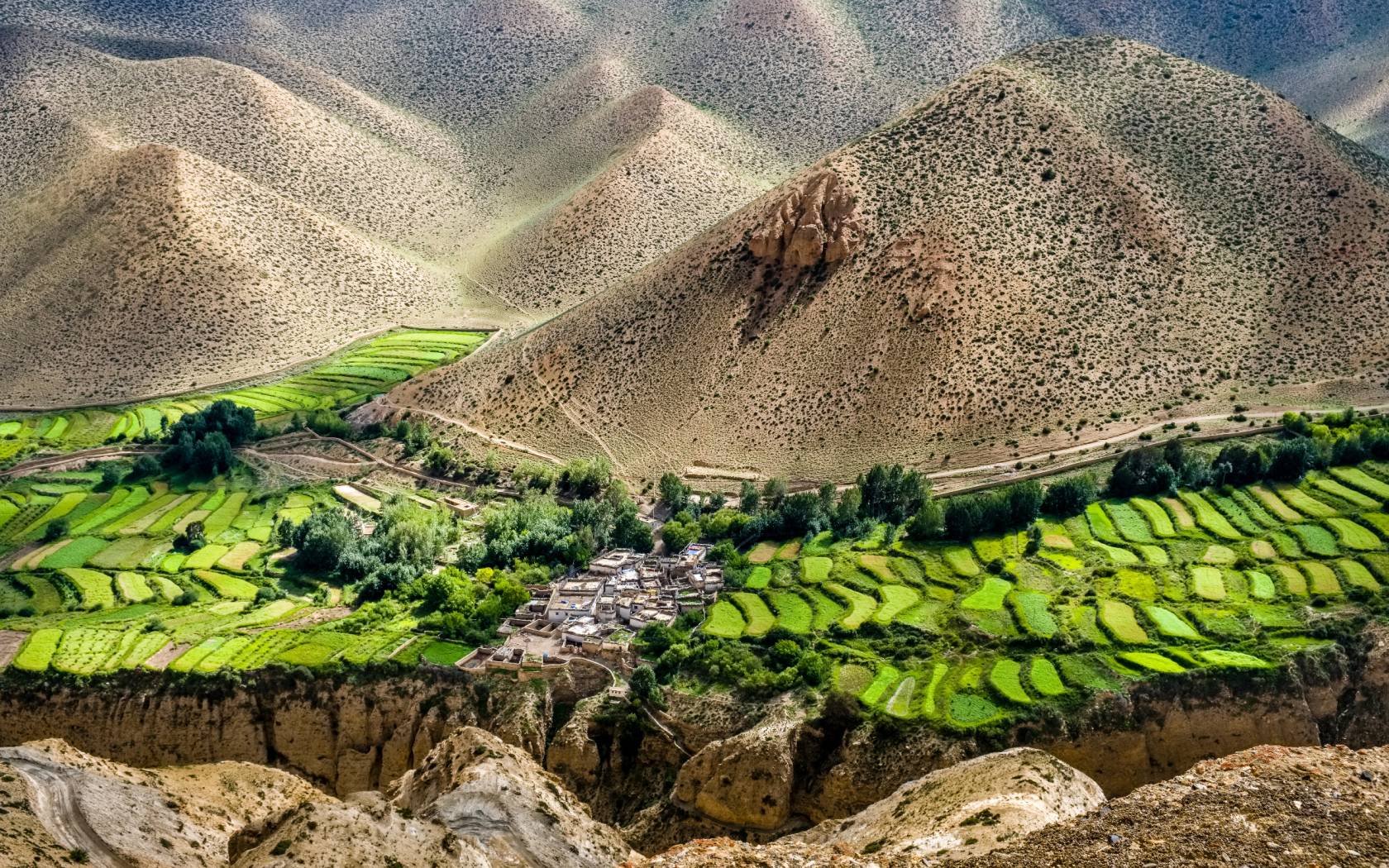 A village located between green terrace fields in the barren landscape of Upper Mustang. Credit: Frank Bienewald / Alamy Stock Photo
In March this year, Nepal's opposition leader K.P. Oli lashed out at the government for allowing India to open a Buddhist college in Mustang, a Himalayan region bordering China. The Indian mission often assists Nepali municipalities under a small grants outlay, and the Buddhist college had been requested by a local Mustang municipality. Oli, however, did not see it as such. Instead, he said, 'Establishing a Buddhist college in Mustang to placate foreigners is an assault to our nationality and betrayal of China, which is our friendly nation.'
How did a remote Himalayan border region come to acquire such prominence in Nepal's relations with China? The answer lies in Mustang's history of Cold War intrigue and China's perpetual anxieties over Tibet.
Mustang is a cold desert, shaped by the forces of wind and snow as an extension of the Tibetan plateau. Through most of its history, it was an independent Tibetan kingdom owing allegiance to Himalayan power centres as far as Ladakh and Ngari before it came to be part of Nepal in the eighteenth century. During the Cold War, Mustang was the site of the CIA's Project ST Circus, under which the agency funded an armed Tibetan guerrilla movement known as Chushi Gangdruk. Almost 50 years later, the Chushi Gangdruk has been all but forgotten elsewhere, but in Nepal, its memories remain as fresh as that day in July 1974, when the Nepali army faced off with a ragtag group of guerrillas with better weapons than them.
Although the Tibetan guerrilla movement passed into oblivion with the death of its commander Gyato Wangdu in a firefight with Nepali forces, Mustang's proximity and cultural affinity to Tibet has shaped both Nepal's and China's perceptions of the Himalayan district. Oli invoked the history of the Khampa movement, as the guerrillas were colloquially known, inside Mustang as to why the India-funded Buddhist college must be opposed, seeing it as an 'attempt to repeat 1974 [when the Khampa movement came to an end] on a bigger scale… The government is trying to turn Mustang into a playground for foreigners'. It is not uncommon to hear Nepali officials and commentators regularly recall the Tibetan guerrillas as a security concern, despite Nepal's grand ambitions for an economic corridor between India and China via Mustang.
On the other hand, China has sought to address its security concerns with aid mechanisms and border trade. China has provided two village municipalities close to the border within Mustang with aid, including a 70 KW solar-power plant in 2015 and an excavator in 2022, as part of its larger assistance to the 15 Nepali districts bordering the Tibetan Autonomous Region. In 2014, China began to provide RMB 10 million ($1.4 million) annually to the districts for five years. Under the programme, food aid and other essentials were supplied. In 2015, after the devastating earthquake, China provided '7,800 bags of cement; 15,000 pieces of corrugated roofing sheet; 8,000 pieces of plywood; 1,200 tonnes of iron rod; 25,000 kilograms of pea and 29,000 kilograms of soybean' to village municipalities near the border. Then, in 2018, the two countries signed a 'Northern Border Region Development Programme', under which China's foreign aid agency, CIDCA, will finance 15 pilot projects in 13 border districts, including Mustang. During the Covid-19 pandemic, China supplied medical goods such as masks, sanitisers and testing kits to the district as well.
But China is not the only country investing in Mustang. Following the 2015 Nepal earthquakes, the US funded the restoration of monasteries in Mustang. India has similarly built roads and bridges, along with other development assistance, such as schools. Its prime minister Narendra Modi visited the Muktinath temple, among Hinduism's holiest shrines, in May 2018, resulting in a religious tourist boom. Of the nearly 39,000 tourists in Mustang in FY 2021-22, almost 90 per cent were Indians.
Such engagement by multiple foreign actors in Mustang creates new anxieties for Nepal, which wants to develop the district into an international transit point. Between China's security concerns and the interests of other powers, Mustang is perhaps the best example of Nepal having to tread carefully in the realm of international geopolitics.
It is a cold and foggy morning in May 2023 when we arrive at Kora La, the border between Mustang and Tibet, and the wind chills immediately. The disagreeable weather hasn't stopped a busload of Nepali tourists from posing around border pillar number 24 and getting their pictures taken. At 4,660 metres, Kora La is one of the lowest Himalayan passes between South Asia and Tibet, and is one of the six border crossings earmarked for Nepal-China overland trade.
An alpine flatland almost 20 km away from Lo Manthang, the old capital of the Mustang kingdom, Kora La displays the remarkable asymmetries in state capacities between Nepal and China. Although the border pillar marks the end of Nepali territory, the nearest Nepali border outpost – and state presence, if one excludes the power lines – is almost 11 km away. On the Chinese side of the border, however, are massive customs and immigration buildings, and a 22-km-long fence that was erected after the seventeenth Karmapa, Ogyen Trinley Dorje, escaped from Tibet in December 1999 using this border crossing. The Karmapa is the head of the Karma Kagyu school of Tibetan Buddhism, whose lineage traces back to the twelfth century, making it the oldest reincarnation lineage within Tibetan Buddhism. CCTV cameras look into Nepali territory, on the lookout for any unwelcome foreigners, as a researcher found out in 2015. One outcome of the fence has been the transformation of a traditionally open border space into a closed-off containment zone, which has brought about the end of traditional migration practices such as livestock grazing and cross-border trade.
Kora La marks the beginning of the ambitious Kali Gandaki Corridor, a longitudinal highway that Nepal intends to use as a transit corridor between China and India. It intends to build a dry port on this flatland eventually, but at the moment, there are no indications to suggest the port remains imperative for Nepali administrators. But if the Nepali state is sluggish, the people of Mustang are equally indefatigable.
In 2001-02, local authorities in Mustang got together and brought down a road from Kora La to Lo Manthang. Ironically, the first road in Mustang did not connect to Nepal, but to Tibet. This was also consistent with the years of neglect of Mustang by Nepal's rulers. It is this same road that has today been expanded and earmarked as the beginning of the Kali Gandaki Corridor.
Before the Covid-19 pandemic, TAR authorities would allow Mustang locals to cross over into TAR twice a year for the chhongra, a market fair. The biannual event, held a few kilometres inside Chinese territory, hosted businesses that sold a variety of goods to Nepalis: essential items, alcohol, TVs, farming equipment, goats, even motorcycles. The fair proved to be a much-needed relief for Mustang locals for the supply of cheaper Chinese goods, and the export of Nepali handicrafts and herbs such as yarsagumba. However, although Covid-19 restrictions have ended in China, the fair is yet to restart despite persistent demands by Mustang authorities, following the trend of unilateral border control by China elsewhere on the Nepal-China border. As Mustang locals say, opening or closing the border is entirely up to the Chinese.
Mustang is a corruption of the Tibetan word Manthang, meaning 'plain of aspiration'. The kingdom was founded in the fourteenth century by Ame Pal, a Tibetan warlord whose ancestors came from the Ngari region of Tibet. Over the years, the region stood as an important crossroad of Indic and Tibetan civilisations with shifting political allegiances. It was only in the eighteenth century, with the Gorkha Shahs' military expansion, that Mustang came to be part of Nepal. Its kings provided military support to Nepal's wars with Tibet and maintained their autonomy with an annual tribute to the Shah kings in Kathmandu until the advent of republic Nepal in 2008.
Today, Mustang is at the centre of multiple contests. Beyond broader geopolitical issues affecting Nepal and China's perceptions of the region, an expanding road network has resulted in new fears about the erosion of traditional Tibetan culture that was the biggest draw for tourists to Mustang. Nonetheless, the region has been listed among CNN's 23 best destinations to visit in 2023, and an intrepid local entrepreneur and politician has recently opened up one of the world's highest golf courses at 4,600 metres. Rapidly changing weather patterns have resulted in the exodus of villages such as Dhe, creating the world's highest climate refugees. And although most villages have seen an outmigration of locals to countries such as the US, Mustang's population has increased by 0.69 percent in the decadal 2021 census due to large-scale migration of Nepalis into the district, with a third of the current population outsiders to the region.
Such changing social dynamics will shape their own courses in the years to come. More immediately, Mustang is where Nepal's aspirations of economic development via China are being realised slowly but steadily. Although the district itself has become more important to Nepal's development project, its people and their concerns remain peripheral to the Nepali state, seen in the slow pace of development and lack of concern towards local issues. As Oli said, 'Only a handful of people with vested interests live [in Mustang].'