Nouvelle Cuisine made food better
The French cooking revolution may have hastened the decline of haute cuisine but it brought better, more democratic dining to the table.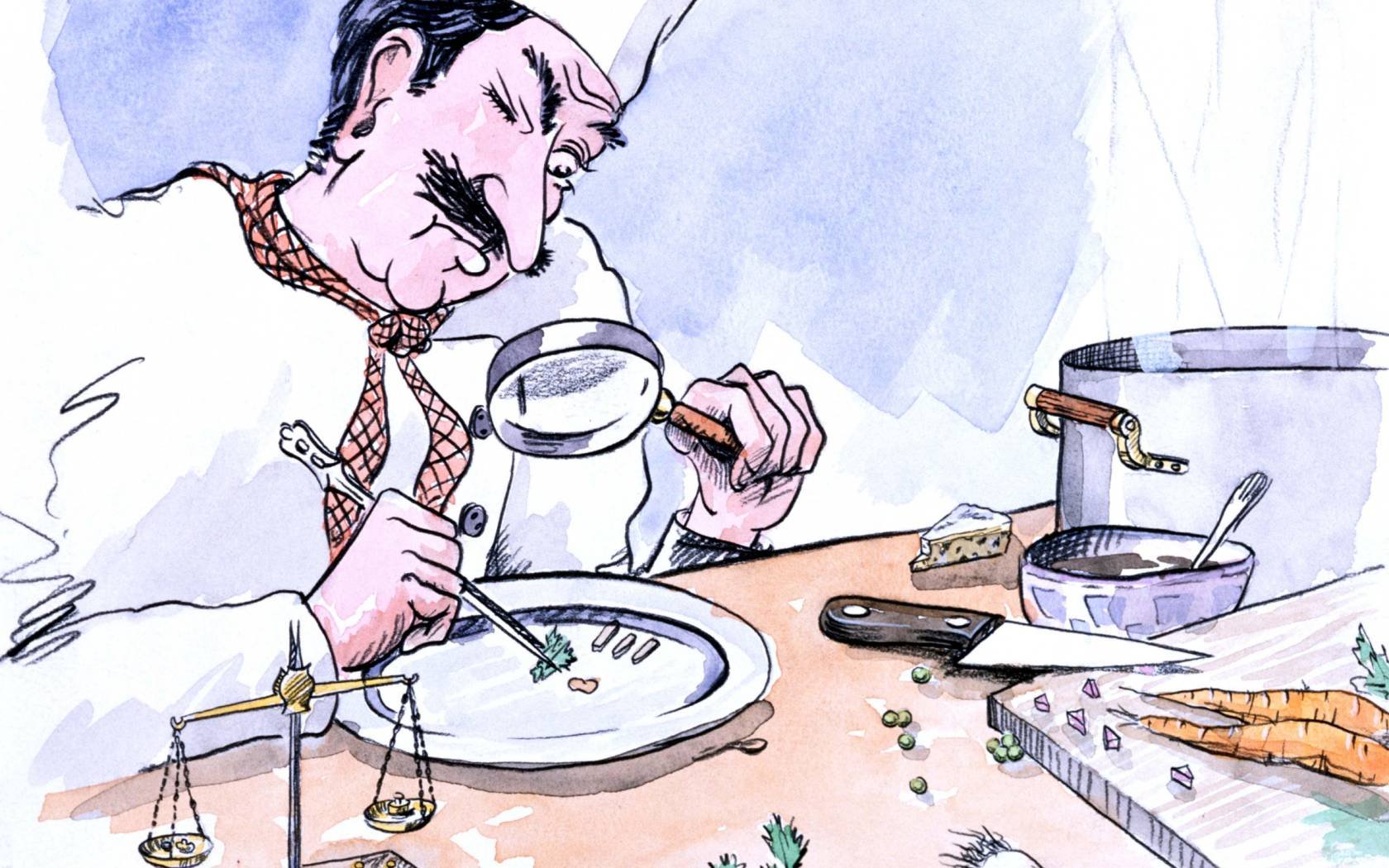 Caricature of Nouvelle Cuisine arranged by the chef. Credit: mauritius images GmbH / Alamy Stock Photo
In the 1960s, a revolution in cooking began in France which was, in many ways, parallel to the creation of art moderne  forty years earlier. As with the artistic revolution — and unlike its musical equivalent — the new was to become the orthodox, dominating the hierarchies and structures of its profession. Specifically French in origin, it was a rebellion against the kind of perceived classicism which had been defined by Auguste Escoffier (1846-1935) and which involved, for example, the doctrine of five 'mother sauces' lying at the heart of French cooking. Essentially, this nouvelle cuisine was about lighter, smaller dishes. Its emphasis was on presentation, with flavours often presented in small quantities as amuses-bouches or jus  or smears or drizzles. There was a new focus on colour and on a variety of eating vessels, such as slates and boards, and new shapes of plate. The 'signature dishes' of the newly famous chefs looked very different from those of their predecessors: a typical example was the light, colourful salmon in sorrel sauce of Pierre Troisgros whose restaurant in Roanne in the Loire, now called La Maison Troisgros, has remained highly ranked ever since.
La nouvelle cuisine  has been a global phenomenon and I've spotted its influence everywhere, including such unlikely places as Dehradun in India and Colombo in Sri Lanka, where the cooking might be thought to owe little or nothing to French traditions. Like many fashions, it did at times excuse some very poor products: I remember in Bath eating a small piece of chicken on a supposed jus  which was indistinguishable from the blackcurrant concentrate Ribena.
As a slice of cultural history, La nouvelle cuisine raises two sets of questions, one which I think is very easy to answer clearly and convincingly, and another, which is far more difficult. The easy one is why it happened. There was a mood of radical change in France in the 1960s and reputations were to be made by changing things. The media was far more interested in chefs offering something new than they were in traditionalists. If you were an ambitious chef, despite some original hostility (for example, from the Michelin guides), then innovation was in your interests. Given the embourgeoisement  of society, such innovation was bound to be in the direction of lighter and healthier food. A classic cuisine designed for a hunting party was not suitable for people who spent their days in meetings. And most of the classic sauces were essentially flavourings of a synthesis of stock, flour and cream. Thus, the further development of the new style was into food which would actually help you lose weight, as with Michel Guerard's cuisine minceur  (slimming cookery). I bought Guerard's best-selling book and went to his restaurant, Les Pres d'Eugenie in Eugenie-les-Bains. People went there for what would later be called a detox and you were offered a choice of hygienique  or gastronomique menus. We chose the latter, but Guerard was clearly on to preoccupations which were rife, not just in France, but throughout the more prosperous parts of the world.
The more difficult questions concern the effects of nouvelle. So much else has occurred in the gastronomic history of the last half century. The globalisation of tourism has broadened experiences and created a potentially infinite variety of 'fusion' dishes. American and Asian fast foods and 'street' foods have replaced the classic sequential dinner for many. Environmentalism has created trends towards local sourcing, vegetarianism and veganism. The hegemony of French cooking has declined markedly. It did last for a very long time. In the year of the French Revolution, 1789, the Scottish poet Robert Burns was penning a defence of local cooking against the new French fashions — he specifically mentioned fricassée  and ragout. When I was a young adult, if you rose beyond a certain level socially and financially, the language and style of cooking was all French. But when UNESCO declared French cooking to be part of the 'world's intangible heritage' in 2010, the decision already looked rather antiquated. The world's most respected non-French food and drink authority, the William Reed media organisation (originally publishing in Restaurant  magazine), has listed the world's best restaurants since 2002 and Spain and Denmark have scored highest; France even comes below England in the top three. At the grass roots level, the town I live in, Royal Leamington Spa, is something of a foodie destination, with Tripadvisor listing 166 restaurants (at the time of writing), which is, incidentally, far more than in any French town of equivalent size. Of these, only four are listed as French, compared with twenty-nine Italian.
Did nouvelle accelerate or mitigate the decline of French gastronomic hegemony? I think the overwhelming probability is that it mitigated the trend and that, despite the prevalence of television programmes about 'fine dining' all over the world, it is the pretentiousness and expense of elite restaurants which has undermined them. If I ask myself which meals I have most enjoyed in this decade so far, the main courses were: espada (the deep-sea scabbard fish) and baby squid in a beach restaurant in Funchal, Madeira; Bresse chicken in Bourg-en-Bresse in Burgundy; fish and chips in Seahouses, Northumberland; and papardelle con ragu di cinghiale  (pasta ribbons with wild boar) in Pistoia, Tuscany. This was all vernacular food: local ingredients, cooked traditionally, with plenty of filling carbohydrates. The chefs were not stars and originality was not an issue because they were doing what they and their predecessors had done time out of mind in that place. This is the cult of the ingredient, not the chef. But they knew how to do it well. And in every case, the ambiance was wonderful. They were lively restaurants, full of people eating good, affordable food, and therefore friendly and cheerful — all in sharp contrast to the dull reverence of Eugenie where the Edinburgh lawyers at the next table seemed as if they would rather die than exchange words with their neighbours.
An obvious conclusion is that good vernacular food is much more fun than haute cuisine, whether nouvelle  or not. But it is also possible that the improved standards of vernacular cooking, the pride in local tradition, in presentation and in fresh ingredients all owe something to the philosophy of nouvelle cuisine.