Kon Satoshi — animator of unmatched talent
During the late 1990s to mid-2000s, when Kon Satoshi created all of his works, feature animation in Japan was mostly dominated by adaptations of manga, sequels of TV anime, or films produced by Studio Ghibli. His original and ambitious works stand out.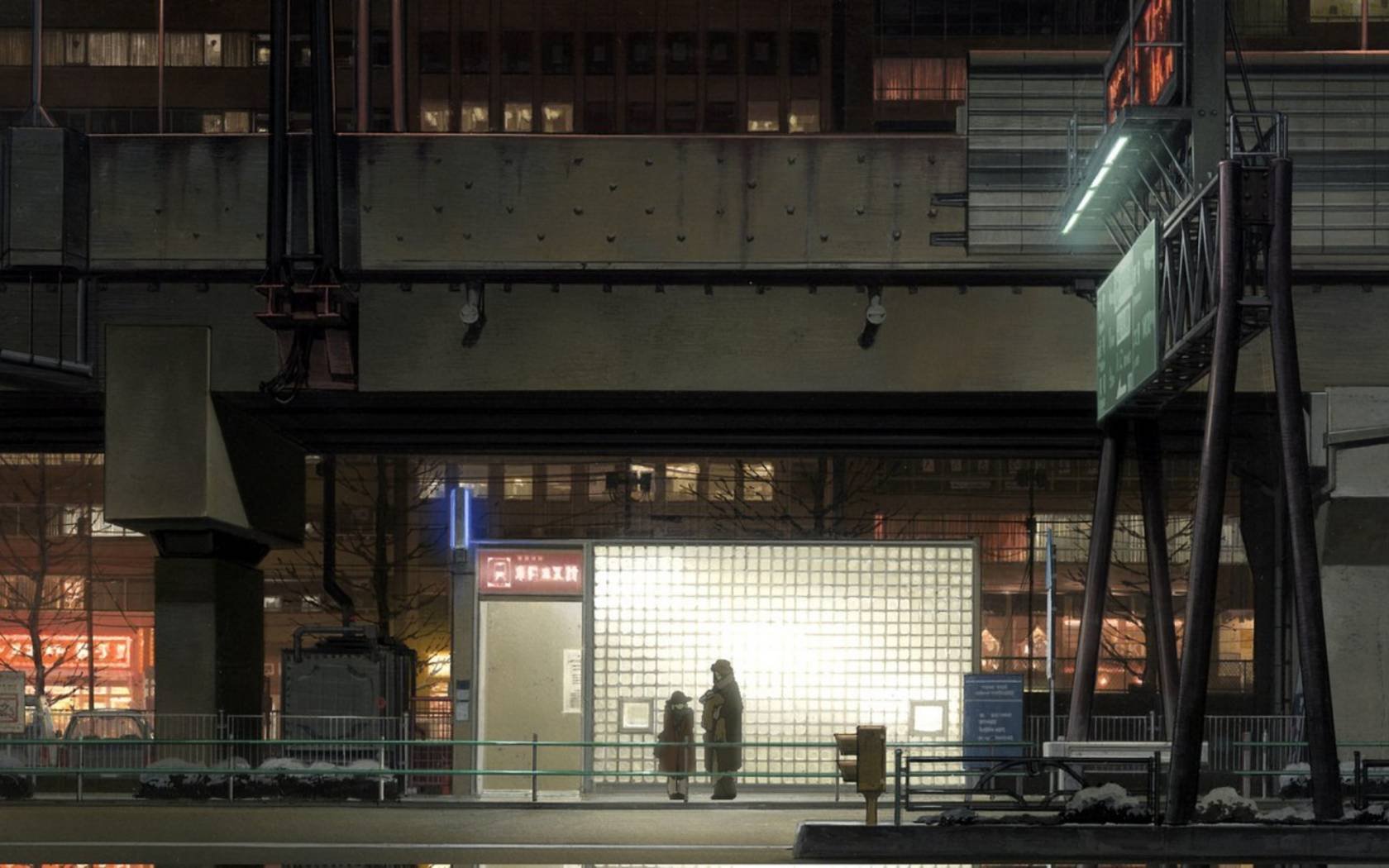 Scene from the animated drama 'Tokyo Godfathers' directed by Shogo Furuya and Satoshi Kon. Credit: Entertainment Pictures / Alamy Stock Photo
The year of 1963 marked a watershed in the history of post-war Japanese animation. On New Year's Day, Astro Boy was launched, Japan's first TV animation series. Its weekly, 30-minute format continues to this day.
Anime and manga (Japanese comics, often the basis for television series) were a part of daily life for school children. Space Battleship Yamato was first broadcast as a TV series in 1974. It featured a Second World War-era Japanese naval battleship-turned-spaceship travelling to outer space to save the Earth from alien invasion. Initially, it did not attract much attention, and was cut short due to direct competition with other more popular programmes. However, it became extremely popular among teenagers when it was re-run, and its popularity further surged when a film based on the TV series was released in 1977. In the 1960s, anime was still regarded as entertainment for children, but by the mid-1970s, the kids who had watched early TV animation had progressed on to their teenage years, and anime targeting their age group became more widely available – kids like Kon Satoshi, born in 1963 in Sapporo, who was to go on to become one of Japan's most gifted and adventurous animators.
Young people queued outside cinemas overnight, and even for days in advance, to attend the first screening of Yamato when it was re-released as a feature film. Yamato fan clubs were formed across Japan, and magazines targeting fans were published, a few of which survive to this day. Yet the status of anime and its fans remained far beneath the esteemed position they occupy today. At school, Kon, along with a group of his female classmates, were labelled 'the anime gang', and when he told his schoolmates that his dream was to be an animator, he was met with derision. Still, he never lost interest in anime and manga. Until high school, he enjoyed popular anime such as The Galaxy Express 999, Mobile Suite Gundam and Future Boy Conan. He also recalled drawing many lessons on the nature of animation, and film in general, from Miyazaki Hayao's Lupin III: Castle of Cagliostro, the first feature by the animator who later co-founded the acclaimed Studio Ghibli and directed such highly successful features as My Neighbour Totoro (1988), Princess Mononoke (1997), and Spirited Away (2001), for which he won an Academy Award.
Once Kon started to create his own animation, his work was very different from the popular anime of the era. He moved away from stereotypical stock characters, sci-fi-style machinery called mecha, which includes robots and spaceships, and often heavily sexualised young female characters. He continuously called his work, and himself, 'non-mainstream' and criticised creators and consumers of mainstream anime for impoverishing the art form.
This rebellious resistance to the status quo is a likely by-product of his adolescence in the city of Kushiro. His family went back and forth between Kushiro and his native Sapporo throughout his youth, and Kon often struggled to adjust from the bustling metropolis of Sapporo to life in the smaller Kushiro. His middle school in Kushiro, to which he transferred at the age of 13, had strict rules which Kon often found ridiculous. His time in Sapporo, the biggest city of the region, equipped him with the will to resist the conservative practices of his middle school and, rather than simply following the rules, he often argued with his teachers and classmates when he felt something was absurd. The theme of the absurdities of daily life is a motif throughout his work.
He also struggled socially. He excelled in academic performance, to the displeasure of those originally at the top of the class. His appearance made him popular with girls (he was tall, with the long hair which would later become his trademark), and this further fuelled the hostility of some of his classmates.
He dreamed of leaving Kushiro and, in his second year at high school, he transferred to a prep school (yobikō) in Tokyo, with the aim of attending art college. His decision to study art was two-fold: alongside his love of painting, he was also keen to avoid working with others. In 1982, he moved to Tokyo, after successfully passing the highly competitive entrance exam of Musashino Art University, to study at the Department of Visual Communication Design. While he was there, one of his manga won an award in a competition held by a publishing house. He decided to pursue manga professionally, once again intrigued by the prospect of being able to work alone.
After graduating, Kon created his own comics, but he also worked as an assistant to established manga artists, a typical path for novices. Among these was Ōtomo Katsuhiro, best known for Akira. The manga, and the anime film based on it directed by the author himself, became extremely popular in the West in the early 1990s. Besides manga, Ōtomo was interested in creating animated features, with Kon's contribution, starting with Rōjin Z [Old Man Z] in 1990. For this project, Kon worked as the scene designer, determining the visual features of a given scene (the backdrop, position and movement of the characters in front of it) and how it was framed. Kon played this role again five years later for Ōtomo's episodic film Memories (1995). Kon also wrote the screenplay for the first episode, Magnetic Rose, in which four astronauts find an abandoned spaceship and are eventually caught up in the dream of a dead opera singer, the former occupant of the ship. The episode features thematic characteristics also found in his later works, such as the arbitrary nature of reality in the face of the power of memory, fantasy and desire.
After this, Kon started to work on anime as a scene designer and writer. In 1995, he received a proposal and script for an Original Video Animation (OVA – an animation to be sold as a video programme) titled Perfect Blue. He didn't find the story particularly attractive (it was a typical splatter film); however, he agreed to work on the project, as he was offered the prestigious role of director, and more importantly, he was allowed to change the plot. As a result, the story turned from a version of Stephen King's Misery into a shocking and enigmatic tale of existential meltdown. By then, he had serialised some of his manga in weekly magazines and published them as books, but he was far from being a successful manga artist. In the mid-1990s his career had run into difficulty when his co-creator, Oshii Mamoru, a prominent director known for Ghost in the Shell, a cyberpunk anime highly popular in the West,) left a project they were working on together, eventually leading to the premature termination of the series. Another manga was discontinued when the publisher collapsed. Starting work on Perfect Blue allowed Kon to give up his career as a manga artist and to concentrate on anime production.
Ironically, the production process itself soon became tortuous. Lacking a reasonable budget and sufficient staff, the project continuously suffered from serious delays in production and poor animation quality. In addition, the project was 'upgraded' to a film rather than an OVA without Kon's consent. He was dismayed by the news, as he had already drawn storyboards based on the assumption that Perfect Blue would be an OVA, but he was forced to proceed. Strained budgets and lack of staff were such that Kon, as director, could not help making compromises on the quality of the animation. He was fighting a losing battle. The biggest task for him, as he put it in his detailed description of the process published on his website, was to keep compromises to a minimum: even if Perfect Blue were to 'lose its limbs' in the battle to get the film screened, that would be better than the project ending with the 'death' of the film. Mishaps and accidents deriving from a lack of time and poor communication among staff plagued the project until the very last stages of production. Some of the issues were so serious that they were beyond fixing, even during post-production.
After Perfect Blue, Kon created three films and one TV anime series in nine years. Many of them focus on the uneasy relationship between reality and fantasy. His only TV series, Paranoia Agent (2003), is reminiscent of Perfect Blue. In Millennium Actress (2000), just like in Magnetic Rose, two reporters interviewing a veteran actress are drawn into her recollections of a life that spans modern Japanese history. In his last film, Paprika (2006), we see the protagonists entering other people's dreams to stop the abuse of a machine that allows dreams to be shared with others. Tokyo Godfathers (2003) stands in contrast to the rest of his oeuvre. The film is about three homeless people who find a baby left in a rubbish dump and start to look for her parents. The location for the film remains in contemporary Tokyo instead of being subsumed into a dream, unlike in his other works. Still, the contrast between reality and fantasy is explored in the form of the contrast between the highly realistic visual representations of the city of Tokyo and the ceaseless chain of serendipitous events and encounters the protagonists experience. That is partially thanks to his use of photographs in designing backdrops and props. However, unlike recent anime that often feature facsimiles of real-world scenery, leading to the popularity of 'pilgrimages' to locations depicted in these films, the Japan and Tokyo of Kon's works are not replicas of photographs. Instead, he begins with the image he wishes to include in a given scene and enhances it with elements he finds in photographs. This produces scenery which appears mundane and realistic, but which is actually far from a facsimile of reality. Kon repeatedly stated that he aimed to create things which look like they really exist, but actually do not. Here, the 'reality' as a replica of the real world is merged with the 'fantasy' of an image that originally existed only in Kon's mind: another example of his amalgamation of 'reality' and 'fantasy.'
Throughout his career in anime production, Kon remained critical of the industry. As someone who did not originally plan on becoming an anime director, he was able to be more objective about the industry's issues, especially its chronic shortages of money and staff. He harshly criticised the landscape of Japanese animation, in which anime was, in his view, created by and for anime fans, resulting in humdrum settings, characters and technique. He repeatedly stated that this was not the kind of animation he aspired to create. Miyazaki Hayao, one of the most successful and popular Japanese animators (and the only Japanese winner of the Academy Award for animated feature to date) shares such a view, but Kon was a total stranger to the massive commercial success and esteem which Miyazaki enjoyed. Kon's work, especially Perfect Blue, did however attract media and critical attention, mainly due to its atypical setting and enigmatic characters. While Miyazaki's films also lack typical anime features, Kon's work is less audience-friendly. His work often has a poignant quality thanks to its focus on human nature and desire, as well as the fragility and absurdity of reality. As such, his work, as he described it, was not so much designed to showcase animation techniques (possibly a faint criticism of Miyazaki) but to use animation as a way to depict his vision. From the late 1990s to the mid-2000s – when Kon created all of his major works, feature animation in Japan was mostly dominated by adaptations of manga, sequels of TV anime, or films produced by Studio Ghibli – the market for original and ambitious works such as Kon's remained very small. Maruyama Masao, former president of Madhouse, the studio where Kon created all of his works, said that Kon was born and died 20 years too early.
Besides creating feature films and TV series, he worked as a visiting professor at his alma mater in Tokyo, and at some specialist animation colleges. He also created a short anime as a part of a project by NHK, the Japanese national broadcaster, in which 15 creators were asked to contribute an animation of one minute. This work was driven by his urge to train a new generation of creators to break the vicious cycle of anime being only created by and for long-term fans. However, his career came to an abrupt end in May 2010 when Kon was diagnosed with pancreatic cancer and given approximately six months to live.
He thought of announcing the fact and writing about his final days on his blog but decided not to, because he feared that the announcement might attract too much attention. Instead, he continued to update his blog as before, carefully avoiding any direct reference to his illness. However, read with hindsight, some of his posts suggest that something significant was happening in his life: he gave up his teaching job, shaved his hair, and threw out or gave away all of his clothes, books and DVDs. On 24 August 2010, Kon died. He posted a final entry, 'Goodbye', a letter he wrote on his deathbed, on his blog. He described what had happened after his diagnosis, and thanked his parents, his friends and Maruyama for their love, help and friendship. He also expressed regret for leaving his current project behind: a feature film called Dreaming Machine. He had been working on Dreaming Machine for years, but as he was in charge of all key aspects of the film, including screenplay, music, and both visual and character design, his death would make it very difficult, to say the least, for the project to continue. He expressed his concerns to Maruyama, who, along with Kon's parents, was only told about his illness just before he died. On his final visit, Maruyama told Kon that he would sort everything out, and that there was no need to worry. Hearing this, Kon burst into tears.
The project did continue after Kon's death based on storyboards he had left behind. However, it came to a stop in 2011 due to financial reasons, with animation complete for about 600 out of the total of 1,500 scenes. Maruyama expressed his determination to press on with the project, but since 2011, no announcement on its progress has been made. This leaves a simple but critical question: who should, and could, take over a project half finished by Kon, a creator with unmatched talent whose work is filled with incredible visual and thematic richness? The conundrum is left unresolved.
Kon ended his last blog post with a brief message of gratitude to his readers and to his audience: 'Thank you very much. See you all later.' Indeed, possibly the only way for us to see Dreaming Machine in its completed form is to join its creator in 'the other world' one day. Kon Satoshi is irreplaceable.