Pamela Colman Smith — The queen of tarot
The Rider tarot deck is found in millions of homes worldwide but little is known of its creator and her involvement in occult Britain.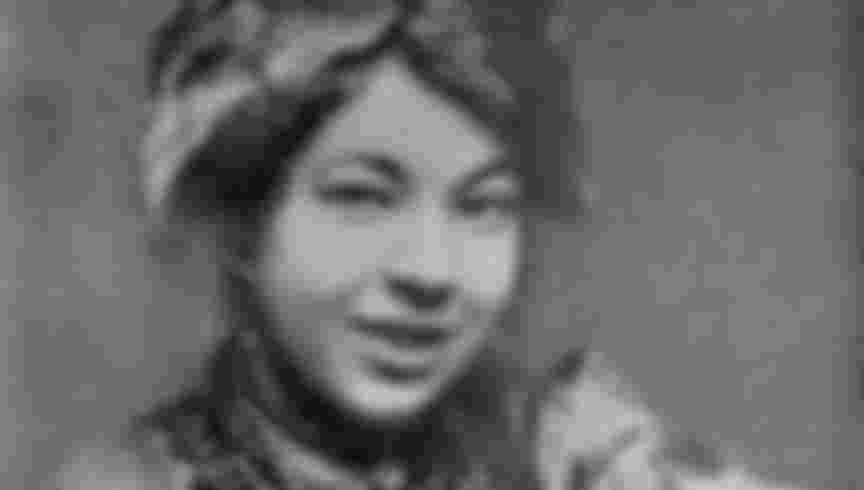 Photograph of Pamela Colman Smith from the October 1912 issue of The Craftsman magazine. Credit: Wikimedia Commons.
In 1912, an unknown photographer took a portrait of a young woman. Even from a distance of more than a century, she crackles with charm. She's 33, smiling, an impish expression in her dark, lively eyes. She's wearing a silky, patterned dress and four thick ropes of beads around her neck. Her arms are crossed jauntily in front of her and she appears to have feathers in her hair. Her name is Pamela Colman Smith — known as 'Pixie' or 'Gypsy'. Three years before her portrait was taken, Arthur Edward Waite — a British scholar, poet, mystic and editor of the magazines The Unknown World and The Occult Review — invited her to design a new tarot deck for the publisher William Rider. Waite described her as 'a most imaginative and abnormally psychic artist'. Although the Rider Tarot, as it was called until the 1970s, did quite well in Colman Smith's lifetime, I doubt anyone could have predicted the millions of copies that are currently in circulation in 20 countries. It is the most popular tarot deck in history. None of the original drawings survive — that we know of.
To understand what Colman Smith achieved, it's necessary to go back in time. Over the centuries, myriad artists have been fascinated by tarot's intertwining of image, self-exploration, archetypes and divination. Tarot is traditionally divided into 78 cards decorated with archetypes that are divided into 22 Major and 56 Minor Arcana: The Fool, The Priestess, The Hangman, and so on. Its origins are obscure: it possibly grew from Turkish or Middle Eastern card games or derived from the ancient Chinese divination text the I-Ching – also known as the Book of Changes — or from the visual language of the Egyptian The Book of Thoth, which some believed was written by the god himself and contained the secrets to all esoteric knowledge. Early decks incorporated Christian and Hebrew symbols, such as the 'tree of life' from the Kabbalah, and many of the archetypes are influenced by sacred geometry and numerology. In the Renaissance, delicate gilded and detailed decks reflected the wide-spread interest in Ancient Greek and Roman mythology. One of the earliest and best-known decks is the Visconti-Sforza from early 15th century Italy, which was most likely designed by the artist Bonifacio Bembo. Exquisitely hand-painted and gilded with gold leaf, the cards depict worlds within worlds, skeletons who ride horses, women who float above cities and angels who dwarf humans. Their beauty inspired Italo Calvino's 1973 novel The Castle of Crossed Destinies, which recounts the story of a group of travellers who are inexplicably rendered mute and can only communicate via tarot. The only known completely extant deck from the renaissance is also from the 15th century: the Sola Busca. In 1908, the British Museum displayed photographs of it, which Colman Smith most likely saw: its influence is clear in some of her designs. She was also inspired by the bright, primary colours and clear, black-outlined drawings of the 17th century Tarot de Marseille, in which the moon shines above baying dogs; a naked girl gathers water beneath stars; monkeys spin on a wheel of fortune; an elegant woman prises open the jaws of a wolf.
In 1770, the French occultist and first professional tarot reader, Jean-Baptiste Alliette – who coined the term 'cartomancy' and whose pen name was the reverse of his regular name – designed his own cards and published Etteilla, or Way to Entertain Yourself with a Deck of Cards. It was a hit; tarot became all the rage. One hundred and forty or so years later, Colman Smith was the first woman to design a deck.
So, who was she? An only child born to American parents on 16 February 1878 in Pimlico, London, from the age of ten, Colman Smith lived in Jamaica on and off for seven years, where her manufacturer father had found work. (There has long been speculation that she had Black ancestry, but so far there's little evidence to support the claim.) In 1893, she enrolled in New York's Pratt Institute in Brooklyn to study art. In 1896, her mother died. In 1897, at only 19, she had her first exhibition, at William Macbeth's gallery in New York; she sold four watercolours. In 1899, Colman Smith's father died suddenly, and in 1900 she settled in England for good.
The restlessness of Colman Smith's itinerant early life was reflected in her intellectual pursuits. She was wildly busy. She illustrated 20 books, including, in 1898, The Illustrated Verses of William Butler Yeats. In 1899, she published two of her own volumes, Annancy Stories and Widdicombe Fair. She was the co-editor of A Broad Sheet, a short-lived periodical of verse and illustrations, which was co-edited by Yeats' artist brother Jack; she was also close to his sisters, Lily – an embroiderer for William Morris – and Lolly, an artist and teacher. In 1901, William Yeats introduced Colman Smith to the Isis-Urania Temple of the Hermetic Order of the Golden Dawn, an influential magic order devoted to the study of the occult, metaphysics and the paranormal: she joined up, and along the way, met a fellow member, Arthur Edward Waite. She opened a shop to sell prints and paintings, founded a magazine devoted to female writing, folk and fairy tales called The Green Sheaf, and travelled the country with a theatre troupe, designing costumes and stages sets. Her parties were famous; her sense of fun was infectious, she sang songs and dressed in orange robes. At times, she assumed a persona she called Gelukiezanger and told Caribbean folk tales in the Jamaican dialect her nanny had taught her.
Colman Smith had famous friends: the actress Ellen Terry, the impresario Henry Irving, the author of Dracula, Bram Stoker and the photographer Alfred Stieglitz, who exhibited her work in his New York Gallery 291 in 1907 and 1909: watercolours of fairy tales and folk lore populated with human/animal hybrids. The world vibrated around her; she had synaesthesia – the ability to see sound as colour – and often titled her artworks as if they were pieces of music: sonatas, overtures and concerti. Unusually for the time, she never married or had children; she lived with her friend Nora Lake for around 30 years. Whether or not their relationship was romantic is unknown.
Although Colman Smith's deck was influenced by, among other ideas, Hermeticism — a philosophical tradition that believes that in the totality of the world and the interconnectedness of everything — her drawings are as far from dry illustrations as is imaginably possibly. Some of them are possibly veiled portraits of her friends; but whatever the inspiration, they're shot through with details that bring the whole alive. She eschewed the tradition of abstract symbolism for intimate scenes: a couple, their children dancing beside them, gaze with joy into the heavens where the ten of cups floats across the heavens like a rainbow; a laughing baby straddles a white horse in front of a field of a sunflowers and beneath a serene sun. The High Priestess sits on her throne against a backdrop of patterned wallpaper, a crescent moon at her feet. The Fool, an androgynous figure in a flowered robe, is on a journey: with a white rose in one hand, a staff in another, and accompanied by a faithful white dog, they walk towards a precipice, gazing at the golden sky. The journey, however precarious, is joyous, not frightening: Colman Smith clearly felt that the unknown was an exciting place of possibility.
Her intelligence and exuberance shine out in her wonderfully opinionated articles. In one she wrote for The Craftsman magazine in 1908 titled 'Should the Art Student Think?' she declared:
Learn from everything, see everything, and above all feel every-thing! And make other people when they look at your drawing feel it too! […] Think good thoughts of beautiful things, colours, sounds, places, not mean thoughts. When you see a lot of dirty people in a crowd, do not remember only the dirt, but the great spirit that is in them all, and the power that they represent.
She railed against convention and challenged her readers to seize life:
Lift up your ideals, you weaklings, and force a way out of that thunderous clamour of the steam press, the hurrying herd of blind humanity, noise, dust, strife, seething toil – there is power! The imprisoned Titans underneath the soil, grinding, writhing – take your strength from them, throw aside your petty drawing room point of view.
However, even with the enormous popularity of what she created, Colman Smith suffered, like so many women, from the exclusionary attitudes towards female talent: she received a small, flat sum for her tarot deck and no royalties. In a letter to Alfred Stieglitz, she describes the commission as 'a big task for a very small payment'. Also, for decades, the deck was known as Rider-Waite: her name was omitted. In recent years, it's been added, and the deck is commonly known as the Waite-Smith Tarot. However, she did manage to insert her distinctive monogram — a snake wrapped around a 'P'-shaped staff, overlaid with a 'C' and 'S' – onto each card, except, tellingly, The Fool.
After illustrating Bram Stoker's last book Lair of the White Worm in 1911, Smith moved from London to Cornwall and converted to Catholicism. She inherited some money from an uncle and bought a house. She had her last exhibition in 1914; in 1917 she illustrated a set of thirty Christian cards, with poems by the French author Paul Claudel, that were published by Art and Bool Co. in London. Although she continued to be active as a commercial artist until around 1920, in the main, she devoted her time to the church. In later years, she suffered financially, her artwork was out of step with modernity and she languished in obscurity. She died in considerable debt in Bude in 1951.
It's extraordinary to think that tarot cards could only be freely printed and sold in England after the Witchcraft Act was repealed in 1951: the year of Colman Smith's death. Her pack wasn't widely distributed until the early 1970s, when it was bought by Stuart Kaplan of U.S. Games Systems. Since then, its popularity has boomed – and has inspired countless artists and illustrators. In the last few decades, hundreds, even thousands of new decks have been produced. A search for 'tarot' on Amazon results in more than 50,000 products. While interpretations are open-ended, certain narratives hold steady: we are born fools, need to embrace both transformation and stillness, strive for human connection, kill off bad habits, honour the unknown, choose empathy over violence, live in hope, and so on.
Every day, I check Jessica Dore's wildly popular Instagram account. She's the author of a new book Tarot for Change (2021), which opens with the intriguing statement: 'Tarot is a book of seventy-eight secrets that reveal themselves over time.' She reads a card every day for her followers in order to prompt fresh associations, new beginnings and self-reflection; for her, the cards are less as a predictive tool than as a therapeutic aid. The deck she uses is Pamela Colman Smith's.