George Benjamin's latest opera, his fourth collaboration with poet Martin Crimp, is further proof of his extraordinary musical and theatrical talents.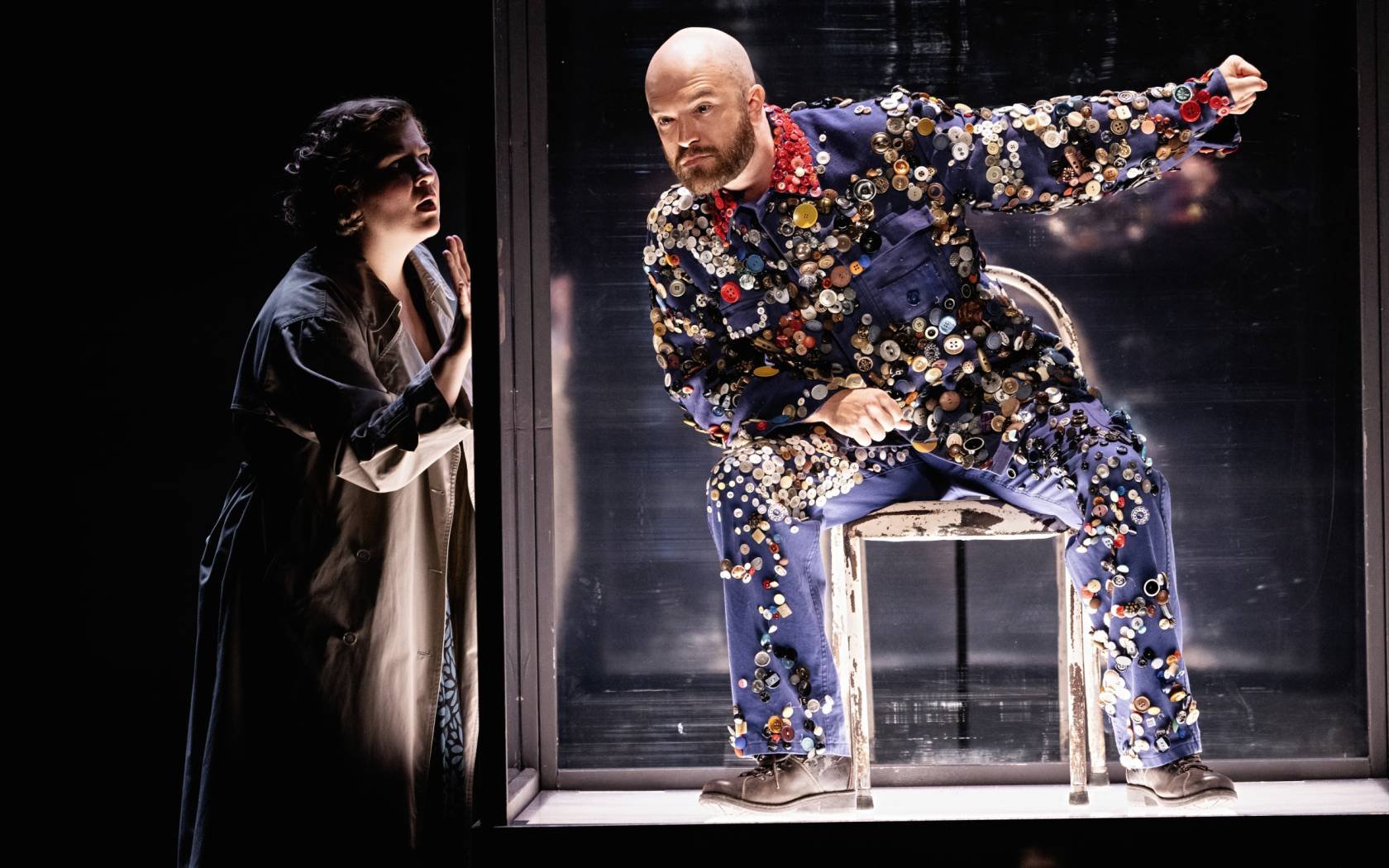 (WOMAN) Ema Nikolovska (ARTISAN) and John Brancy performing in George Benjamin's opera Picture a day like this. Credit: Camilla Greenwell, Royal Opera House
There was a time it was feared that George Benjamin's career as a composer – which began with a bang, when his composition Ringed by the Flat Horizon was premiered by conductor Mark Elder while Benjamin was still a Cambridge undergraduate – might end with a whimper. This most richly gifted of current British composers, with a substantial French input, given his tutelage by Olivier Messiaen, was far from prolific. Blood and stone come to mind. But in 2006, he produced a chamber opera, Into the Little Hill, barely 40 minutes long, that was a retelling of the legend of the Pied Piper of Hamelin. This 'secular oratorio' – with shades of Benjamin Britten's Church Parables – suggested his vast promise, often compared to that of Britten, might yet be fulfilled.
The medieval subject matter, and poet Martin Crimp's concise, elliptical, wilfully naïve libretto – too fancy a word; text works better – appeared to unlock Benjamin's creativity, and Into the Little Hill was followed by what can claim to be the first operatic masterpiece of the 21st century, Written on Skin. Based on a Provençal tale by Guillaume de Cabestanh (repeated in Boccaccio's Decameron), it is not for the faint-hearted. Over 15 scenes, the tale unfolds of the Protector, a wealthy magnate, who employs a boy (called Boy – very Crimp) to create a biographical manuscript. Boy and the Protector's wife, Agnès, have an affair, and the Protector murders him. Agnès is forced to eat his heart, after which she commits suicide. The simple and stark plot was set to Benjamin's distinctive soundworld of taut timbres and precise percussion.
The success of Written on Skin, quickly revived to repeated acclaim at the Royal Opera House, led to the commission of Lessons in Love and Violence, inspired, via Marlowe, by the love affair between Edward II and Piers Gaveston. Musically dazzling, perhaps the plot lacked the propulsion of its predecessor. That is not a criticism that can be laid at Benjamin and Crimp's latest offering, Picture a Day Like This.
Little more than an hour long, it combines the scale of Into the Little Hill with the substance of Written on Skin. Commissioned for the Festival D'Aix-En-Provence, it arrives in triumph at the Linbury Theatre. The characteristics of a Benjamin/Crimp collaboration are there from the start. Announced by a single harp note, a woman – 'Woman', of course – stoic, a little frumpy and understandably numb, portrayed convincingly by Ema Nikolovska, announces: 'No sooner had my child started to speak whole sentences than he had died.'
With a list of potential miracle-workers in her hand, Woman embarks on a mission, in seven sections, to find a 'happy' person, cut one button from their sleeve and thus, magically, restore her child to life. First she meets a couple of lovers – played with intense, near manic lust by soprano Beate Mordal and counter-tenor Cameron Shahbazi – seemingly happy at first, until the asymmetry of their relationship is revealed. She turns her attention to an artisan – a performance of virtuosic range by baritone John Brancy – a button-maker, whose happiness, she learns, is chemically induced, masking his propensity for self-harm blamed on a world that has left him behind.
Reflexively, a famous composer (Mordal) appears – why should she not be happy? – whose assistant (Shahbazi) presses upon her the need to stick to a rigorous schedule of rehearsals, interviews and performances. Woman becomes disillusioned, and unveils a poignant aria, hoping against hope – 'Dead stems of flowers come to life again' – which precedes her meeting with the Collector (Brancy again), an homage to Bartok's Bluebeard, who despite his wealth-induced frustrations, and his spurned approaches to Woman, opens a door to a garden, where she meets Zabelle (Jacquelyn Stucker), a woman who mirrors her, in presence and experience.
While a video projection of blooms and algae, both fertile and cancerous, appears, Woman realises the futility of her mission. The emotional punch of the opera's end is enhanced by its ambiguity. Though Crimp has drawn on European and Near-Eastern sources for his text, as well as Buddhist folk tales, I was reminded above all of the Christian Stations of the Cross. A redemption of a kind, but one earned through bitter experience. This is serious art for serious times, which casts a cold, if illuminating, eye on life, tragic, beautiful, at times even comic.
Picture a Day Like This is at the Royal Opera House, London until 10 October.