At Engelsberg Ideas, our contributors have engaged with the biggest stories and themes of 2022, including the character of war in flux, technological shifts, geopolitical tension, the value of leadership and cultural esoterica. Here is a selection of thirty pieces we have published in the last twelve months — a year in ideas.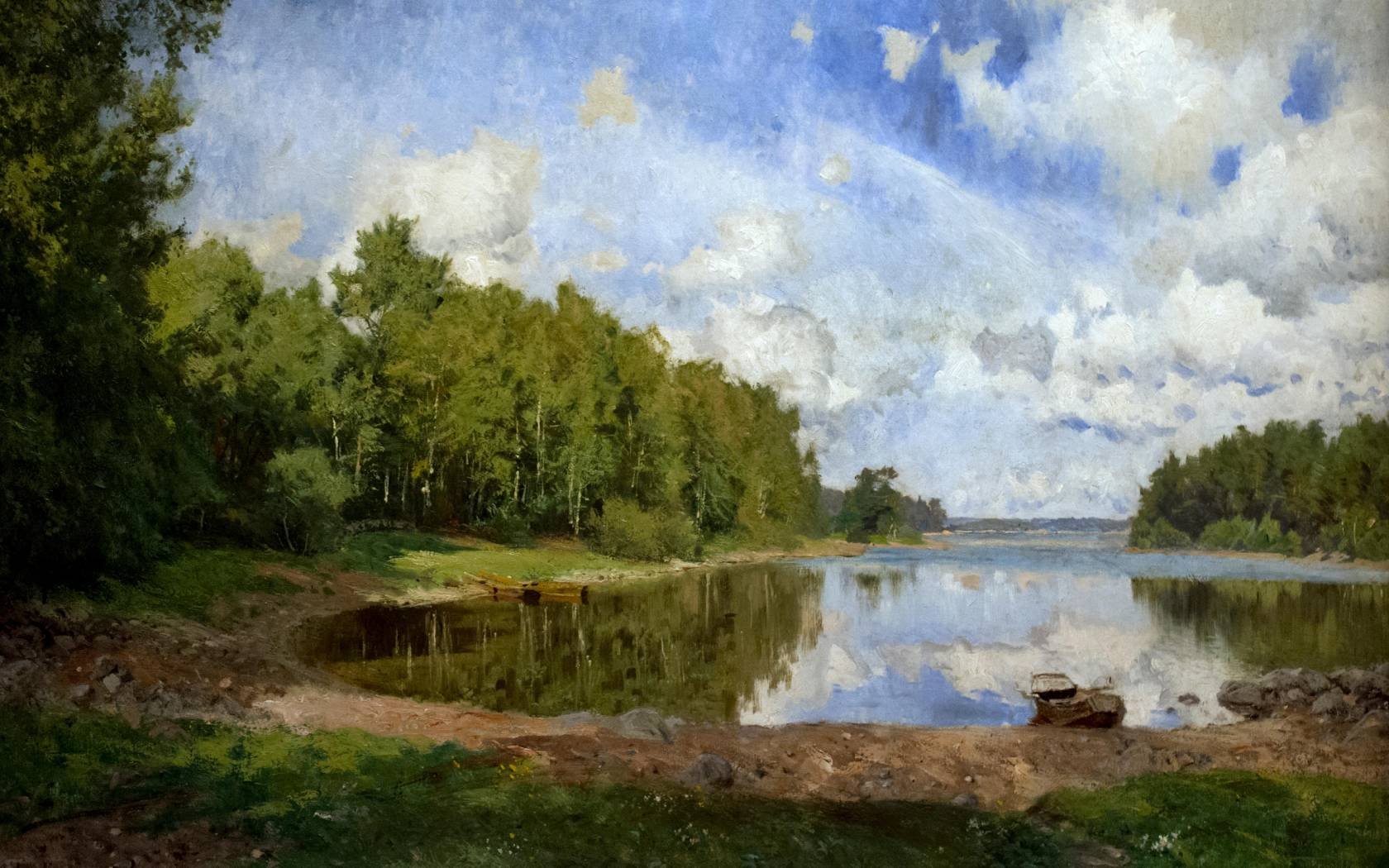 Lake view at Engelsberg by Olof Arborelius (1842-1919). Credit: PRISMA ARCHIVO / Alamy Stock Photo
What drives Vladimir Putin? — Sergey Radchenko
Putin's justifications for invading Ukraine uncannily reflect the motivations of one of Russian literature's most famous antiheroes, Dostoevsky's Rodion Raskolnikov.
Superforecasting will not save us — Suzanne Raine
The value of forecasts lies in how they help us shape the future. We should prioritise understanding what we can do.
Liberty at risk as threats to freedom grow — Peter Frankopan
Non-western elites are redefining freedom on their own terms, as sovereignty, state security and stability. But the world becoming a lot less free should concern us all.
The art and science of intelligence in war — Hew Strachan
Intelligence in war is as much a product of common sense as of technical brilliance. It must be understood and applied wisely to be of any use.
The truth shall set us free — Marie Daouda
Modern culture has left us ever more isolated and lonely but promises absolute liberty to pursue our desires. But to feel truly free we must rediscover a spirit of collective truth. Only then can liberty be a meaningful concept.
The Germans and their cars: history of a love affair — Katja Hoyer
German car making is nearly as old as the nation itself and embedded in its heart, soul and mind. Replacing combustion engines with batteries is not a like-for-like swap. We are about to give up one of man's most emotive mechanical creations; more is at stake than facts and figures.
Winston Churchill, arch-pragmatist — Patrick Porter
Painting the wartime premier only as an heroic anti-appeaser overlooks the many diplomatic ploys he used to disarm a dangerous world.
The nuclear dilemma: deterrence works, up to a point — Alex Wellerstein
Nuclear arsenals constrain us, within limits. They enable dictators, within limits. Those limits matter, whether they are the limits of what we would do to dictators if we could, or what dictators could do to us if they could.
Soviet socialism was no good at groceries — Catherine Merridale
The collapse of the Soviet Union has been forensically studied by academics and economists for decades, but for an insight into the day-to-day life of ordinary Russians in the 1980s and 1990s, we should consult the Snickers Index. If Soviet Socialism was bad at delivering groceries, then the free market was, at first, even worse.
Fire in the sky: a history of meteorics — Maria Golia
The study of meteorites challenged the boundaries of the known universe, obliging nineteenth-century thinkers to revise their view of the solar system, and twentieth-century science to embrace them as a geological and evolutionary force.
A tale of three generals: how the Ukrainian military turned the tide — Mick Ryan
The wider world has watched Ukrainian army offensives with amazement. While impressive, their successes are not miracles and can be explained by superb leadership, excellent operational planning and its decentralised chain of command.
Why we don't remember pandemics — Mark Honigsbaum
While wars are endlessly memorialised in the West, the non-narrative and morally complex nature of a pandemic mean it is rare to come across a memorial to its victims, much less a monument recalling the heroism of health workers.
Ticket to ride in Paris — Agnès Poirier
The métro paper ticket will disappear from Parisians' lives by January 2025. An ubiquitous presence in daily life, the métro ticket had a multi-purpose existence. Its disappearance will be much lamented by Parisians.
The spirit of Hilary Mantel — Fay Schopen
The late author's work is populated with spirits, liminality, and longings.
Playing with demons: how thought experiments guide scientific innovation — Jimena Canales
Science's demons began with Descartes and still thrive in our age of reason – but these thought-experiments can enhance our understanding of the universe.
How Elizabeth II created the role of the modern monarch — Richard Chartres
The Queen's presence conveyed more eloquently than any words could that the ship of state had a firm anchor in her modern monarchy.
Total football – from catenaccio to gegenpressing, it's about openness to ideas — Josh Mcloughlin
Footballing philosophies are central to the national mythologies of the cultures that produce them.
A little history of the Fierce Goddess — Jessica Frazier
Many Indian philosophies are popular today, but Kali, the vital and existential goddess, stands in splendorous opposition to more placid religious traditions.
The miracle of refugee musicians — Elisabeth Braw
Countless musicians have been uprooted by war or persecution — to the benefit of conservatoires, orchestras and concert halls around the world. A newly formed Ukrainian refugee orchestra follows in their footsteps.
Solzhenitsyn, Putin and the historical myth-making that drives Russian imperialism — Tomiwa Owolade
Aleksandr Solzhenitsyn was a hero in much of the West, but he helped inspire in Putin a destructive scepticism about Ukraine's status as a nation.
An unlikely artistic alliance: the wartime Britons who saved and celebrated German art — Juliette Bretan
From Kandinsky to Klee, the Nazi party deemed entire swathes of artistic movements as worthless and degenerate. The English city Leicester provided a home to these Central European masterpieces. These exhibitions forged a peaceful bridge between communities and provided the city's inhabitants with much needed respite from their hardships.
The Iran protests could spell the beginning of the end for the Islamic Republic — Ali Ansari
The fragility of the Islamic Republic of Iran is increasingly clear for all to see. But, despite recent protests, we ought to remain cautious about the prospects for immediate change.
Richard Aldington: the war poet who rejected moral certainties about conflict — Lizzie Hibbert
Once a poet of considerable renown, Richard Aldington's work has been largely forgotten. Perhaps because he did not conform to the conventional image of the soldier-poet.
What are leaders good for? — Vernon Bogdanor
Good leadership in modern politics is less to do with the sort of charisma and magic touch favoured by pundits than charting a clear direction that the public wants to follow.
When the fighting stops, what then? — Beatrice Heuser
The history of the closing stages of the First World War offers no easy lessons to Ukraine if it seeks a path to peace.
Algorithms vs humanity — Andrew Keen
What sort of humanist thinking should we be pursuing in the age of smart machines? Is humanism compatible with AI? Or do humans need to think of smart digital tech as a species threat?
Finding the God in Godard — Murial Zagha
Jean-Luc Godard's vast legacy as an exponent of pure cinema stands the test of time.
Klára Dán: esoteric intellect who wrote the first modern computer code — Ananyo Bhattacharya
Every computer program running today is descended from the code Klára Dán penned more than seventy years ago. Her story deserves as much recognition as that of her husband — the polymath John von Neumann.
What is Russia doing in Africa? — Andrew Monaghan
Compared to China, Russia's activity in Africa is relatively modest. Nevertheless, recent diplomatic, naval and military projects illuminate Moscow's mental maps, and reveal how Russia sees the world evolving.
The historian's dilemma — Daisy Dunn
History writing is a solitary existence and far removed from the dynamic world of news reporting. And yet the line between the two is often unclear. Historians such as Thucydides demonstrate the importance of still having an ear to the ground.